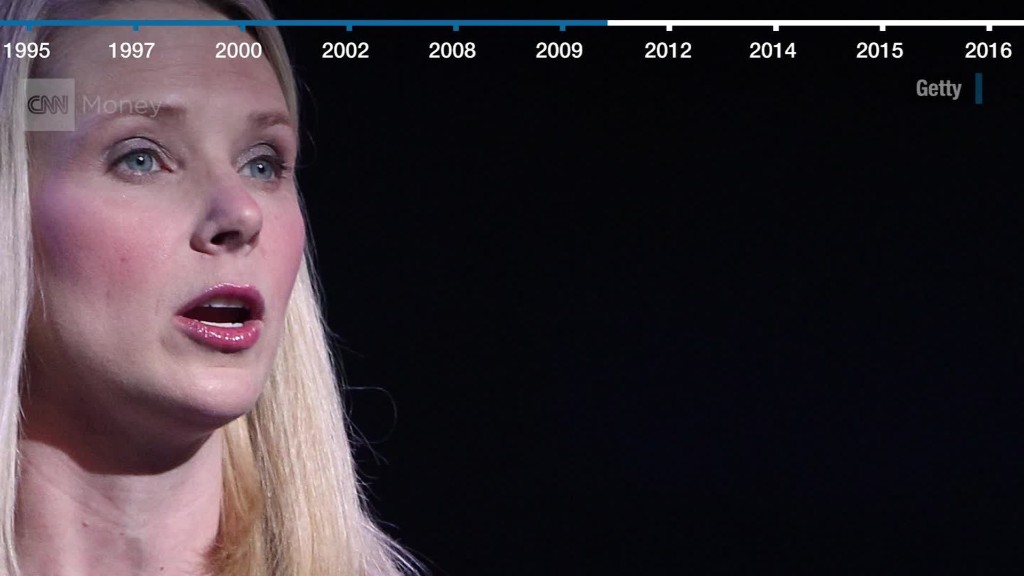 Yahoo spent millions of dollars to hire media all-stars like Katie Couric, Joe Zee and David Pogue. So what's going to happen with them now that Yahoo is being swallowed up by Verizon? The short answer is, they don't know. And if Verizon knows, it's not telling yet.
But several staffers told CNNMoney that they expect cutbacks, given the areas of overlap between Yahoo and AOL, which Verizon already owns. And some of the boldface names behind Yahoo's brands are looking to leave.
In the short term, "things are status quo," one of the company's well-known media hires said Monday. "In the long term, no one is safe."
The deal won't take effect until the first quarter of 2017, and Yahoo will "continue to operate its business independently" until then, a Yahoo spokeswoman said.
Amid Yahoo's business struggles and lengthy bidding process, there have already been some high-profile departures. Renowned makeup artist Bobbi Brown left in February after two years as the editor in chief of Yahoo Beauty.
At the same time, there were layoffs across Yahoo's array of titles. The so-called "digital magazines" dedicated to food, health, parenting, travel, and automobiles were shut down.
News, sports, finance, and lifestyle are the four main categories the site is still covering.
Couric, the former "Today" and "CBS Evening News" anchor, is the face of the news section. She is at the political conventions this month hosting streaming coverage for Yahoo.
But industry insiders are abuzz about how much longer she'll stay at the company. Page Six reported in May that Couric was "eyeing an exit" from Yahoo. A Yahoo News source said Monday that all options are on the table with her Yahoo contract expiring next year.
She is just one X factor of many. Yahoo CEO Marissa Mayer hired Martha Nelson, the former editor in chief of Time Inc., to be the company's "global editor in chief" last August. Nelson's place in the combined company is unclear.
In its announcement on Monday, Verizon said that Yahoo will be "integrated" with AOL. Details are scarce.
Related: Verizon is buying Yahoo for $4.8 billion
Yahoo has scores of writers, producers and other staffers working for the media brands, including prominent journalists like investigative reporter Michael Isikoff, national correspondent Lisa Belkin and political columnist Matt Bai.
Pogue, the former New York Times technology columnist, is the founder of Yahoo Tech. Zee, the former creative director of Elle, is the editor in chief of Yahoo Style.
These leaders, sometimes called Yahoo's "stars" by analysts, have had different experiences at the company, but they've experienced similar problems, like a lack of promotional support from Yahoo.
Perhaps the combination with Verizon and AOL will help.
A Yahoo spokesperson said the company anticipates "strong synergies between Verizon and Yahoo."
For example, Verizon's streaming video services could feature video and audio from Adrian Wojnarowski, the sportswriter whose basketball-oriented part of Yahoo Sports, The Vertical with Woj, has been a breakout hit. Verizon has extensive deals for NBA basketball programming.
But talk of synergy often precedes layoffs as well. A senior staffer described the concern this way: "There's a lot of duplication" between Yahoo and AOL, which already has The Huffington Post and other media properties. "They don't need repetitive sites."
AOL also republishes stories from a variety of news and entertainment sources.
So there's a lot of uncertainty about what will happen after the sale is completed.
In the meantime, another Yahoo A-lister, Yahoo Finance editor in chief Andy Serwer, had some fun with the Verizon news on Monday.
He retweeted a user who joked that Serwer's "new career goal" was a telephone company technician.