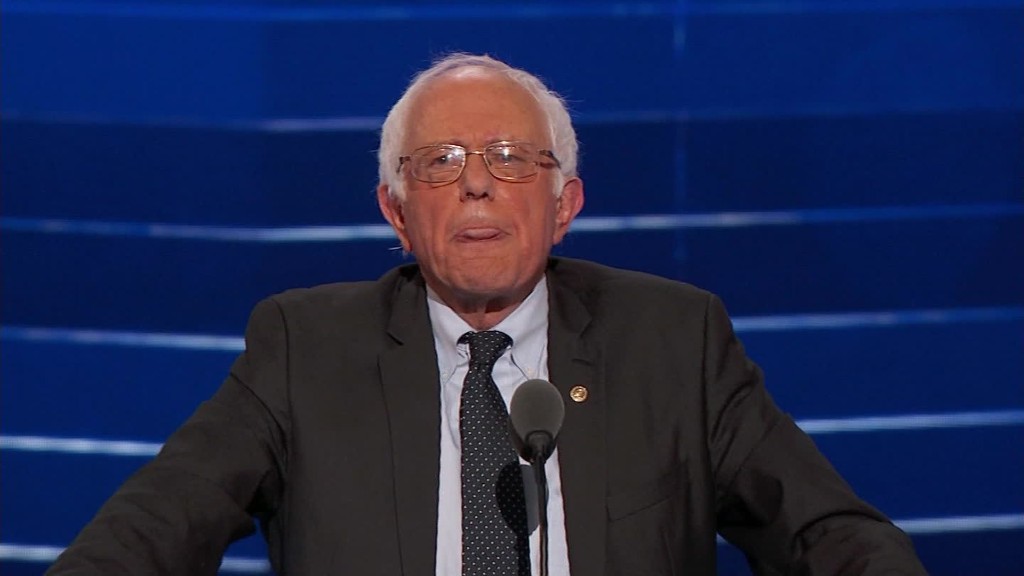 The Democrats are ahead of the Republicans in the convention ratings race.
Monday's broadcast and cable coverage of the DNC averaged 26 million viewers, according to preliminary Nielsen data. The total could rise slightly once the ratings for smaller channels are factored in.
The first night of the RNC last Monday averaged 23 million viewers between 10 and 11 p.m. This Monday's coverage lasted until about 11:30 p.m.
CNN was the highest rated channel during the Democrats' debut, beating the NBC, ABC and CBS broadcast networks.
CNN had 6.2 million viewers; MSNBC was #2 with 4.6 million; and NBC was #3 with 4.3 million.
The rankings are a marked change from the first night of the 2012 DNC, when NBC was #1 among the networks with 5 million viewers, MSNBC was #2 with 4.1 million and CNN was #3 with 3.9 million.
This year's Democratic proceedings were higher-rated overall than the first night back in 2012, when the combined broadcast and cable coverage averaged 22 million viewers.
The Nielsen ratings only count viewership via traditional TV, not any live-streaming and online video clip viewing.
Interest in the DNC on Monday was driven by the political star power on stage: Michelle Obama, Elizabeth Warren and Bernie Sanders all gave speeches.
The keynote speaker for night one of the RNC was Melania Trump.
Facebook conversation data mirrored the TV ratings race. Facebook said the first 24 hours of the Democratic convention resulted in 39.7 million "likes, posts, comments and shares related to the convention and the candidates" from 10 million people in the United States.
The first 24 hours of the GOP convention had 28.6 million such interactions from 8.5 million people.
In a repeat from 2012, Fox News Channel ratings were much higher for the Republicans' debut versus the Democrats. Fox News had 6.3 million viewers during the 10 p.m. hour last Monday and 3.3 million viewers this Monday.
Like CNN and MSNBC, Fox was up significantly versus the first day of the DNC in 2012.
Fox News topped the broadcast networks and CNN all week long during RNC coverage.
On Tuesday, when the full ratings for last week came in, Fox said it was the channel's "highest-rated week in total day since August 2005 with Hurricane Katrina coverage."