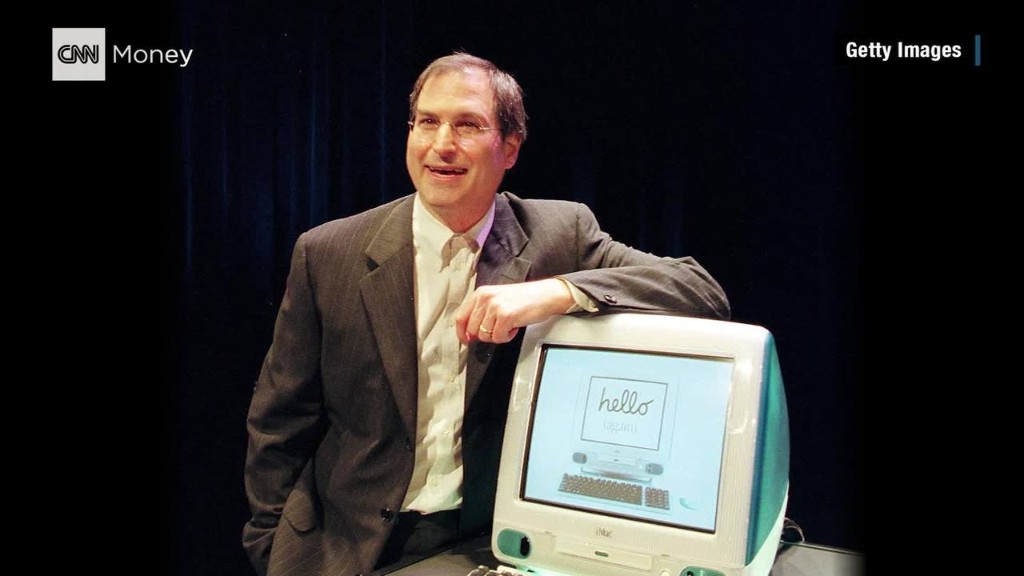 Apple doesn't have to do much to wow Wall Street these days.
The iPhone maker provided another sober reminder of how its days of hyper growth are long gone. Apple (AAPL) posted its second-straight quarter of shrinking sales, led by another drop in smartphone shipments.
But the bar has been set so low for Apple that the numbers, along with a less dreary forecast for the next few months, were enough to excite Wall Street. Apple stock spiked 6.5% on Wednesday, its best day since April 2014.
The hugely positive reaction shows how much things have changed for Apple. Just a few years ago, the iconic tech company was held to such high standards that even beating expectations would cause the stock to retreat.
Now, Apple can post a 25% slump in profits, a 16% decline in iPhone sales and further erosion to its margins and it's deemed not as bad as feared.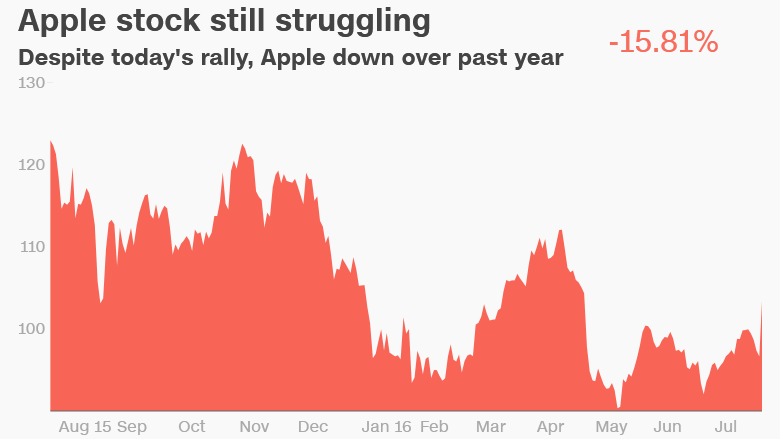 Related: Inside Apple's second quarter of shrinking sales
The lowered-bar for Apple makes sense though. Apple shares slumped 4% last year and, despite Wednesday's big rally, remain down 1% in 2016. Tech stars of today like Facebook (FB) and Amazon (AMZN) are up sharply the past two years and trading at all-time highs.
Apple's numbers do give shareholders some reason to hope that the worst is over. The iPhone maker expects to generate $45.5 billion to $47.5 billion in revenue next quarter, exceeding what analysts had been calling for.
"We expect slow growth to return and be sustained barring a serious recession," Raymond James analyst Tavis McCourt wrote in a research report.
Even though McCourt still sees "many weak points," he expects "almost all of the concerns to get incrementally better" in 2017. That's why the analyst upgraded his rating on Apple to "outperform" and slapped a $129 price target on the stock. Apple shares would have to soar 24% above current levels to hit that mark.
Related: 16-year-old cashes in on tech stocks
Beyond the latest numbers, investors love how much of a cash cow Apple has turned into. The company used to hoard its vast sums of cash, but now it's spreading the wealth in the form of fat dividends and share buybacks. Apple returned $13 billion to shareholders last quarter alone and it's completed the vast majority of a $250 billion capital return program.
Apple also had the benefit of reporting results at a time when the markets are in a pretty good mood. U.S. stocks have climbed to record highs in recent weeks and CNNMoney's Fear and Greed Index is currently flashing "extreme greed."
The Apple effect of a few years ago was in full effect on Wednesday. Apple was not only the biggest winner on the Dow, but iPhone suppliers also enjoyed a bounce. Shares of Qorvo (QRVO) and Cirrus Logic (CRUS)rallied more than 2% apiece, while Skyworks Solutions (SWKS) and Broadcom (AVGO) also made headway.