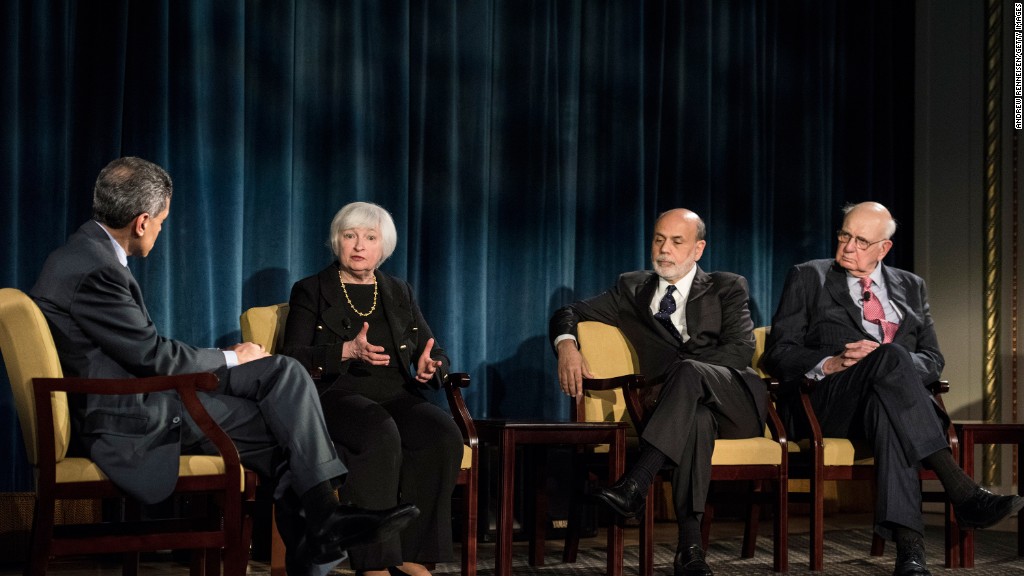 The Federal Reserve isn't raising rates this summer.
Fed leaders decided not to increase rates on Wednesday after uncertainty following the U.K. vote to leave the European Union, also known as Brexit, and a shockingly weak May jobs report.
However, the Fed expressed optimism on Wednesday about the economy's recent progress. America added lots of jobs in June, wiping out all the losses from May. Stock markets have also bounced back quickly from Brexit and are at all-time highs.
"Near-term risks to the economic outlook have diminished," the Fed said in its statement. Since the Fed's meeting in June, "the labor market strengthened and...economic activity has been expanding at a moderate rate."
The decision surprised no one. Before the meeting Wall Street investors had placed a 4% chance of a rate hike on Wednesday.
However, some experts believe there still remains a strong case to be made for the Fed to raise rates. And the Fed is signaling that things are looking better.
Related: Big rebound: U.S. economy adds 287,000 jobs in June
As recently as May, Fed officials said a rate increase in June or July would be appropriate after a slew of good economic news. But they changed their tone after U.S. added a mere 11,000 jobs in May and the Brexit vote neared.
"If the conditions were right in May, you could argue they're even better now," says Lee Ferridge, head of macro strategy at State Street Global Markets. "The fallout from Brexit for the U.S. economy is limited."
At the start of the year, the Fed projected that it would raise rates four times in 2016. Then it downgraded its forecast in March and June, and now it plans to only raise rates once this year.
Related: No rate hike: Fed pares back economic outlook
Even that seems like a tall task, if you ask Wall Street traders, who are betting that the next rate hike won't come until next year, according to Fed fund futures tracked by CME Group.
The conversation could change if the U.S. economy picks up more momentum. On Friday, new numbers on America's economic growth will be released, and next week the July jobs report will shed more light on the health of U.S. employment.
The optimistic statement by the Fed on Wednesday may already be shifting the rate hike debate.
"This opens the door for two rate hikes, beginning in September," says Curt Long, chief economist at the National Association of Federal Credit Unions. "They seemed to check all the boxes in terms of giving a more upbeat tone."
The Fed's next meeting takes place mid-September.