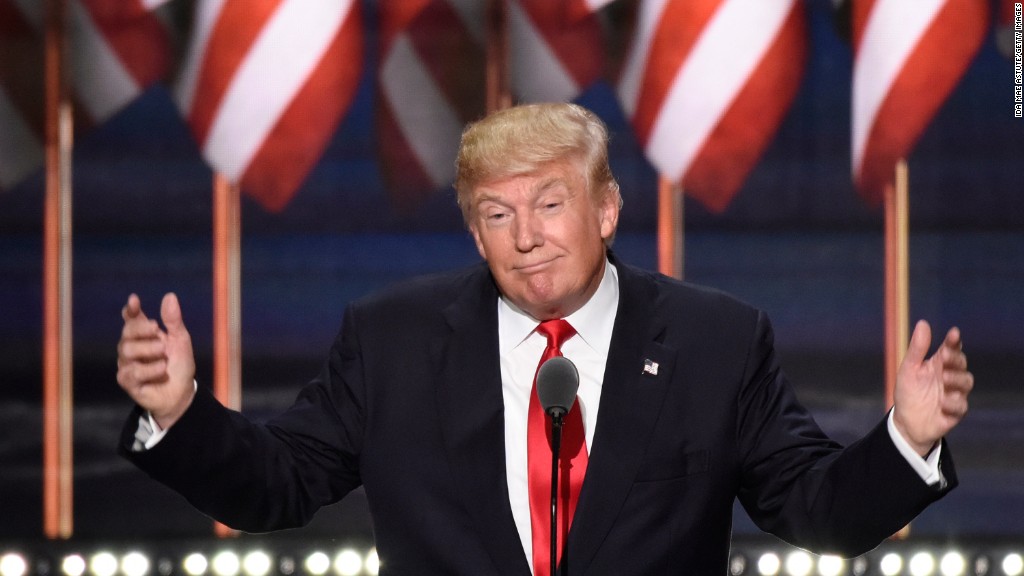 Could Donald Trump's tax returns reveal the Republican presidential nominee has ties to Russia?
Conservative columnist George Will said on Fox News earlier this week that one of the reasons Trump may be refusing to release his tax returns is that they may show "he is deeply involved in dealing with Russian oligarchs."
CNNMoney decided to test out Will's theory by asking a few tax experts what, if anything, might be gleaned from the real estate mogul's returns about his financial ties to Russia.
Here are the two scenarios.
1. We'd learn nothing
If all Trump does is release the top two pages of his 1040 and none of the schedules and forms he's required to attach detailing the sources of his income, we'd learn nothing.
Ditto if he releases a top-line summary of his income and taxes paid.
"There's no way looking at the face of the return that mob ties or any other [inappropriate business relationships] will leap from the pages of the tax forms to the reader's attention," said Edward Kleinbard, who used to run the Joint Committee on Taxation and now teaches tax law at the University of Southern California.
2. We'd learn something but not a lot
There may be some indication of his international financial dealings if Trump chooses to release his attached schedules and forms.
"You'll learn a little bit more, but you won't see any direct dealings with Russian oligarchs," said Jeremy Scott, editor in chief of commentary at Tax Analysts and a federal tax expert.
Related: Nixon released his tax returns under audit. Why can't Trump?
For instance, if Trump claims tax credits for taxes paid to foreign governments, he'd have to reveal the countries where he paid those taxes.
Or you might see if he has any bank accounts in Russia or other countries where Russians like to keep their money.
"Russians like Cyprus. If he's buds with Putin, maybe he keeps some money in Cyprus," said Martin Sullivan, a Tax Analysts contributing editor.
The U.S. government requires filers to disclose money held in foreign bank accounts, or face harsh penalties.
If Trump received income from an investment partnership, he would have to report it, but it wouldn't be clear whether that partnership has a lot of Russian investments or investors.
He would have to include the partnership's legal address, however. While the address alone wouldn't necessarily indicate a strong Russian tie, more might be revealed by looking at the tax returns or other documentation from the partnership itself.
Likewise, Trump's financial disclosure documents don't have a lot of obvious Russian ties. Those documents -- which list one's assets and debts -- are required of all presidential candidates to unveil any potential conflicts of interest should they be elected.
But just as in Trump's tax return, those disclosure documents don't reveal how many Russian investors may have put money into any Trump properties, Scott said.
Related: Will the public get to see Mike Pence's tax returns?
Trump on Tuesday told CNN affiliate WFOR in Miami that he has "nothing to do with Russia whatsoever," including no loans from Russian banks or investors.
He reiterated that assertion in a controversial press conference on Wednesday, in which encouraged Russia to hack Hillary Clinton.
A trade publication reported, however, that his son Donald Trump, Jr. in 2008 said, "Russians make up a pretty disproportionate cross-section of a lot of our assets. ... We see a lot of money pouring in from Russia." That's according to a rundown by the Washington Post of the alleged financial ties Trump has had to Russia over the years.