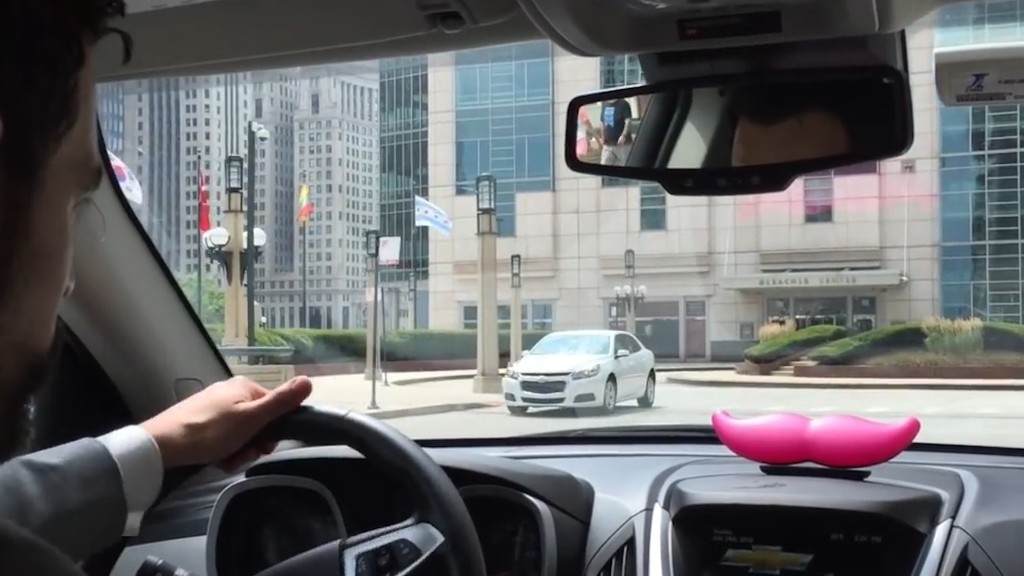 The backseat of a Lyft could just be the perfect confessional setting for discovering what's on the mind of everyday folks.
Or that's the theory of news reporter Anthony Ponce. Ponce, 37, has been working at local news stations for 13 years, most recently as a reporter and weekend anchor at NBC-owned WMAQ-Channel 5 in Chicago.
But since March, Ponce has been secretly moonlighting as a Lyft driver. It was a test to see if he could get strangers to open up about their thoughts, fears, and concerns in the backseat of his car.
"Speaking generally, a lot of what we see on local news has become formulaic and repetitive," Ponce, 37, told CNNMoney. "Creatively, I started feeling confined."
That frustration, combined with getting passed over for a recent promotion, inspired Ponce to pull the plug on his job at WMAQ, where he'd been working for nine years. His last show was Sunday, July 24.
On Sunday, Ponce announced that his next career move is to go full steam ahead as a Lyft driver, interviewing and recording conversations with passengers to produce a new podcast called "Backseat Rider."
The idea for "Backseat Rider" stemmed from his own experience with candidly opening up to his Uber and Lyft drivers.
In the months that he was testing out his new business idea, he found that the vast majority of riders were also divulging their thoughts -- and were OK being recorded.
"People were indeed open to share, especially if they knew I wasn't using their name," he said. "You're in this strangely intimate environment for sometimes 30 to 45 minutes ... Everybody has really interesting stories to tell, it's just a matter of finding those stories."
Ponce said that he plans to share conversations with passengers anonymously, unless a name is essential and he has full consent to share it.
Related: Uber CEO explains why he thinks fingerprinting drivers is 'unjust'
Ponce said he approaches riders in different ways -- sometimes prompting them with questions ("Have you ever feared for your life, and if so, what's the story behind it?"). Other times, it's listening to what passengers say and probing them for more information.
For example, in a conversation just after the Orlando Pulse nightclub shooting, one rider told Ponce he owned an AK-15 rifle. "It was the first time I had knowingly met someone who owned that kind of gun. I am one of those people who doesn't understand why we don't have common sense gun laws, why we haven't implemented bans on assault rifles." he said. "I asked, 'Is it OK to roll?' I'm actually thinking of posting that conversation raw."
Ponce expects to release the first podcast episode in August. He plans to release two a month.
The endeavor comes with some challenges, including financial ones. He'll have to pay out-of-pocket for things like insurance. As for his vehicle, he's renting a car through Lyft and GM's (GM) Express Drive program. If he drives 65 or more rides a week, he won't have to pay for the car; less than 40 and he'll have to pay $99 a week.
He expects to do three or four 8-hour shifts every week and spend the rest of his days writing and editing.
Related: Two Uber drivers arrested while on duty
Ponce's first child, Theo, was born just five months ago. His wife "gave him permission" to try out the podcast and driver life for six months before reassessing its viability.
Ponce said Lyft has reached out about exploring a potential partnership but insists that he would "never do anything that would jeopardize the authenticity of the content."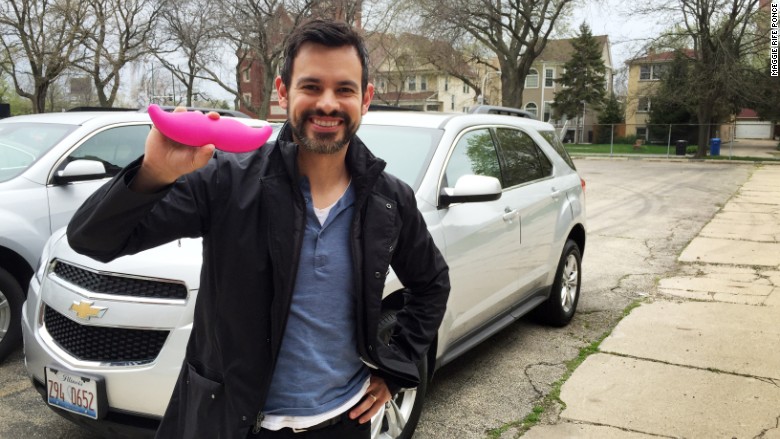 Ponce's modern day "Taxicab Confessions" concept isn't exactly a new one. Comedian Chris Gethard hosts the podcast "Beautiful/Anonymous," where he takes anonymous calls from strangers and talks to them for an hour about literally anything they want. Jerry Seinfeld had his own take with his web series, "Comedians in Cars Getting Coffee."
Still, Ponce thinks there's room for one more approach.
"My hope for this is that it gives regular people a chance to speak their mind in longer than a 10 second soundbite that we see on local news," he said. "Listening is a lost art form. What I think is missing right now in our national dialogue is aggressive listening."
Correction: A previous version of this story incorrectly stated the name of the podcast.