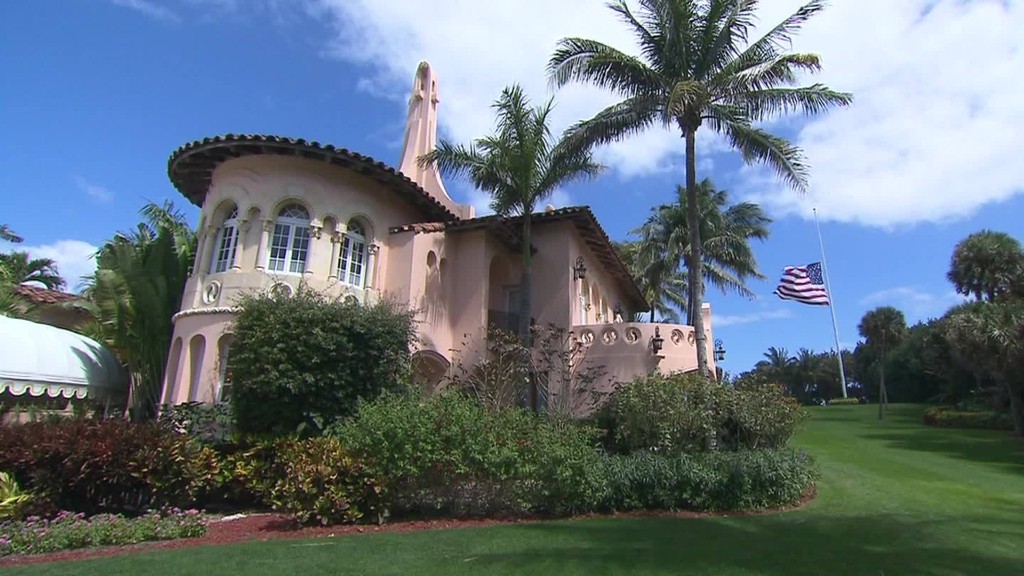 In his speech last week accepting the nomination at the Republican National Convention, Donald Trump said "The American People will come first once again."
But recent filings with the government show that two of the billionaire candidate's businesses have once again taken steps to bring in foreign workers to do jobs that critics say could be handled by Americans.
Trump's Mar-a-Lago Club and Jupiter Golf Club have filed documents to bring in as many as 78 foreign workers for the next fiscal year. In total, records filed at the U.S. Department of Labor and reviewed by CNN reveal that in the last 15 years, Donald Trump's various businesses have been granted approval to import at least 1,256 foreign guest workers.
The guest workers were brought in on a variety of different U.S. visa programs that allow companies to import workers temporarily from overseas.
Trump seems to like his overseas workers to be young and attractive, and with strong specific accents from Romania and South Africa -- countries that convey a well-heeled, exotic appeal, according to numerous former workers interviewed on background.
And Donald Trump especially likes the workers when they are women, who he lavishly tips, according to several of the former workers interviewed.
This is just some of the information CNN gleaned from numerous conversations with former and current Trump workers, and federal documents concerning Trump's imported workforce.
Related: Trump's Mar-a-Lago hires hundreds of foreign workers
Trump has stated publicly that he cannot find Americans to take the jobs his properties give to foreign guest workers. "You cannot get help during the season. The season goes from like October to March. It's almost impossible to get help," Trump said earlier in the campaign, responding to why he hired foreign guest workers at his Mar-a-Lago club. "And part of the reason you can't get American people is they want full time jobs."
Trump's argument, in all cases of importing foreign workers, is that no Americans would accept the jobs he is offering, and that he tried his best to find Americans to work, but couldn't fill the positions. Trying to find Americans to fill the jobs is a requirement on the Department of Labor Visa Applications, and the Trump Organization claims it followed the regulations to the letter.
Despite his repeated assurances that he will bring jobs home to America, Trump uses an employment agency that specializes in overseas hires.
Most of the requests for foreign workers concerned the Mar-a-Lago Club, Trump's exclusive crown jewel property that is both a resort and sports club, nestled on the water of Palm Beach. In the past 10 years, 849 foreign guest workers were approved for the resort. Most of those were for servers, cooks, housekeepers or other similar positions.
A majority of these workers were brought in on what is known as H-2B visas and came from a small group of countries, according to current and former workers. The countries of preference: Romania and South Africa.
Related: What we know about Trump's money
Several foreign workers told CNN the opportunity to work for Trump allowed them to "live the American dream."
"It was all a good deal," one former Mar-a-Lago waiter from Romania told CNN on the condition his name would not be used.
The former waiter, who worked at the club on an H-2B visa, said Trump treated the staff with respect. On more than one occasion, he said Trump went back into the club's kitchen and tipped all of the staffers with $100 bills.
"It was a beautiful environment and a great club. I had a very good time," the former waiter from Romania said.
Another former staffer told CNN Trump took a particular liking to her when he found out she was European.
Related: What Trump's tax returns could reveal
Aaron Janus, a former executive chef at Mar-a-Lago, told CNN the club's management struggled to find reliable workers from the U.S. He said the foreign workers had more experience and dependability, but he added that preference was given to attractive foreign applicants.
"They cherry-picked some pretty people," Janus said, explaining the club hired attractive foreigners for front-line positions, such as waiters and desk attendants, due to their exotic appeal. He described that practice as common at many clubs and restaurants in South Florida.
Janus, echoing what some workers themselves said, added that for many foreigners, working at Mar-a-Lago "is the American Dream."
"They don't have opportunities like this. In joining these visa programs, they were able to make more money and experience more," he said.
Related: Trump University's 'top' instructor's job was to sell, not teach
Records show when Trump needed specialty talent, he turned to another foreign guest worker program, the H-1B visa. These included nearly 300 foreign guest workers who came to work as fashion models, engineers, and hotel managers. These workers went mostly to Trump's model management company, his international hotel and tower, and the Trump Organization at large.
The Department of Labor requires proof that an employer seeking to import workers tried but failed to attract qualified U.S. workers.
Records show Mar-a-Lago appears to have done the bare minimum required by law to advertise the jobs to U.S. workers. According to a CNN analysis of hundreds of pages of Labor Department documents, Mar-a-Lago did not place advertisements in the area's largest newspaper. Instead, ads were placed in a local paper with a small circulation and the ads were routinely posted for just two days, the minimum required by law.
Department of Labor documents obtained by CNN also show Mar-a-Lago failed to comply with government regulations on some previous applications for visa workers.
For example, an labor department audit of Mar-a-Lago's 2013 application for laundry workers found "the employer failed to demonstrate that its dates of temporary need, reason for temporary need, and number of positions requested for labor certification had been truly and accurately stated on the application."
In addition, employer statements on recruitment are self-reported, and federal employees told CNN that the Department of Labor does not have the resources to check the accuracy of them.