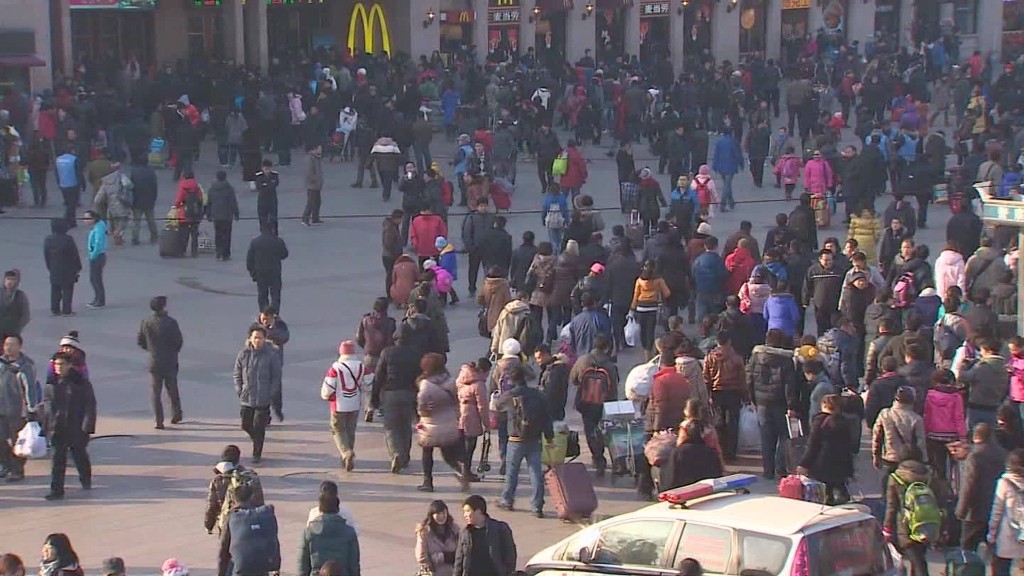 When Mr. Luo talks about his work as a private car driver, he becomes so animated that it's hard to imagine he ever worked another job.
In reality, he's a former steelworker -- one of an estimated 1.8 million people losing their jobs as China takes the knife to its bloated steel and coal producers. Luo held down a job at state-owned Wuhan Iron and Steel for 21 years. But since last year, he's reinvented himself as a driver for Uber's big rival in China, Didi Chuxing.
It's a transformation that makes Luo a poster child for Beijing's economic reforms -- a dramatic and risky shift away from traditional manufacturing and heavy industry to more sustainable growth, powered by consumer spending and services. Didi is already reflecting that change -- the ambitious startup has about 530,000 former steel and coal workers on its payroll.
For workers like Luo, China's economic transition means scrambling for new ways to make ends meet. After embarking on an initial job search, he tried his hand at China's volatile stock market, but wasn't able to make much.
Then, a friend who worked at Didi introduced him to the ride-hailing app. Roughly half a year later, Luo is happily working fewer hours for more pay than when he was a steelworker.
"Before, I didn't know about this kind of job," said Luo, 43. "Now, I feel more independent to set my own schedule, I have more time to spend with my son ... and my wages have increased."
Luo's day starts as early as 6 a.m., and he typically takes ride requests for eight hours before heading home to help his son with homework.
Related: Meet the people behind Uber's big Chinese rival
He's now making about 2,000 yuan ($300) more each month than he did at Wuhan Steel. He finds the work more engaging. "Workers were like robots" at the steel factory, he said.
The enthusiastic new driver even studies maps to familiarize himself with the best routes. It's a better method than relying on GPS, said Luo, who declined to give his full name because unemployment in China's state sectors is a sensitive subject.
While the Chinese government has set aside funds to transition unemployed workers, like Luo, into new jobs -- an attempt to prevent mass social unrest -- private companies like Didi are also seizing the opportunity to recruit.
Related: China plans to cut 1.8 million coal and steel jobs
Didi, which recently received a $1 billion investment from Apple (AAPL) and has millions of drivers across China, offers training courses tailored to laid-off workers and military veterans. All successful applicants must pass background checks, interviews and tests, and take classes on everything from safety to customer service.
About 80% of its drivers who used to work in heavy industry are now earning wages at Didi that are equivalent to or more than in their original jobs, the company said.
At Wuhan Steel, one of the world's largest steel firms, about 40,000 workers have already been laid off. Rough waters lie ahead: last month, the company announced it would merge with Baosteel, another Chinese steel giant.
The transition from a manufacturing powerhouse to a consumer-driven economy has been challenging for China, which is now experiencing its slowest annual growth in a quarter century.
At times, Beijing has even reverted to its old playbook -- unleashing stimulus for a quick economic boost, rather than sticking to reforms that will help in the long term.
In a way, China's leaders are hedging their bets. The same is true for Luo.
He plans to keep working as a Didi driver for the next few years, before reassessing. Luo says he would even consider going back to the steel sector.
Then again, "there are good things about this job [as a driver]," he said. "I have more time for my family."