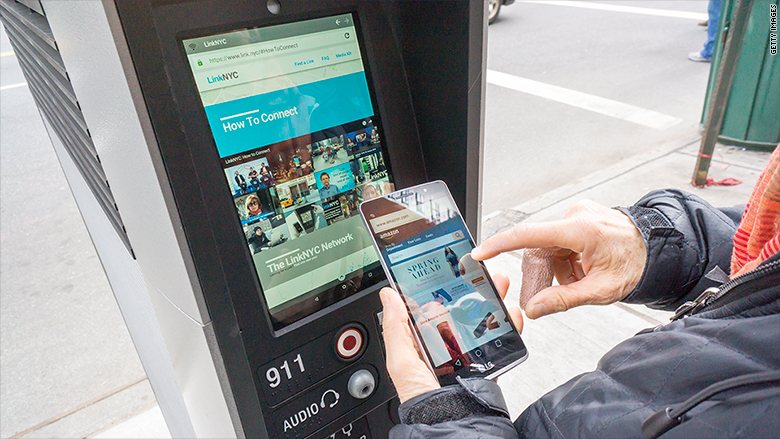 Private habits are becoming more public as cities like New York build free Wi-Fi kiosks on busy street corners.
LinkNYC has launched more than 300 stations in New York this year by transforming old payphone booths into digital towers. Each is equipped with USB charging ports, high-speed Wi-Fi access and an Android-powered tablet that anyone can use for free.
But over the past few weeks, there's been an uptick in reports of people using the kiosks to access porn in public -- and even pleasuring themselves while doing so.
Many of these people are homeless, according to the New York Post, with Penn Station and Port Authority Bus Terminal becoming especially problematic areas.
While watching porn in public is not a crime, pleasuring yourself in public is an act of public lewdness. Those caught in the act are arrested, according to the New York Police Department.
Related: Google wants to beam super-fast Wi-Fi into your home
LinkNYC says it has put many measures in place to try to prevent this type of activity, but it says it's hard to solve the problem completely.
Ruth Fasoldt, Community Affairs Manager for LinkNYC, told CNNMoney the kiosk's tablets use a professional-grade content monitoring system similar to what's already in place at thousands of businesses, schools and libraries across the country. And even though the system "is constantly being updated and adjusted to block inappropriate content," it can't catch everything.
The challenges are due to new websites constantly popping up on the internet that can't get blocked in real-time. Even general audience platforms such as Tumblr or YouTube can contain materials that some might find stimulating.
Companies that provide filtering technology are also reluctant to block certain keywords or limit services to a set number of websites because people have different needs for looking things up.
For instance, one user might put in certain keywords to search for a local gay bar, while another might be looking for porn. It's difficult for a simple word filtering system to predict intent.
In April, LinkNYC activated Google SafeSearch to try to curb abuse, but the move isn't fully sufficient. Someone who really wants to see a naked woman could get around the system by searching for terms that raise less flags.
"The problem is that the internet is very big," said Richard Ford, CTO of Forcepoint, a cybersecurity company which provides web filtering services.
But he notes there are ways to learn more about what a user is finding. For example, by looking at the URL of a website, which can include words such as "porn," a system can determine more about its content. And the "gold standard" is looking at the contents itself, such as other links within the page or file names. There's also the issue of getting around encrypted websites that can skirt filtering systems.
"It's more invasive and more intensive," Ford said of the possible methods.
Related: Inventor of the cell phone says this is the next big thing
LinkNYC wants to build at least 7,500 free Wi-Fi kiosks in New York City over the next eight years, so this is a problem that will likely grow if left unresolved.
Maya Worman, a spokeswoman from the New York City Department of IT, told CNNMoney that the city will work with the kiosk operators to "enhance and adjust as needed."
"While no content filtering system can ever be perfect, [LinkNYC partners are] constantly monitoring and updating LinkNYC to block inappropriate content on the tablets," Worman said. "We are focused on the greater good Link is already providing and will continue to provide as the project matures and expands."
The kiosks intend to help people stay connected to high-speed web access and communication tools wherever they are in the city. A group of companies in charge of LinkNYC, including Google (GOOGL)'s parent company Alphabet, says its tablets are used more than 50,000 times a week, and that making free calls is one of the most popular tasks.
Advertising displayed on the sides of the towers help cover the costs of the services.