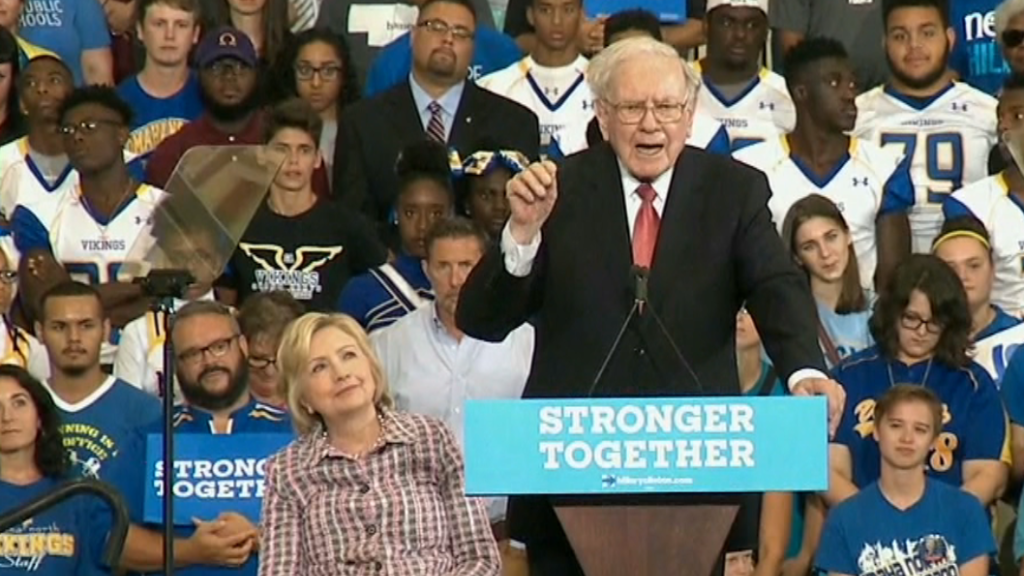 Warren Buffett vowed Monday that he'll be the chauffeur of Omaha on election night.
"I am pledging personally that on November 8th, no matter how cold, no matter how snowy, no matter how rainy, icy, whatever it may be, I'm going to take at least 10 people to the polls who might otherwise have difficulty getting there," the billionaire investing guru said in a video for his Drive 2 Vote campaign.
The 85-year-old Berkshire Hathaway CEO said during a rally with Hillary Clinton in Omaha Monday that he has reserved Ollie the Trolley, a hallmark of Omaha transportation.
"It seats 32.... I'm going to be on it all day. I'm going do selfies, whatever it takes," Buffett said. "If it's snowing, if it's cold, my goal is to have the turnout...be the highest percentage of potential voters as any district in the country."
Nebraska and Maine are the only two states that divide its Electoral College votes based in part on how each congressional district votes. That means voters in Nebraska's Second Congressional District, which includes Omaha, could decide how one of the 538 electoral votes is cast, Buffett emphasized.
Related: Warren Buffett challenges Donald Trump to discuss tax returns
"You're voting as a, we'll call it a super-voter," Buffett said in a video introducing the project. "Should this election turn out very close, your vote and a very few votes, maybe of your friends, could decide who becomes president of the United States."
The mogul ended the video by pulling out a chauffeur's cap and saying, "If this thing works out like I think it will and I hope it will, I think I may have a new profession: Warren Buffett, driver."