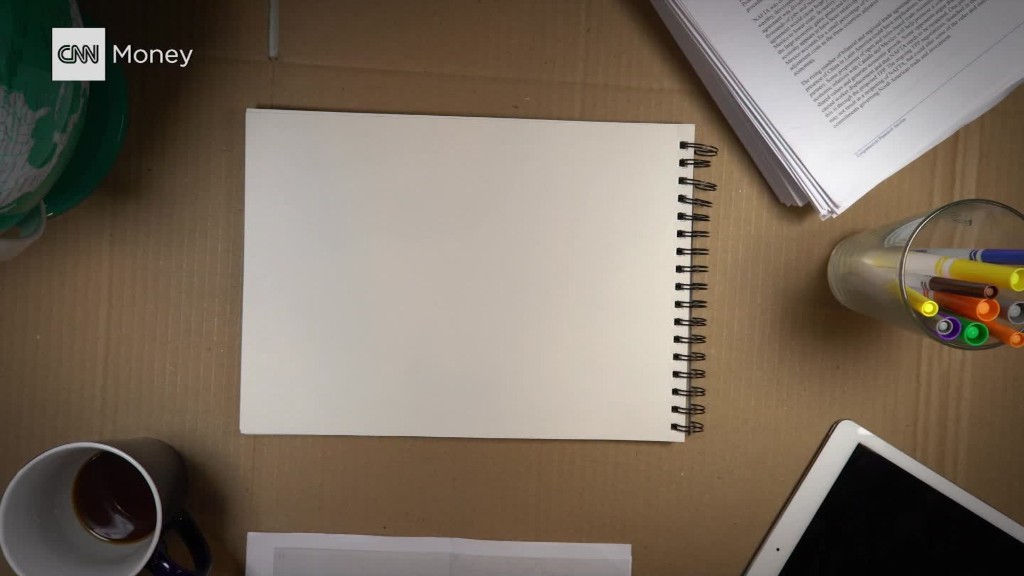 It looks like it could be another down day for the Dow.
U.S. stock futures are all sinking.
The Dow Jones industrial average has been on a losing streak over the last seven trading days after hitting a record high in July.
Here are the five things you need to know before the opening bell rings in New York:
1. Earnings galore: Office Depot (ODP), Clorox (CLX), Crocs (CROX) and CNN's parent company, Time Warner (TWX), are all releasing earnings before the open.
Then 21st Century Fox (FOXA), Allstate (ALL), Denny's (DENN), Herbalife (HLF), Transocean (RIG), TripAdvisor (TRIP) and Tesla Motors (TSLA) are set to release earnings after the close.
The Tesla results come after the electric car manufacturer announced it would buy solar energy firm, SolarCity (SCTY). Tesla's stock has taken a tumble lately after being a hot investment for years. It's down 13% in the past 12 months.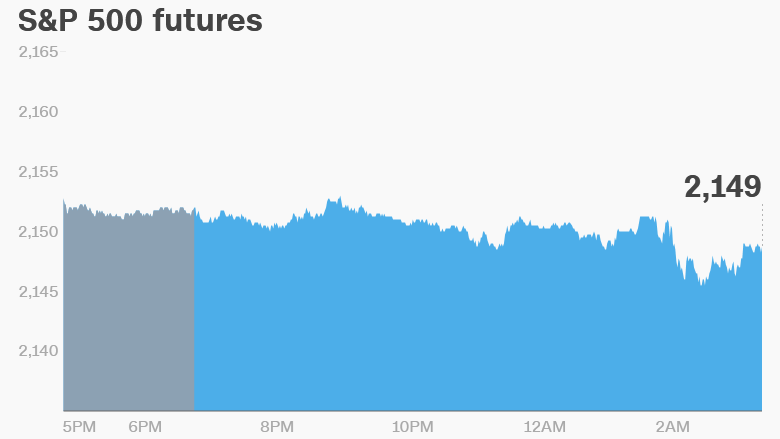 2. Economics: Payroll firm ADP is publishing its influential employment data for July at 8:15 a.m. ET. Some economists believe it provides clues to the official U.S. jobs report, which comes out Friday. It's expected that the data will show 175,000 new jobs were added in the American private sector last month.
The last ADP report showed that private sector employment increased by 172,000 jobs in June.
The U.S. government's Energy Information Administration releases data on weekly crude oil inventories at 10:30 a.m. ET. This report consistently affects the price of oil, which is currently trading just below $40 per barrel.
3. Stock market movers -- AIG, ING, HSBC: Shares in AIG (AIG) look set to jump at the open after the insurance giant reported better-than-expected results on Tuesday after the close.
And shares in European banks ING (ING) and HSBC (HSBC) are leading financial stocks higher after reporting earnings. ING stock is up 8% in early trading while HSBC is up about 3%. HSBC said it would buy back $2.5 billion in shares.
The moves mark a small recovery for Europe's banking sector. Many major European bank stocks are down by more than 50% over the past year. They've been pummeled by worries about their financial health, along with negative interest rates, slow economic growth and the U.K. Brexit vote.
Related: Sturm Ruger sales jump 19%
4. International market overview: European markets are mixed in early trading, while most Asian markets ended the day in the red.
In India, lawmakers look set to approve a long awaited Goods and Services Tax, which could streamline the tax system and make life much easier for businesses.
5. Tuesday market recap: The Dow Jones industrial average was down 0.5% on Tuesday, its seventh consecutive daily loss. The S&P 500 declined by 0.6% and the Nasdaq fell 0.9%.