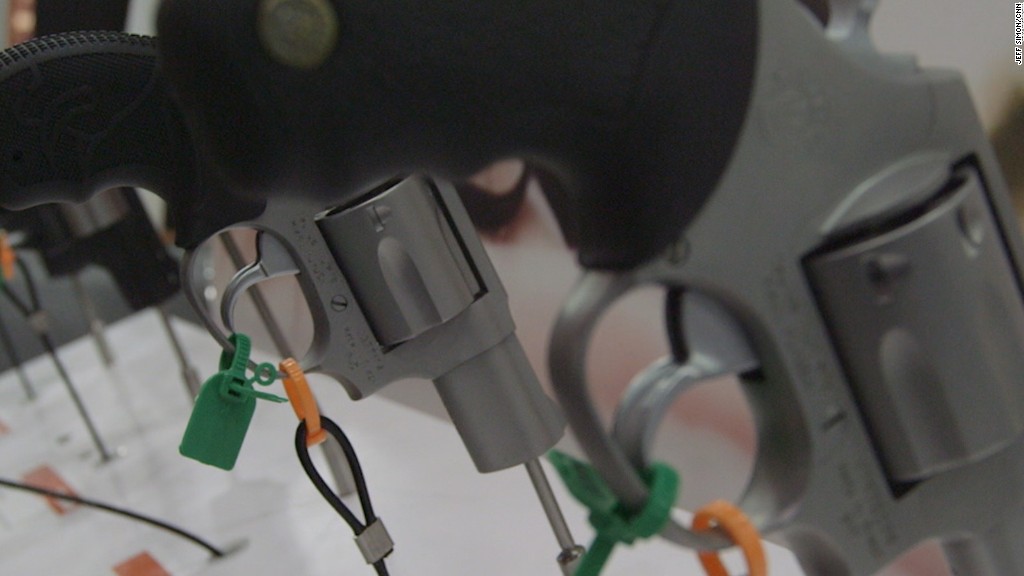 Gun manufacturers are facing a "unique time in our history" because a presidential candidate is "actively campaigning" against the gun industry and criticizing a Supreme Court ruling on guns, the CEO of Sturm Ruger told CNNMoney.
Michael Fifer was referring to Hillary Clinton's campaign which wants an expansion of background checks and restrictions on military-style assault weapons among other things.
"Certainly, this is a unique time in our history, because for the very first time ever, we have the nominee of a major political party, one with a very reasonable likelihood of winning the presidency, overtly stating that the Supreme Court got it wrong.... and actively campaigning against the lawful commerce in arms," Fifer said in an earnings call.
"That's unprecedented, and it will be hard for any of us to believe that didn't have some impact, but it can't be measured," Fifer said.
One way of possibly measuring the impact is Ruger's 19% spike in sales.
Chris Killoy, chief operating officer for Ruger who will succeed Fifer as CEO next year, said the increase in Ruger's sales is "fueled in part by the current political climate."
Related: Sturm Ruger sales jump 19%
Killoy said that manufacturing can't keep up with demand, even though employees are working overtime. The company, based in Newport, New Hampshire, added a third factory in North Carolina in 2014.
The political atmosphere over guns is also charged because of the death of Supreme Court Justice Antonin Scalia, who authored the District of Columbia v. Heller ruling that upheld the Second Amendment right to keep guns in the nation's capital in a 5-4 vote.
Scalia has since died and his seat remains vacant, meaning the next president will fill that vacancy.
The Clinton campaign did not comment on this, but her policy adviser told Bloomberg earlier this year that the Heller decision was "wrongly decided."
Gun sales have also been driven by mass shootings. This is partly because gun buyers want to protect themselves. It's also because they're afraid that the AR-15-style rifles often used in these attacks will face restrictions from gun control laws.
When asked about the sales impact from the massacre of 49 people at an Orlando nightclub on June 12, which was the deadliest mass shooting in U.S. history, Fifer said it's "something we can't measure" and "it didn't appear to have a material impact."
This year is on track to set a record for gun sales, based on background checks conducted by the FBI, and double-digit sales increases reported by Ruger (RGR) and Smith & Wesson (SWHC).
CNNMoney's Jackie Wattles contributed to this report