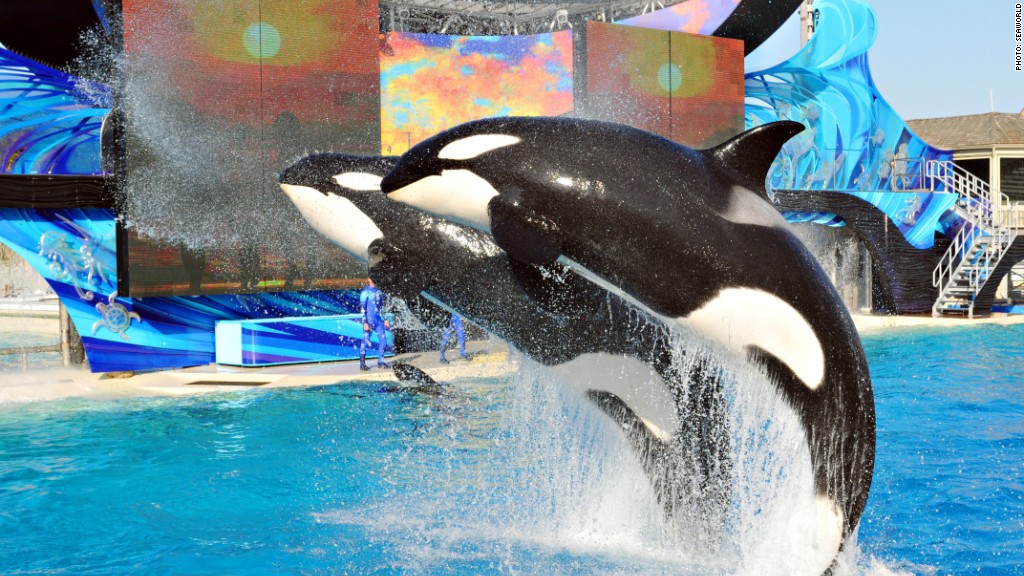 SeaWorld's attendance is down and so is its stock price, which plunged to an all-time low Thursday.
Shares of SeaWorld Entertainment (SEAS) dropped 14% in morning trading.
While SeaWorld's profits in the most recent quarter improved dramatically from a year ago, they still fell short of expectations. Also, revenue declined slightly.
SeaWorld also said that attendance at its theme parks in the second quarter dropped by nearly half a million guests, primarily because of its Florida parks. SeaWorld has five parks in Florida, including Busch Gardens in Tampa, as well as parks in California, Virginia and Texas.
The company blamed a "shift in the timing of holidays," a drop in tourists from Latin America, "softness" in the Orlando market, and Tropical Storm Colin, which whipped through Florida in June.
Related: SeaWorld offers 'thoughts and prayers' after mass shooting in Orlando
The company did not mention the relentless drumbeat of animal rights activism from PETA or the lingering impact from the CNN movie "Blackfish," which came out in 2013.
But SeaWorld has been working to improve conditions to combat the perception that it was neglecting and mistreating its orcas, or killer whales.
One of the oft-repeated complaints is that the orca tanks are too small, forcing them to live in cramped conditions. SeaWorld addressed this when it embarked on a $100 million project to increase tank size in San Diego, which was approved by the California Coast Commission in 2015. But even then, Seaworld ran into a hurdle, because the approval included the caveat that Seaworld couldn't breed its 11 orcas in captivity.
At first, SeaWorld pursued legal action against the breeding ban, which it called "overreaching." But earlier this year, the company said it was ending the breeding of orcas and was phasing out their use in theatrical shows.
Related: Could Zika pose a threat to Florida's tourism industry?
"We are confident in the changes we've made because they let us get back to our roots as a company focused on entertainment and education, and move SeaWorld beyond concerns people have expressed about large animals like orcas under human care," said SeaWorld spokeswoman Aimee Jeansonne-Becka in an email to CNNMoney.
"We know that society changed, and we have changed with it," she said.
Ringling Brothers made a similar move when it phased out its elephant acts in the face of opposition from animal rights activists.
Going forward, SeaWorld could be facing a new challenge to the Florida tourism industry: the threat of Zika, which is being locally transmitted in Miami, probably by mosquitoes.