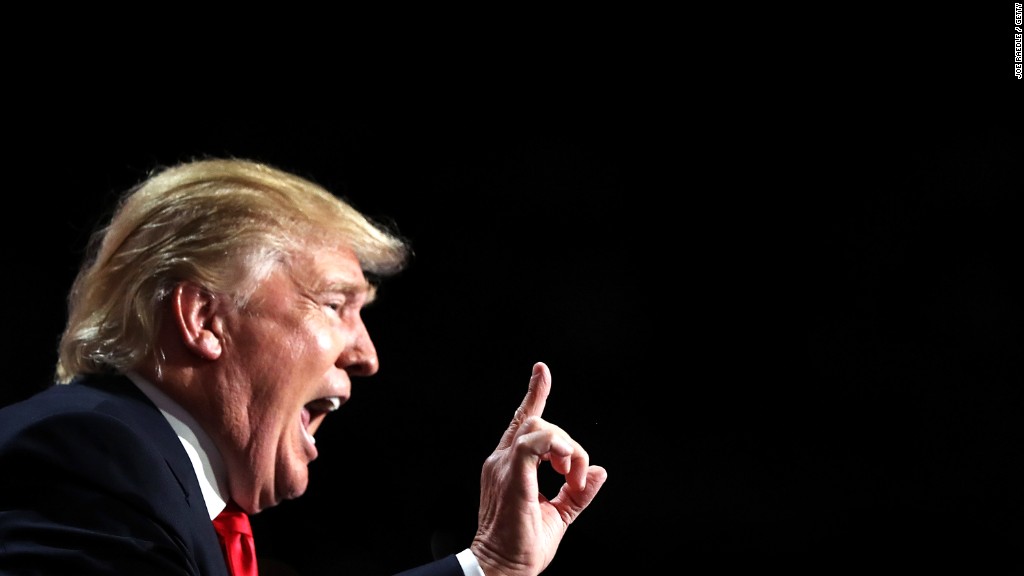 Donald Trump on Friday unveiled his team of economic advisers, which draws heavily on industry executives in finance and real estate.
The list has some big Wall Street names, such as Steven Feinberg and John Paulson, and billionaires, including Harold Hamm and Andy Beal.
And several are Trump donors, including Beal, Hamm, Feinberg, Tom Barrack and Steven Mnuchin, who also serves as finance chairman for Donald J. Trump for President.
None of the advisers is a woman. Trump on Thursday struggled to name any women he'd consider appointing to his Cabinet, other than his daughter, Ivanka.
The Republican nominee also plans to unveil policy initiatives on Monday at the Detroit Economic Club. His plan focuses on "empowering Americans by freeing up the necessary tools for everyone to gain economically," according to the campaign.
Trump has often said he wants to renegotiate trade deals and bring back manufacturing jobs that have been shipped overseas -- both of which would be tough to do and may not lead to much new employment, experts said.
"For too long we have watched as President Obama and Hillary Clinton have ruined our economy and decimated the middle class," Trump said in a statement. "I am going to be the greatest jobs president our country has ever seen."
The campaign's policy team will be led by Stephen Miller, with Dan Kowolski serving as deputy director. Miller was communications director for Alabama Senator Jeff Sessions, an early Trump supporter, while Kowalski has served as deputy staff director of the Senate Budget Committee's Republican staff.
Additional members of the economic team will be added later.
Related: Moody's Trump's plans would cost 3.5 million jobs
Related: No way Trump will cause a recession, adviser says
Trump's economic advisory team includes:
Tom Barrack, who founded Colony Capital, a private equity firm. He also served in the Reagan administration as deputy undersecretary of the Interior Department.
Andy Beal, who founded Beal Bank and other financial firms, including CSG Investments, Loan Acquisition Corp. and CLG Hedge Fund.
Stephen Calk, who founded Federal Savings Bank and National Bancorp Holdings, which is primarily focused on increasing home ownership among veterans.
Dan DiMicco, who was former CEO of Nucor Corp, a large steel producer. He wrote the book "American Made: Why Making Things Will Return Us To Greatness," on how to revitalize manufacturing.
Steven Feinberg, who co-founded Cerberus Capital Management, a private equity firm which focuses on investing in distressed assets.
Harold Hamm, who is chief executive of Continental Resources, an oil and natural gas producer. He spoke at the Republican convention.
Related: Oil tycoon's ex-wife won't get more than $1 billion
Howard Lorber, who is CEO of Vector Group, a publicly traded company involved in the real estate and consumer products industries. He also serves as chairman of Douglas Elliman Realty, a real estate brokerage firm.
David Malpass, who served as deputy assistant Treasury Secretary under President Reagan and deputy assistant Secretary of State under President George W. Bush. Malpass also founded Encima Global, a consulting and research firm that provides analysis on global economic and political trends.
Steven Mnuchin, who is CEO of Dune Capital Management, a private investment firm, and was an executive as Goldman Sachs. Mnuchin raised eyebrows when Trump picked him as finance chair because he contributed multiple times to Hillary Clinton when she was a senator from New York.
Stephen Moore, who founded the Club For Growth and is chief economist for the conservative Heritage Foundation. Moore was the senior economist of the Joint Economic Committee under Chairman Dick Armey.
Peter Navarro, who is a trade expert and professor of economics and public policy at the University of California, Irvine.
John Paulson, who is president of Paulson & Co, a hedge fund. He made billions by betting against the housing bubble in 2006. He has had to use his own fortune to shore up his firm's finances in recent years, according to a Bloomberg report earlier this year.
Steven Roth, who is chief executive officer of Vornado Realty Trust, which develops, owns and manages office and retail properties in New York City, Washington, D.C., Chicago and San Francisco.