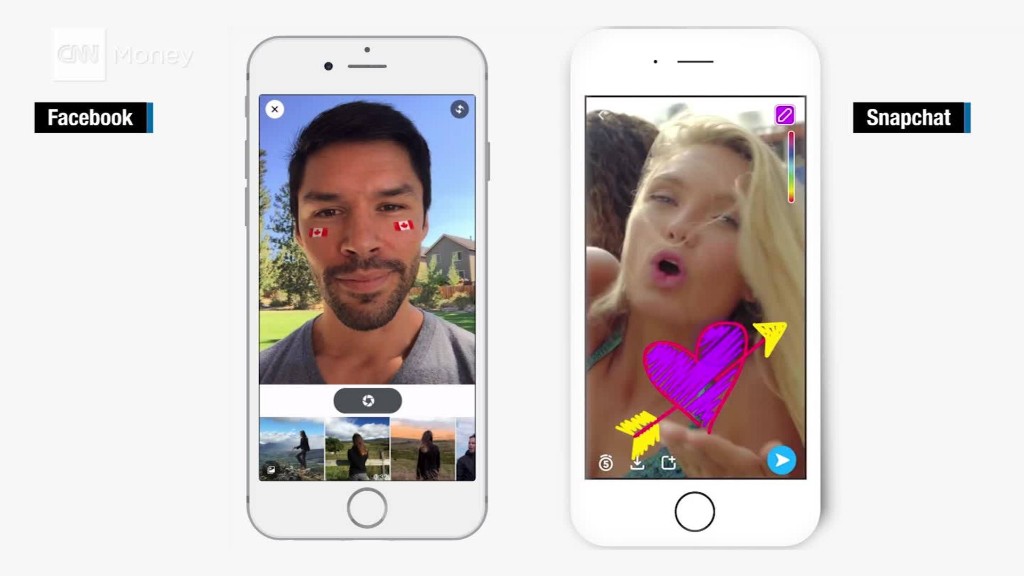 Facebook is hungry for content. It wants videos of your face, your pets, that half-eaten bagel, anything you're sharing on Snapchat, really.
The company is testing a new feature to encourage people to share more original photos and videos. Starting Friday, when users in Canada and Brazil open the mobile app, they will be immediately greeted by a large, live image of their own face. They can tap to overlay text or drawing and share the photo or video as a status update.
It might be jarring to some, but will seem instantly familiar to anyone who's used Snapchat. In fact, it's Facebook's (FB) second unabashed Snapchat rip-off this week. On Tuesday, it introduced the photo and video collage feature Instagram Stories, a pitch perfect imitation of the popular Snapchat Stories.
Related: Instagram Stories is Facebook's latest Snapchat clone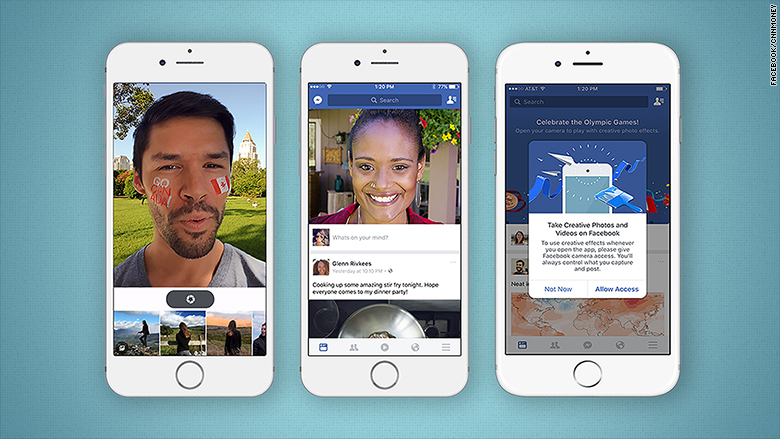 Facebook hopes switching on the camera automatically will tempt people into sharing more homemade content instead of just waiting for major life events or arguing about politics.
The way people share on Facebook has shifted in the past 10 years, moving from text to photos to videos. CEO Mark Zuckerberg has talked about the company being more video-centric multiple times over the last year.
"We see a world that is video first, with video at the heart of all of our apps and services," said Zuckerberg on a recent Facebook earnings call.
The company has also been trying to get some of Snapchat's mojo for years. There was the failed attempt to acquire the company in 2013 for $3 billion, followed by a series of app and feature imitations. It's tried disappearing messages, stickers, and nearly identical standalone apps. The new overlays are Facebook's first collaboration with MSQRD, a Snapchat-esque filter startup it acquired in March for an undisclosed amount.
Related: Facebook takes live video to the next level
Snapchat has 150 million daily active users, only half of Instagram's 300 million audience and a fraction of Facebook's 1.3 billion daily active users. But the surging popularity of Snapchat with younger users and brands is enough to make Facebook pay attention. (It's not the only major company suffering from Snapchat envy. Apple is adding a pile of flashy features to its Messenger app this fall, including stickers, gifs, and "hidden" texts.)
Unlike its other attempts at imitating Snapchat, the new camera feature will be nearly impossible to ignore. It is the first thing users will see when they open the app in Canada, or iOS app in Brazil. It takes up half the news feed.
That's a valuable piece of real estate, and it shows that Facebook is not taking silly video selfies covered in doodles lightly.