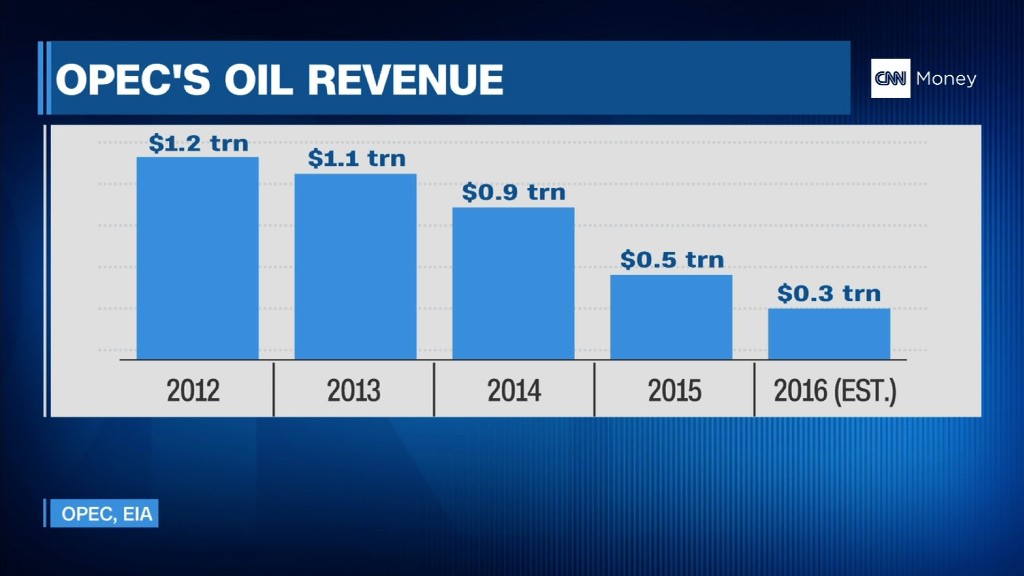 Struggling OPEC countries are getting antsy.
The oil cartel announced plans on Monday to hold an unscheduled meeting late next month in Algeria. Non-OPEC member Russia, the world's largest oil producer, opened the door to joining the "informal" meeting.
All of this is fueling speculation that major oil producers could announce moves to stabilize oil prices, which recently fell back below $40 a barrel from over $50 two months ago. OPEC has been pumping oil at a ferocious pace the last two years, aiming to steal back market share from the U.S.
Confirmation of an OPEC meeting, to be held on September 26 to September 28, was enough to send oil prices soaring 3% on Monday to $43 a barrel.
Mohammed Bin Saleh Al-Sada, the president of OPEC and Qatar's energy minister, insists that the oil price slump is "only temporary" and the market remains on track to recover.
Yet the formal announcement of the informal meeting underscores the precarious situation facing many countries that rely on oil to keep their economies afloat.
Venezuela, the leader in proven oil reserves, could run out of cash within a year and is dealing with a serious food shortage.
Even Saudi Arabia, the powerful leader of OPEC, has been forced to usher in severe budget cuts that have resulted in a wave of job cuts. Last week, India was forced to come to the rescue of thousands of its starving citizens in Saudi Arabia who lost their jobs and were stuck in migrant camps with poor conditions.
Russia's economy has been hit by a double whammy of cheap oil and sanctions from the West. Russia has even cut its defense spending despite tensions with the West.
Yet Alexander Novak, Russia's energy minister, said he doesn't think the "prerequisites" for a production freeze are there yet, according to Russian news agency Sputnik. However, Novak said a freeze could be needed if prices fall further and he signaled a willingness to discuss the matter in Algeria with Saudi Arabia.
Renewed signs of cooperation among oil producers are "indicative of the significant pressure some of the producers are under in terms of their economies," research firm JBC Energy wrote in a report on Monday.
Related: Cheap oil has killed nearly 200,000 U.S. jobs
Cheap oil has created pain in Texas, North Dakota and other oil-producing parts of the U.S. American oil production remains near all-time highs, but has slowed down over the past year because prices have fallen below what's needed to turn a profit.
But just because OPEC is holding an informal meeting, doesn't mean the divided cartel will be able to agree on production caps, let alone production cuts. Recall that OPEC and non-OPEC producers infamously held marathon production freeze talks in Doha in April, but ultimately failed to agree on anything.
"We are skeptical," analysts at Brown Brothers Harriman wrote in a report over the weekend, noting that less influential countries like Venezuela and Ecuador are behind the recent freeze talks.
The biggest obstacle could be Iran, which has declined to entertain a production freeze until its output returns to pre-sanctions level.
Agreeing to a cap before then "raises the cost of surrendering (or postponing) their nuclear ambitions," Brown Brothers wrote.