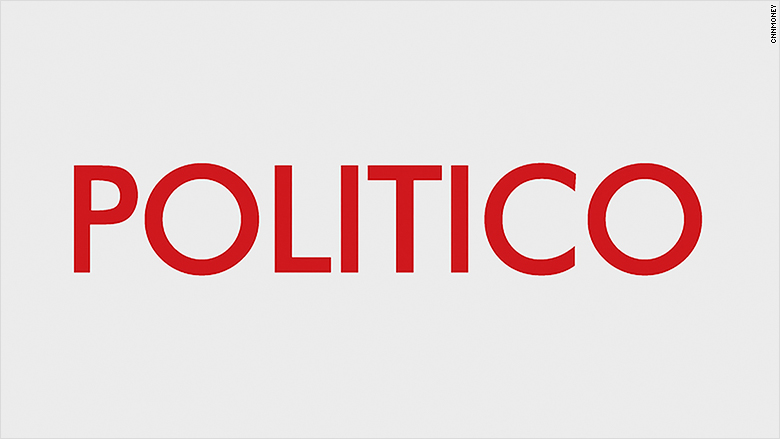 After months of high-level departures, Politico has hired a new executive leader.
Poppy MacDonald, the publisher and president of National Journal, has been tapped to serve as president of the company's U.S. operations, CNNMoney has learned.
MacDonald, a Politico alum, will join the company in September, a Politico spokesperson confirmed. She will report directly to Robert Allbritton, the company's owner, chairman and CEO.
The news follows a wave of executive departures from the company that began when former CEO Jim VandeHei and other top executives left the company in April.
In the last six months, Politico has lost its chief executive, its chief operating officer, its chief revenue officer and its chief technology officer, among others. CNNMoney also learned that Peter Cherukuri, the executive vice president in charge of audience development, will leave next month. (Cherukuri will serve as president and chief innovation officer at 1776, a tech startup incubator).
Heading into the fall, Politico is hoping to write a new chapter. In addition to MacDonald's appointment, the company recently announced that veteran reporter Carrie Budoff Brown would take over as top editor. She will replace Susan Glasser, who is moving to Israel with her husband, a New York Times reporter.
Internally, however, their appointments are widely seen as evidence that Politico may be scaling back its national ambitions in favor of a more Washington-focused strategy.
Since the spring shakeup, both Allbrittion and John Harris, the publisher and founding editor-in-chief, have made bold promises about Politico's commitment to growth and expansion, and to its being the nation's dominant political news organization. But after courting a number of high-profile figures -- including Justin Smith, the CEO of Bloomberg Media, for the role of president; and Ben Smith, the editor-in-chief of BuzzFeed, for the role of editor -- they turned to Beltway insiders.
Moreover, MacDonald was in charge of revenue at National Journal, not product. (MacDonald will be replaced by Kevin Turpin, a Senior Vice President at National Journal parent-company Atlantic Media, a spokesperson for Atlantic Media said.)
Nevertheless, Allbritton believes that these leaders are best-suited for the company's future.
"Poppy MacDonald has a keen understanding of the mission of Politico and we're thrilled that she's agreed to lead our domestic efforts as we enter the next phase of growth," Allbritton said in a statement. "Poppy has a proven record of success at the helm major publications and companies and will be a bold, thoughtful, and team-oriented leader for our U.S. operation."