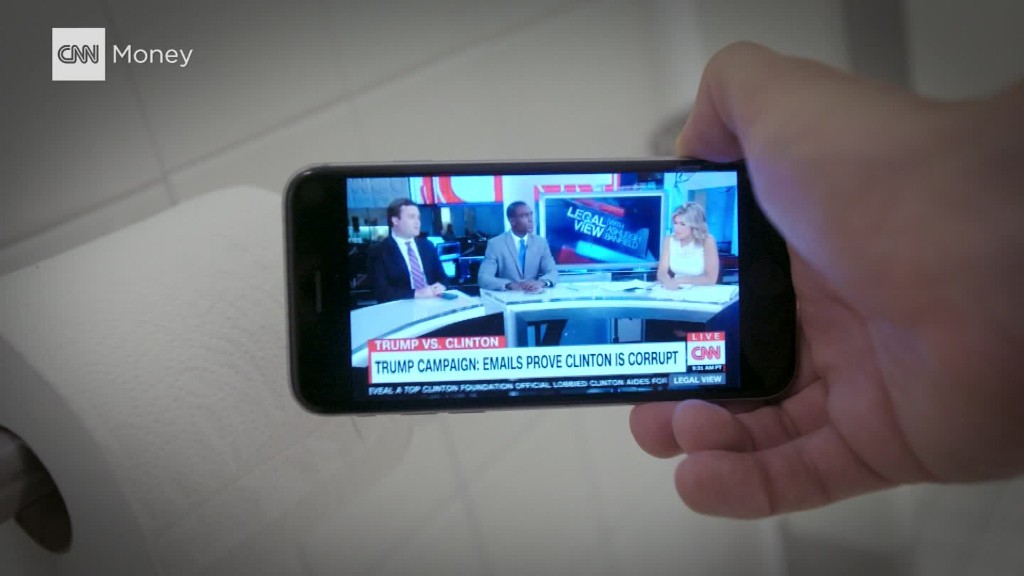 It wasn't an ordinary Google product event. There were no skydiving executives. No throngs of app developers. No tech press.
The audience consisted of congressional staffers and federal regulators. They were invited to Google's spacious D.C. office, conveniently located just a few blocks from Capitol Hill. The reason: to see Google and other companies demo a "prototype" for a new open interface on set-top boxes.
The gathering took place on a Friday morning in January, two days after the Federal Communications Commission unveiled a proposal that could change how the majority of U.S. households watch TV.
Consumers would no longer be forced to rent clunky boxes from cable companies -- sometimes at a cost of more than $200 a year. Instead, the proposed rules would finally give households the option to access cable and satellite TV, as well as online streaming services like Netflix, through a single, cheaper device, potentially made by third parties like Apple (AAPL), Amazon (AMZN) and Google (GOOGL).
The FCC proposal was guaranteed to enrage cable companies, long protective of their control over lucrative cable boxes. Yet, it was news of the conveniently timed product demo that made the battle lines clear to many inside the industry: Big Cable vs. Big Google.
The Internet company, already viewed as a potential cable competitor with services like Google Fiber and Chromecast, appeared to be heavily influencing regulators in order to pave the way for it to compete more directly in the TV market.
At least that was the cable industry's take after hearing about the demo at Google's office.
"Either that's just coincidence, or it just goes to show the extent to which this was teed up between [Google and the FCC]," says Victor Cerda, senior VP at Vme TV and an outspoken critic on the cable industry side.
Those on tech side say it actually was just coincidence: the demo was rescheduled because of snow. More than that, they scoff at the cable industry fixating on this demo as there were actually two similar product demonstrations held in December 2015.
Related: Obama's FCC wins key battle over internet regulation
Nonetheless, the cable industry quickly sounded the alarm bells. One of its chief concerns: If approved, the proposal would give companies like Google free access to raw TV streams. Google, the industry argued, could potentially repackage that video feed as it pleased.
That might mean Google could overhaul the channel lineup, or tweak how videos are presented to the viewer -- or, crucially, start selling its own pre-roll ads, banner ads and more. And in this scenario, Google could sell videos directly to advertisers, cutting out the programmers and cable providers.
Just last week, the U.S. Copyright Office echoed those concerns in a letter criticizing the FCC proposal for interfering with the traditional licensing deals between programmers and cable companies.
Sources on both sides characterized the cable box proposal to CNNMoney as one of the final goals for an FCC administration that tackled net neutrality and helped block Comcast's (CCV) merger with Time Warner Cable -- and as the last stand for the cable industry that bore the brunt of this regulation.
The FCC proposal, an early step in the commission's process of adopting new rules, kicked off what has been a fierce six-month political battle.
It ignited a wave of lobbying activity, turned Hollywood against Silicon Valley and scared away Google. Many industry watchers now think the original proposal will be scrapped.
Silicon Valley vs. Hollywood
On the same day the FCC proposal was announced, the cable industry launched a new lobbying group dedicated to the issue, called the Future of TV Coalition.
The group promptly began referring to the proposal as the "Google-backed set-top mandate." Others like AT&T (T) simply called it "the Google proposal." They portrayed the Internet company as using its connections in Washington to pave the way for its TV ambitions -- a theory rooted in Google's lobbying success.
"Google has just been very adept at inserting its corporate interest into the public policy process in a way that other companies either envy or just don't like," says Adonis Hoffman, a former legal adviser at the FCC.
The Future of TV Coalition summed up the industry's core complaints in a February 17 letter sent to two Republican representatives.
"Right now, if they want to incorporate our programming into YouTube or other video products, they must negotiate for the rights and pay fair market licensing fees," the coalition wrote in the letter. "If this rule passes, Google will instead be able to strip-mine our creative work for free, while collecting valuable data on user's viewing history and monetizing it through ads."
Those concerns resonated with advertisers and, crucially, media companies.
Related: Comcast will let you replace your cable box with an app
More than 30 companies and groups lobbied on the set-top box issue in the first half of 2016, up from just six in the same period a year earlier, according to data from the Center for Responsive Politics.
The list is made up mostly of cable companies like Comcast, AT&T and Time Warner Cable as well as content providers like 21st Century Fox and Disney (DIS). Google is not mentioned, but the Consumer Technology Association and the Computer & Communications Industry Association, two trade organizations that count Google as a member, are included on the list.
While Google may not be lobbying independently for this issue, the company has emerged as one of the most aggressive corporations in Washington overall. It spent more than $8 million on lobbying in the first half of 2016, making it the 11th largest lobbying spender for the year so far -- ahead of Comcast.
CNNMoney's parent company Time Warner was part of a larger group of media companies who filed comments together in April opposing the FCC proposal.
FCC officials expected pushback from the cable companies, but were "surprised" and "disappointed" at the pushback from TV programmers, according to sources close to the government agency, speaking on the condition of anonymity.
The growing coalition convinced 60 legislators to sign a letter in May voicing concerns about the cable box proposal.
Standing on the other side of that opposition: a ragtag group of smaller tech companies most Americans have never heard of -- Hauppauge Computer Works, anyone? -- and public interest organizations. (Amazon (AMZN), too, endorsed the proposal early on, but without receiving as much ire as Google.)
For all the focus on Google, people close to the FCC and the tech coalition supporting the proposal say the search company was far less active behind the scenes.
Matt Zinn, SVP and general counsel at TiVo, another company backing the FCC proposal, tells CNNMoney that Google's role has been "100%" overstated. Google, he says, has been "vilified."
Related: Google wants to beam super-fast Wi-Fi into your home
Unsurprisingly, opponents of the proposal disagree with this portrayal. But people on both sides say Google distanced itself from the fight after being singled out.
"The exposure made them back down," says Cerda, with Vme TV.
As one leading advocate pushing the FCC proposal put it, the absence of Google or another large, outspoken tech company has made the set-top box battle a less balanced "knife fight."
Google declined to comment on this story beyond a prepared statement: "There is widespread agreement that it should be easier for people to find and watch the shows they love -- whether that's on cable, via satellite, on demand, or online."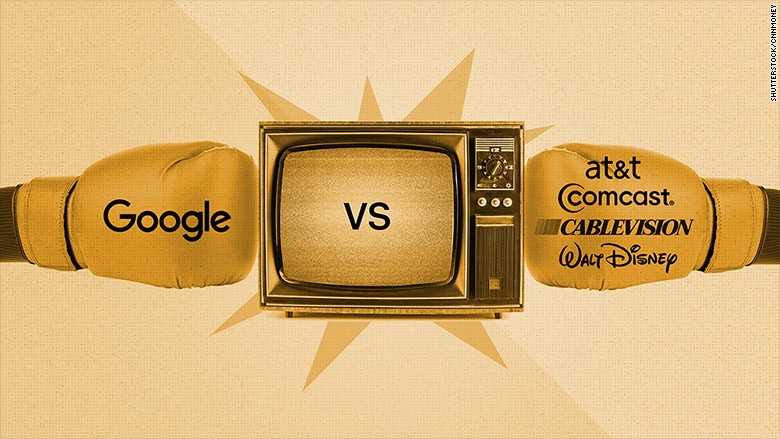 The original "Google proposal" is now on the ropes. Even a Democratic FCC commissioner who initially voted in for it said last month, "We need to find another way forward."
In its place, the cable industry is pushing an alternative plan to "ditch the box" in favor of an app made by each cable company. The app would let viewers stream the content they've paid for, whether it's from a network or Netflix, without relying on a costly cable box. All households would need: a gaming console, smart TV or smartphone.
Some in the industry have also attempted to show they can be more open without regulation. Comcast announced a deal this month to add Netflix to its X1 set-top box. Hulu reached a similar deal with Cablevision.
The FCC previously considered an apps-based solution and sees potential in this approach -- but only if the cable industry actually agrees to make those apps open and competitive.
Related: AT&T will start selling you cable TV over the Internet
Among the many questions and concerns raised by the FCC: what happens to households who still prefer to use cable boxes or simply don't know better? And will customers be able to search the cable app for content from other services like Netflix -- or will it just restrict viewers to the cable company's content?
In a hearing last month, FCC Chairman Tom Wheeler panned the industry's "one page" plan as "a press release." Sources close to the FCC say the chairman is determined to push new rules by the end of this year, whether it be focused on the box, apps or some compromise.
In its statement, Google called the cable industry's app proposal a "constructive effort." It has otherwise remained silent.
"The chairman's original proposal does appear to be failing," says Jeff Wlodarczak, a communications analyst with Pivotal Research Group, when asked why Google and others aren't speaking up more. "It is probably better to save their dry powder."