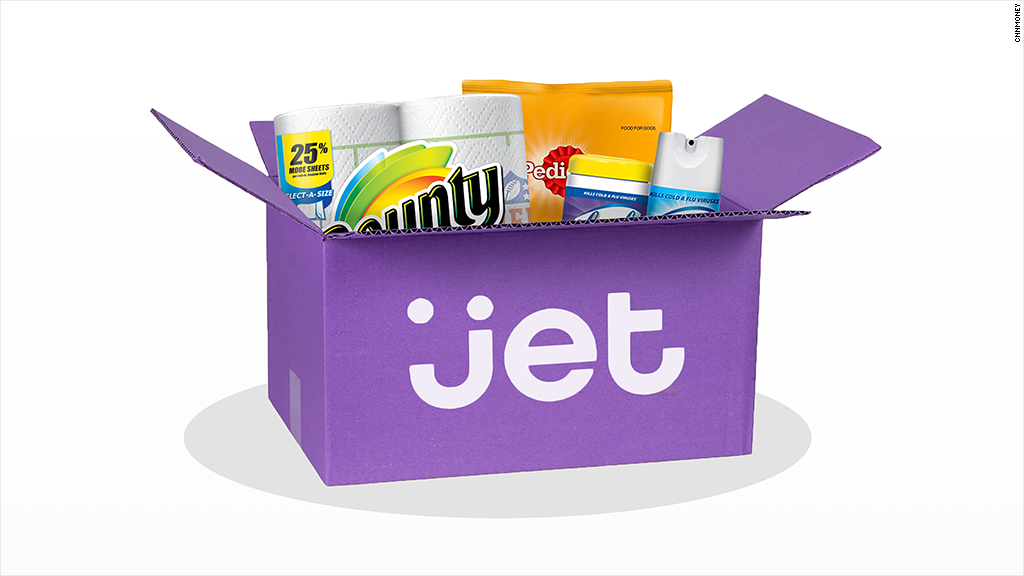 Back in 2010, Walmart had its eye on a promising online shopping company called Quidsi, best known for operating Diapers.com.
Walmart (WMT) entered into acquisition talks with the startup and its CEO Marc Lore, the retail company confirmed to CNNMoney on Monday. But no luck. Lore ended up selling his company to Amazon (AMZN) for more than $500 million.
Six years later, Walmart is finally getting its man.
Walmart announced Monday that it has agreed to buy Jet.com, Lore's latest shopping site, for $3.3 billion in cash and stock. The deal is the largest acquisition ever for a U.S. e-commerce company. If that's not jaw-dropping enough, Jet.com launched barely a year ago.
Walmart framed the acquisition as an investment in Jet's youthful brand and dynamic pricing technology, which offers real-time discounts for strategic bulk buying.
More than the technology and the brand, however, it's likely a bet on Lore himself.
Friends and colleagues describe Lore as a uniquely ambitious retail entrepreneur who isn't afraid to compete with Amazon directly and has the operational experience to back up his bold plans and aggressive fundraising.
"Marc Lore is one of the best operators in the United States," says Dave Spector, a friend and investor in Jet. "Building an e-commerce business from scratch, with warehouses and inventory, is incredibly challenging. He did it in less than two years."
"He combines the dream with very methodically laying out how you can achieve the dream. That's the magic combination," says Vinit Bharara, who cofounded Quidsi with Lore in 2003. "He makes you believe."
That combination of big picture thinking, attention to detail and overall experience is how Lore managed to convince investors to hand over "globs and globs of cash" to Jet, as Bharara puts it -- or around $800 million in funding, to be precise.
And that combination is likely what attracted Walmart.
Related: 15 Questions with Marc Lore
Walmart's online sales growth slowed to just 7% in the first quarter from a year earlier, prompting CEO Doug McMillon to admit on an earnings call that "growth here is too slow." Lore may just be able to change that and help Walmart catch up to his previous employer, Amazon.
"Your best bet at getting there is having someone like Marc Lore leading the charge," says Sucharita Mulpuru, a retail analyst with Forrester Research. It's Lore, and his team, that should account for "the vast majority" of the deal's value, she says.
Lore will continue to run Jet.com and take over leadership of Walmart's U.S. e-commerce efforts after the acquisition closes, McMillon said on a press call Monday afternoon.
"Marc's e-commerce experience and success are obviously attractive," McMillon said on the call. "His mindset and the way the two of us have come together fairly quickly to see e-commerce opportunities ... has been quite enjoyable as we've brainstormed it."
Representatives for Jet.com did not immediately respond to our request for comment.
"We started Jet with the vision of creating a new shopping experience," Lore said in a statement announcing the deal. "Today, I couldn't be more excited that we will be joining with Walmart to help fuel the realization of that vision."
Lore's vision for online shopping first began to take shape a decade ago with the launch of Diapers.com. The startup kept prices low by encouraging customers to add more items to each shipping box and routing deliveries through the nearest distribution centers -- tricks that Lore would use at Jet.com years later.
In 2010, Amazon CEO Jeff Bezos decided he wanted in on the diapers business. While in acquisition talks, Bezos launched Amazon Mom to undercut Diapers.com on prices and pressure Lore to sell, according to The Everything Store: Jeff Bezos and the Age of Amazon.
It worked. Lore sold to Amazon and stayed there for nearly three years. Then he jumped ship and started plotting out a new rival to Amazon.
Related: Walmart buying Jet.com for $3.3 billion to take on Amazon
In interviews and conferences, Lore would talk with a straight face about his plans to raise billions to build and market a national shopping site, rather than a niche e-commerce product focused on razors or furniture.
Lore usually refrained from talking up the Amazon rivalry directly, but made it clear that there was an opportunity for a second or third place competitor to still be a very lucrative business.
Jet.com is adding 400,000 new shoppers each month and hit an annual run rate of $1 billion in gross merchandise value, according to the acquisition announcement. It is not yet profitable.
While Walmart has had an eye on Lore for years, Lore hasn't always sounded so fond of Walmart.
In addition to shunning Walmart's acquisition attempt in 2010, Lore said in one interview last year: "If someone is unhappy here and doesn't see an opportunity for growth, OK, good luck, go to Walmart. I want to prove to myself that a different kind of culture can work and that you don't have to be like that to be successful."
On the press call, Walmart's CEO expressed confidence that Lore won't jump ship anytime soon. "I expect we'll work together for a long, long time," McMillon said.
"The opportunity that he has at Walmart is to be a part of building something extraordinary to continue the original pursuit of going after Amazon," says Spector, Lore's friend. "And now, with a bigger platform."