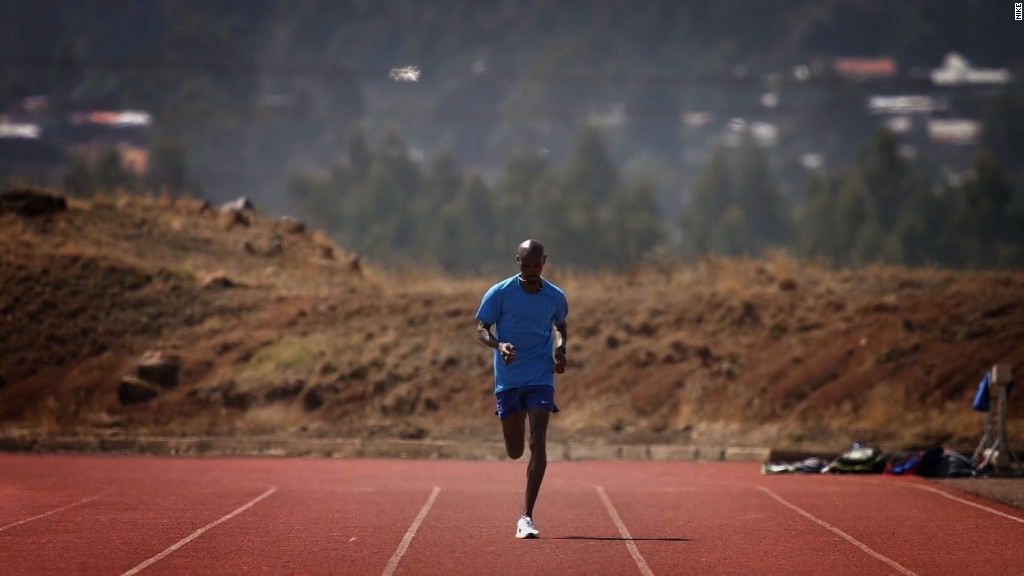 If companies were Olympic athletes, Nike wouldn't be on the medal podium -- unless there was a medal for last place.
Nike (NKE) stock is down more than 10% so far this year. That makes it the worst performing stock in the Dow for 2016, a title it recently inherited from Wall Street powerhouse Goldman Sachs (GS).
Nike's most recent quarterly sales missed forecasts. So did the company's future orders -- a key gauge of demand for the coming quarters.
It's enough to make investors do their best #PhelpsFace scowl. (The champion swimmer's menacing game face stare is now a popular social media meme.)
These should be good times for Nike.
It's the Olympics, after all. Nike is an official sponsor. And "Ghostbusters" actress Leslie Jones isn't the only one obsessed with what's going on in Rio.
Related: Meet the unofficial sponsors of the Olympics
So Nike will get a lot of exposure over the next few weeks -- from athletes wearing its apparel and all the Nike commercials airing on NBC and its family of networks during the games.
NBA superstar LeBron James -- who just signed a lifetime endorsement deal with the House of Swoosh -- recently gave the company the best exposure possible as well.
LeBron's Cleveland Cavaliers won the NBA title in June, beating the Golden State Warriors and Under Armour (UA) spokesman Steph Curry in the process. Winning is always good for sneaker sales. See Jordan (Michael) -- who is still on Nike's payroll.
But Nike is facing a tough challenge from resurgent rival Adidas (ADDYY) as well as Under Armour. Sales in North America, which account for nearly half of Nike's overall revenues, were flat in the most recent quarter.
Nike is still doing well in China and Western Europe. But unless that continues, Nike could find it tough to keep putting up the type of sales and earnings growth numbers that Wall Street has grown accustomed too.
Related: LeBron James will endorse Nike for the rest of his life
Future success in China is no given, as the country is heavily promoting home-grown companies -- sometimes at the expense of the West.
As 24/7 Wall St. blogger Doug McIntyre recently noted, China's Li-Ning and ANTA Sports Products could be tough competition in the future as China's middle class becomes a bigger part of the global consumer landscape.
"As is the case with many consumer products companies, China is critical to Nike's future. Local firms often have an edge, as American personal computer firms and Apple have discovered," McIntyre wrote. (Disclosure: McIntyre was one of my first bosses -- 21 years ago at a publication that no longer exists!)
Nike is also finding that putting its trademark logo on something is not a guarantee of success.
The company announced last week that it was exiting the golf equipment business, a move that will mean that top Nike endorsers like Rory McIlroy and Tiger Woods (if/when he plays again) will need to find new drivers and putters.
Related: Top golfers shun Rio, but Callaway CEO still excited
Nike's move follows the decision by Adidas earlier this year to try and find a buyer for its TaylorMade golf business. It's a sign that there is still room for smaller specialty sports companies, such as golf equipment pure play Callaway. (ELY)
Of course, it would be silly to count Nike out. It's also worth noting that this year's stock slump follows a more than 30% surge in 2015, which made it the best performer in the Dow last year.
But other big gainers from last year -- such as GE, Home Depot and McDonald's are all up slightly in 2016. So there is clearly something more to Nike's fall than good old fashioned gravity.
The company is going to have to refocus its efforts on staying on top in China -- and get its U.S. business back on track as Under Armour and Adidas nip at its heels.