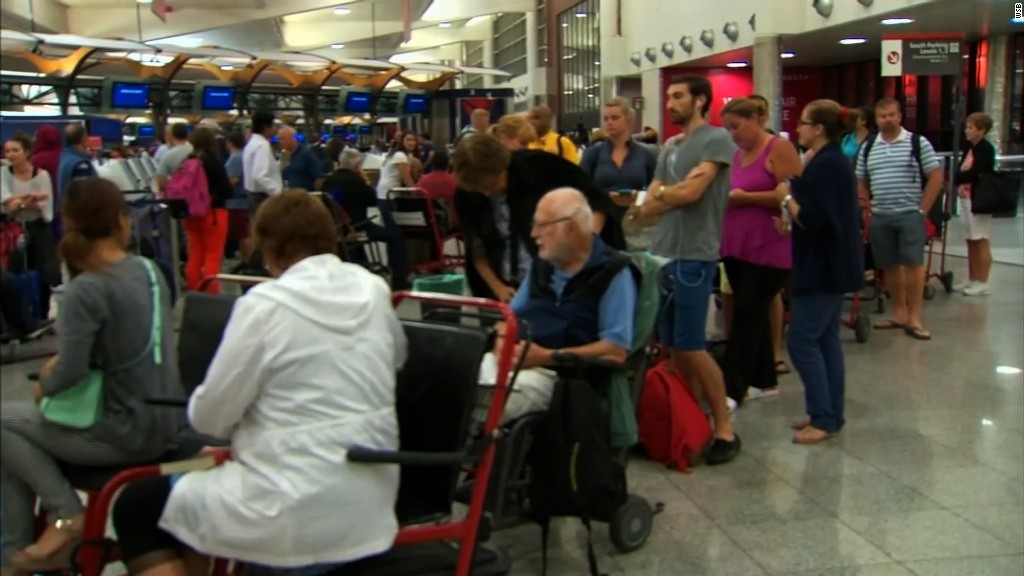 For Delta, Day 3 is better, but still not good.
The airline has been scrambling to recover from a six-hour global shutdown on Monday. On Wednesday it continued to wrangle with backlogs, though there were significant improvements.
The company said about two-thirds of its fights were leaving within half an hour of their scheduled departure times, and 317 flights had been canceled as of 4:30 pm ET Wednesday. About 680 flights were nixed by around that time on Tuesday.
"The bulk of delays and cancellations are coming as a result of flight crews displaced or running up against their maximum allowed duty period following the outage," said Delta.
Delta (DAL) is the world's second largest airline and has invested hundreds of millions of dollars in the past three years building up its infrastructure. The grounding and its cascading impact has been a black eye.
"This isn't who we are," Delta CEO Ed Bastian said.
The airline's statement said it hoped to resume more normal operations by mid-to-late afternoon Wednesday, though it warned that forecasts of thunderstorms in the eastern United States could delay its return to normal.
Since Monday the problems mounted, as canceled flights reached about 1,000 cancellations on Monday, with an additional 800 by the end of the day Tuesday.
"We continue to ask our customers to check their travel plans and flight status. We apologize to everyone who has been affected by these events, and we thank them for their patience," said Dave Holtz, a senior vice president at Delta.
But patience was starting to wear thin at some airports.
At Los Angeles International Airport on Wednesday, passengers who had waited throughout the night for what was originally scheduled as an 11:15 p.m. flight to Atlanta starting booing after a 5 a.m. announcement that the flight could not take off until Delta found other pilots. The original crew members had run out of service time they were allowed to work. The flight finally started boarding nearly two hours later.
Lines at the LAX terminal nearly extended out the door as passengers arriving for flights tried to check in.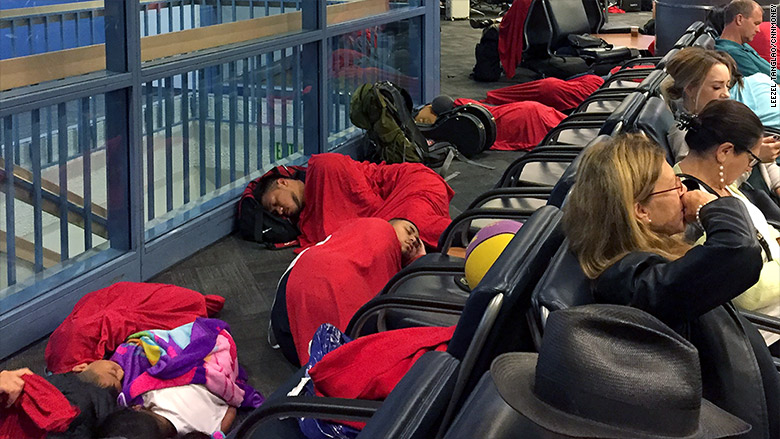 Delta's woes started in the early hours Monday when a power outage at its Atlanta operations center took its computer system offline, grounding flights around the world.
Delta is giving out $200 travel vouchers to those whose flights are canceled or delayed by more than three hours. It also gave out refunds and allowed passengers to rebook without the normal change fee. And on Tuesday it sent employees from the Atlanta headquarters out to its main hub at Atlanta Hartsfield Airport to try to help check in and rebook affected passengers.
Related: How do airline computer systems work?
But in the midst of the busy summer travel season, finding seats to accommodate all the affected passengers has been a nightmare for the airline. And it has ended up with aircraft and crews out of position to cover all the scheduled flights, which is why there are continued cancellations nearly three days after the initial problem.
"When Delta doesn't fly aircraft, not only do customers not get to their destination, but flight crews don't get to where they are scheduled to be," said Delta Chief Operating Officer Gil West.
Related: The real reason airline computers crash
Experts agree the tight schedule airlines run is why it's so difficult to recover from a major problem like the one Delta experienced. Southwest Airlines (LUV) experienced the same kind of three-day problem from a computer glitch late last month.
"The airplane routing and crew routing is what kills you the next day," said Jim Record, a retired airline pilot who is now an adjunct aviation professor. "The snowball effect is tremendous."
-- CNNMoney's Leezel Tanglao contributed to this report.