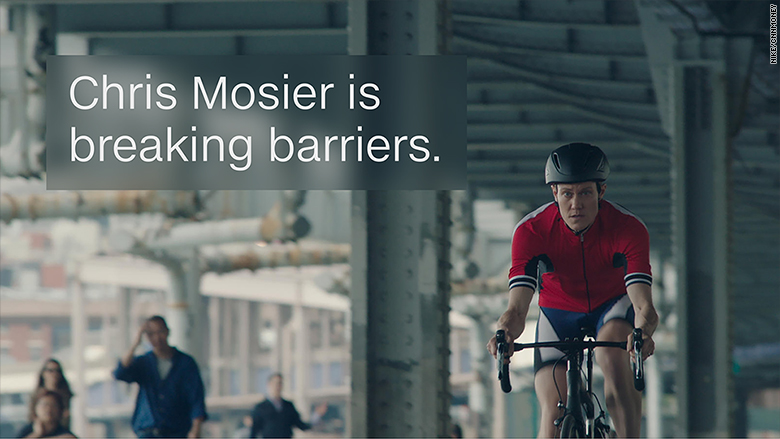 Chris Mosier is used to being first.
He was the first transgender athlete to be featured in ESPN's "Body Issue." He was the first transgender athlete on Team USA and now he's the first transgender athlete to be featured in a Nike commercial.
The ad, called "Unlimited Courage" highlights some of the obstacles that Mosier has faced in his quest to make the national team.
Mosier is a member of Team USA, but he won't be competing in Rio. His event -- the duathlon -- isn't an Olympic sport. (The duathlon includes running and cycling).
However, other transgender athletes will be able to compete at the Games thanks to a rule change made by the International Olympic Committee.
In January, the IOC issued new regulations for transgender participation in the Games.
Transgender athletes who transition from female to male can compete as men without having gender reassignment surgery.
While transgender Olympians have been able to compete since 2004, in the past they had to have undergone surgery, at least two years of hormone therapy and had to possess legal documents from their home country that classified them as their chosen gender.
Related: U.S. Olympic athletes sure aren't paid like champions
Mosier began racing duathlons and triathlons in 2009. He'd finished his first marathon and wanted a new challenge, according to a release from Nike.
"I didn't know if I would be competitive against men; I just did it," Mosier said in the statement. "I've learned a lot about myself and also had the opportunity to further the conversation on trans inclusion in sports."
Mosier recently became the first trans athlete to compete against men in a World Championship race.