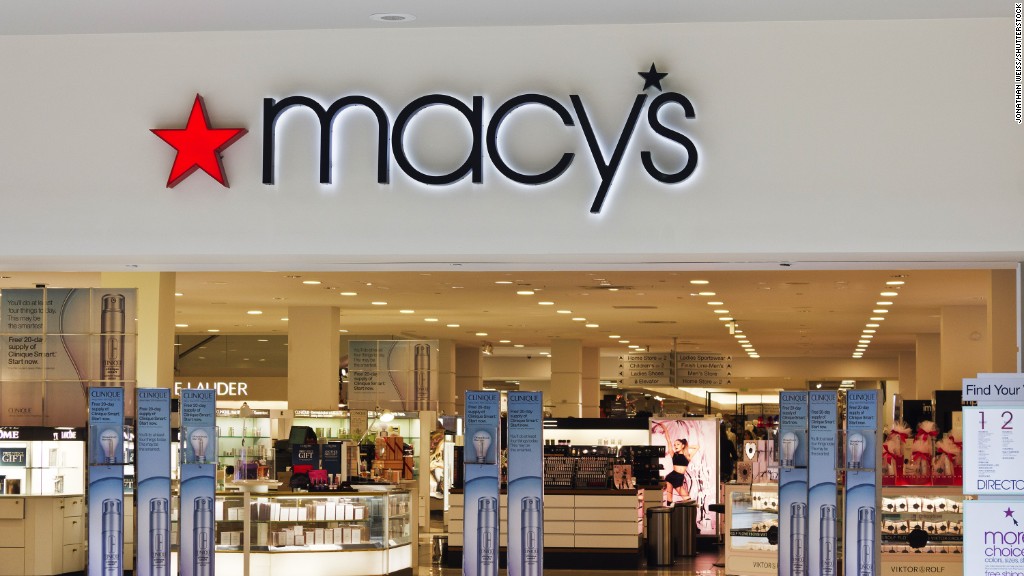 In a sign of how dramatically the retail shopping landscape is changing, Macy's is closing 100 of its stores nationwide.
Macy's (M) announced the closures Thursday. They represent about 15% of all Macy's department stores. The iconic retailer did not disclose the locations of stores, but said most of them will be shut down in early 2017.
The Macy's move is the latest in a wave of store closures amid the rise and success of Amazon (AMZN) and other online shopping options.
For instance, Walmart (WMT)announced plans in January to shut down 269 stores this year and just this week, inked a $3.3 billion deal to acquire Amazon rival Jet.com.
Related: Nearly 44,000 retail workers have been laid off in 2016
Sports Authority, once the nation's largest sporting goods retailer, is shutting all 450 of its stores after filing for bankruptcy. Other traditional retailers such as Target (TGT), JC Penney (JCP), Kmart, Sears (SHLD) and Kohl's (KSS) have also pulled the plug on hundreds of stores in recent months.
It's a grim picture for retail store workers -- there have been around 44,000 retail layoffs announced so far this year alone, according to Challenger, Gray & Christmas data. Walmart's closures alone impacted 16,000 workers.
Related: The hottest trend in retail: store closures
Macy's closures come amid a sixth-straight quarterly decline in sales. However, sales fell less than feared and the company said it's "encouraged" by recent sales trends. Wall Street applauded the dramatic store closures, sending the stock surging 17%, its best day since 2008.
Macy's said its new strategy is to concentrate its financial firepower and talent on its best-performing locations. The department store plans to invest in strong stores by highlighting new vendors, increasing the size and quality of its staff and investing in new technology.
"We operate in a fast-changing world, and our company is moving forward decisively to build further on Macy's heritage," Macy's CEO Terry Lundgren said in a statement.
Related: More trouble at the mall. Gap sales sink again
Macy's said the store closures could result in the loss of about $1 billion in sales, even after accounting for shoppers who would go online and to other Macy's locations. The company plans to offset that loss in sales by cutting costs, even beyond shutting down these stores.
It's not clear how many jobs will be impacted by these moves. Macy's told CNNMoney it won't detail layoffs until it finalizes its store closure list.
Macy's said employees at stores slated for closure may be offered positions in nearby stores "where possible," Macy's said. Workers who are laid off will be offered severance benefits.
"Macy's is committed to treating associates affected by store closings with respect and openness," the company said.
Karen Hoguet, Macy's chief financial officer, said most of the stores being closed are "underperformers, or are in weak locations."
The Macy's move is the latest blow to malls, many of which rely on the iconic department store to serve as an "anchor" tenant. Those malls impacted risk losing a major source of revenue and a suffering a traffic slowdown in traffic that is likely to hurt other stores. Struggles for other department stores make filling the hole left by Macy's even more challenging.
Shares of major mall owners General Growth Properties (GGP) and Simon Property Group (SPG)slumped 3% and 2%, respectively, on Thursday.
Even some premiere Macy's locations could eventually be scaled back. The company said it continues to "analyze possibilities" of bringing in alternative tenants into its flagship Herald Square location in Manhattan as well as the downtown stores in Chicago and Minneapolis. Macy's revealed it's also in talks to sell its Men's Store on Union Square in San Francisco for redevelopment.
Related: Scenes from the death of an American mall
Neil Saunders, CEO of research firm Conlumino, said the Macy's store closures are "sensible," but largely the result of a "self-inflicted defeat."
"Macy's has simply not bothered with a large rump of stores for many years: they have lacked investment, been devoid of management attention, and now look distressed and dispirited," Saunders wrote in a report.
The key will be whether Macy's is truly committed to rejuvenating its remaining stores in a way that gives consumers a reason to shop in person rather than online.