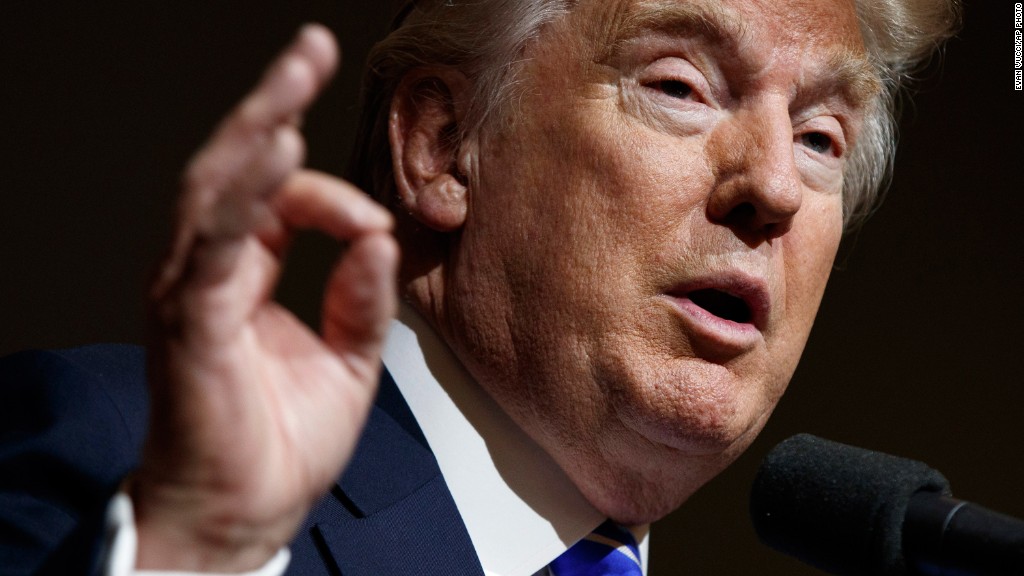 Dan Akerson, who has been CEO of four companies in his career, argues that Donald Trump's business experience does not give him the necessary skills to be president.
"While running a successful hotel business is honorable and hard work, there is no comparison to running a sophisticated global operation such as the U.S. government," Akerson wrote in an Op-Ed Thursday in the Washington Post. "Trump is simply not up to a job of this complexity."
Akerson was most recently the CEO of General Motors (GM), taking over the top job a year after its bankruptcy and federal bailout. He oversaw its return to profitability and its initial public offering. He retired in January 2014. Before that he was a telecom executive who served as CEO of XO Communications, Nextel Communications and General Instrument Corp.
Related: Would Clinton's plan really create 10 million jobs?
Akerson was one of 56 prominent American business leaders, including Warren Buffett, Netflix (NFLX) CEO Reed Hastings and Google (GOOGL) executive chair Eric Schmidt, who endorsed Clinton in June. Many of those executives are Democrats. But Akerson is a lifelong Republican. Although he has donated some money to Democrats running for lower office in the past, he writes he's never voted for a Democrat for president before. But he will be voting for Hillary Clinton this year.
"The compelling rationale behind this decision: leadership," he wrote. "A good leader must demonstrate such qualities as competence, integrity, empathy, character and temperament. Hillary Clinton has these essential qualities. Donald Trump does not."
Related: You'd be surprised who favors Donald Trump
Akerson questioned Trump's decision making process in his column.
"His knowledge of economic policy and foreign affairs is rudimentary, at best; his views are misguided. His threat to impose prohibitive tariffs on trade would repeat mistakes that contributed to the Great Depression," Akerson wrote.
"He has demonstrated neither the capacity nor the inclination to learn from experts in global economics. In every chief executive job I have had, my team and I spent countless hours analyzing global trends, listening to experts, learning from others and making informed, reasoned decisions. Trump does none of that."