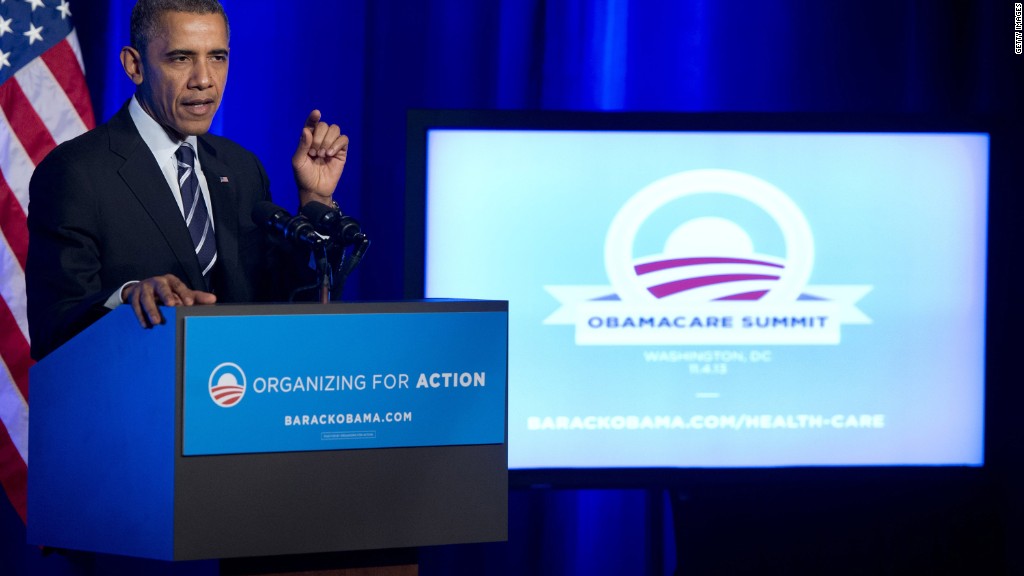 President Obama may have won the battle to create Obamacare, but it will be up to the next president to fix it.
Obamacare is facing multiple hurdles three years after the individual exchanges opened for business. Large insurers are scaling back their presence, with the latest blow coming Monday when Aetna (AET) said it would exit 70% of the states it's now in. Smaller ones are either going under or getting out of the market. Nearly all are looking to raise rates for 2017 to stem their mounting losses from covering sicker-than-expected enrollees.
Experts say this turmoil is an expected shakeout in a complex program. Obama's signature health reform law will survive, they say. But, the government does need to take steps to stabilize the market.
Related: Will Obamacare survive as insurers pull out?
This task will largely fall to the next president. Hillary Clinton and Donald Trump have very different ideas on how to shore up America's health care system, though neither has laid out detailed plans.
Clinton has long said she would build on Obamacare's success, rejecting her primary opponent Bernie Sanders' push to have the federal government take over health care. In February, she called Obamacare "one of the great accomplishments not only of this president, but of the Democratic Party going back to Harry Truman."
To improve it, she has also outlined several policies that she says would strengthen the law "so coverage is more affordable, competitive and attractive."
Clinton, however, is silent on one of the insurers' biggest complaints: the risk adjustment program, which serves as a backstop for insurers with high-cost patients.
The insurers want the federal government to change the formula that determines who is high cost, a pressing concern since the insurers are contending with big bills from enrollees with chronic medical conditions, such as diabetes and HIV.
Instead, Clinton is focusing on ways to bring healthier people into the system -- addressing one of the other shortcomings of the current program.
The Democratic nominee would entice more people into Obamacare by making the subsidies more generous. Her plan calls for having enrollees pay no more than 8.5% of their income in premiums, instead of the 9.66% under current law. She would also invest in and expand outreach and education efforts so the uninsured understand their options.
And perhaps her most controversial platforms are letting people as young as 55 buy into Medicare and offering a public-option insurance plan in Obamacare. Obama has also cited this as necessary, especially in areas where few insurers offer coverage.
A public option would mean a government run health insurance plan.
Related: Obama calls for public option for Obamacare
Trump, on the other hand, has seized on Aetna's announcement to increase his attacks on Obamacare.
"On healthcare, we are going to repeal and replace Obamacare," Trump said in a Charlotte, North Carolina, campaign stop Thursday. "We are going to replace this disaster with reforms that give you choice and freedom and control in healthcare -- at a much lower cost."
The Republican nominee, however, hasn't elaborated on what he would replace Obamacare with. He told CNN's Dana Bash last month that he'd roll out "something terrific," which would center on plans run by private companies. The government's role would be to make sure the insurers are financially strong.
But, as he has said on the campaign trail and in the primary debates, his plan would also help lower-income Americans who get sick.
"You have to help people," he told Bash, without providing details on how he would do this.
Related: Trump's health care plan: What he promises and what it really says
Trump released a seven-point health reform plan in March that calls for replacing Obamacare with traditional Republican policies.
The billionaire businessman wants to allow insurers to sell policies across state lines, make premiums tax deductible, boost the use of Health Savings Accounts, increase price transparency and turn Medicaid over to the states to run with a fixed amount of federal funding. He would also allow consumers to import drugs from overseas.
"Affordable coverage for every American will be the top priority," the campaign said in a statement earlier this week.