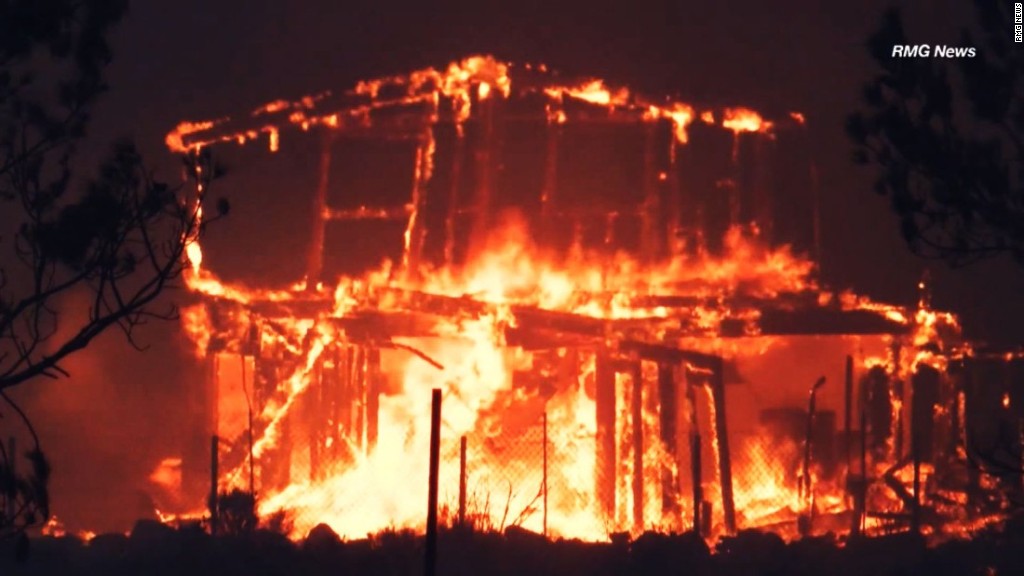 Smokejumpers are elite firefighters who parachute out of airplanes and into fiery forests -- extremely dangerous work that pays just $15 an hour.
That's what the U.S. Forest Service and the Bureau of Land Management pay them to drop into the smoke-choked Western mountains and wild lands.
Smokejumpers haul 100-pound packs of equipment and dig trenches, or fire lines, using a pick-axe called the Pulaski, which looks like a Medieval weapon. The fire lines are basically trenches cleared of any flammable vegetation used to stop the blaze from spreading.
They parachute into fires because that's the fastest way to get to remote locations. They bring enough food, water and tools to survive for days.
In his 1972 book, "Young Men and Fire," about the dozen smokejumpers killed in Montana's notorious 1949 Mann Gulch fire, Norman Maclean called them "the crack firefighters of the Forest Service, the shock troops."
For all that, the federal government pays them a base wage of $15.31 an hour, plus a 25% boost for hazard pay when they're actually fighting fires. When they aren't, smokejumpers are back at their base taking care of nonhazardous tasks like training and repairing parachutes.
"Smokejumping has never been a high-paying job," said former smokejumper Chuck Seley, vice president on the board of the National Smokejumping Association and managing editor of Smokejumper Magazine.
So why do they do it?
"It's an interesting job," said Tim Burn, spokesman for the International Association of Firefighters in Washington, D.C. He added that smokejumpers and other firefighters are motivated by public service.
California is desperate for them. Six fires are raging throughout the drought-ridden state, including the massive 85,000-acre Soberanes Fire near Big Sur, and the 37,000-acre Blue Cut fire near San Bernardino.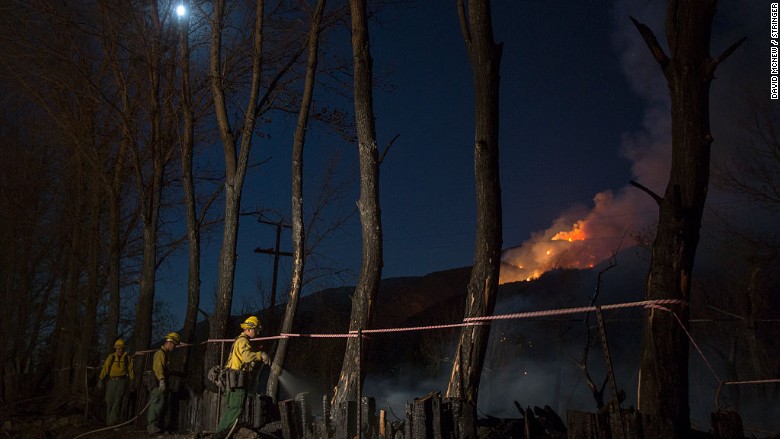 Related: Blue Cut contained, but other fires torch California
The federal government employs about 470 smokejumpers. They're based in scattered locations throughout the west -- from Redding, California and Missoula, Montana, to Fairbanks, Alaska.
In addition to the federal smokejumpers, wild fires are fought by firefighters working for state and local governments throughout the West.
In California, for instance, more than 1,200 firefighters are focused on just the Blue Cut fire alone, and they come from all different realms of the government: federal, state, county and city. The state of California, for instance, employs wildland firefighters who work on the ground only and earn less than federal smokejumpers.
"Our entry-level firefighters make minimum wage, $10 an hour," said Mike Lopez, the union president representing the firefighters of Cal Fire, the state's fire department. "An entry-level firefighter who's risking his life every day for the state of California is making minimum wage like a guy flipping burgers at McDonald's."
Forest firefighters employed at the county level also make the $10 minimum wage, but urban firefighters who work to tame structural blazes often earn much more.
In San Bernardino County, the wage forest firefighters can make up to $33,529 a year. That's half the pay of firefighter-EMTs for San Bernardino, who can make up to $68,000. In New York City they can make as much as $100,000 a year with overtime.
A forest firefighter's job is certainly dangerous. There have been 10 forest fires over the last century with double-digit fire fighter fatalities, according to the National Fire Protection Association. The most recent was one of the worst, with 19 firefighters killed at the Yarnell Hill Fire in Arizona in 2013.
Related: Only 7% of firefighters are women, but she wants to change that
It's not going to get any easier. The U.S. Forest Service spent a record $1.7 billion on wildfire suppression last year, according to spokeswoman Babete Anderson.
She said that 10 million acres burned last year, more than ever before, and she blamed climate change as one of the reasons. The Forest Service is expected to spend 56% of its budget fighting wildfires this year, compared to 20 years ago, when fires consumed only 16% of the budget.
"The wildland fire environment has profoundly changed," she said. "Since 2000, fire seasons have grown longer, and the frequency, size and severity of wildland fires has increased."