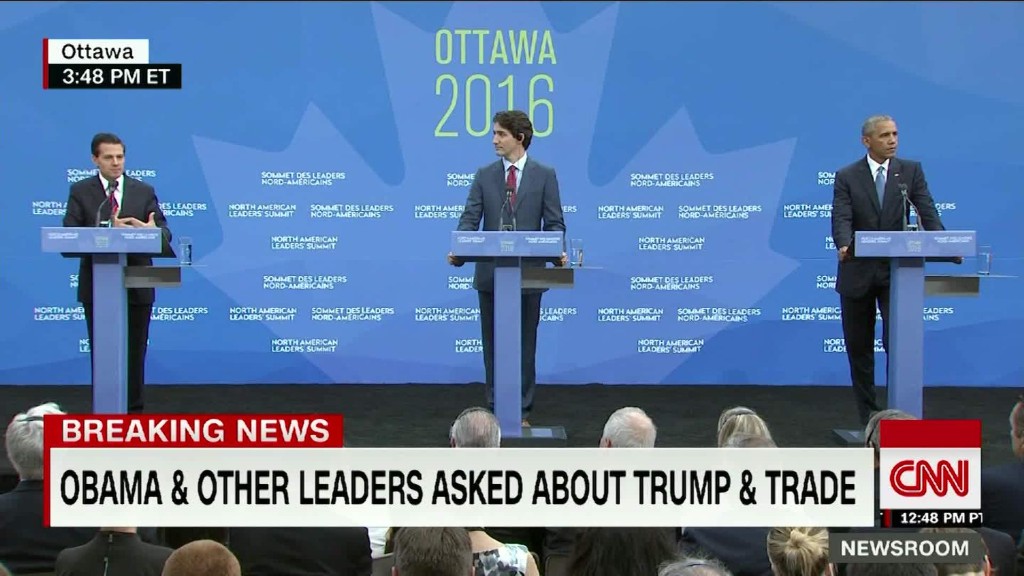 Mexico's economy took a turn for the worse at a time when the entire country is closely watching the U.S. elections.
The economy shrank for the first time in three years in the second quarter. Even though Mexico's economy only contracted 0.2% from the previous quarter, any drop is a shock for a country that many experts consider a success in a troubled region.
Latin America has hit hard times in recent years. Brazil is in the midst of a historic recession. Argentina has stagnated. And Venezuela is struggling with an extreme economic and humanitarian crisis, where it's citizens don't have enough food.
But Mexico was a bright spot and its economy was growing.
However, the drop in oil prices has slowed the country down because Mexico is a major oil exporter. The oil sector in Mexico has contracted nearly 3% this year compared to a year ago. Its government has had to cut back spending at the state-run oil company, Pemex.
Related: America's NAFTA nemesis: Canada, not Mexico
Compared to Brazil and Venezuela though, Mexico is still standing its ground, experts say.
On an annual basis, Mexico's economy grew 2.5%. That's also well ahead of the United States, which grew about 1% in the first half of the year.
"Mexico will continue to weather low oil prices better than the region's other energy producers," says Edward Glossop, emerging markets economist at Capital Economics, a research firm.
Mexico, which relies heavily on trade with the United States, is seeing exports slow down with its northern neighbor as Republican nominee Donald Trump talks tough.
Trump promises to build a wall on the border, potentially slap tariffs on goods from Mexico and pull out of NAFTA, the free trade agreement between Mexico, Canada and the U.S.
Related: Without NAFTA we'd be out of business
Mexican officials have fired back at Trump's intention to make Mexico pay for the wall.
"There is no way Mexico can pay [for] a wall like that," Mexico's president, Enrique Pena Nieto, told CNN's Fareed Zakaria in July.
Trade experts say ending NAFTA would be bad for both nations. It could be especially painful for Mexico, which ships lots of cars, clothes and food to the United States.
Imports from Mexico to the U.S. have declined slightly in the last three quarters after growing for years. Mexico shipped $81 billion worth of goods and services to America at the beginning of this year. That's down a bit from 2015 but well above the figure In the same period in 2010 when it only sent $58 billion.
A Trump tariff on Mexico would likely cause trade between the two countries to shrink dramatically, experts say.
"This would dramatically disrupt trade flows and the jobs that depend on them on both sides of the border." says Eric Farnsworth, vice president at the Council of the Americas.