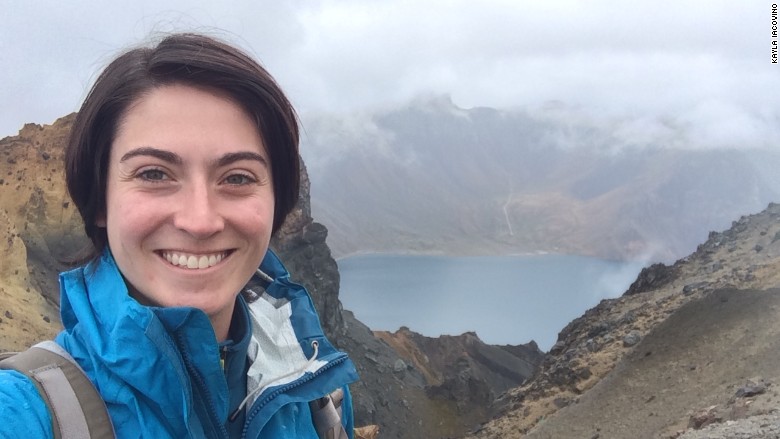 Ever since she was a young girl watching Star Trek with her parents, Kayla Iacovino dreamed of adventures in science.
Now, Dr. Iacovino -- a professional geologist -- treks into the war-torn mountains of Ethiopia and the highly-restricted forests of North Korea. She even spent more than a month on giant, icy Mt. Erebus in Antarctica.
Her job title is vulcanologist -- also spelled volcanologist -- an accomplishment she loves to tell fellow Trekkies.
The common response: "Vulcanologist?" As in the study of Vulcans?"
While Trekkies might assume she's some kind of expert on the pointy-eared, emotionless aliens of the Trek universe, her job trekking into volcanoes is even cooler.
"Star Trek influenced me to go into science," she told CNNMoney last week. "[The show] revolves around the ideals of exploration for exploration sake, and the pursuit of knowledge for the sake of leaving the human race better than we found it; these are really noble pursuits. I carry that with me."
Related: 'Star Trek' fan builds company headquarters in shape of USS Enterprise
She's well aware her job title is the closest possible match to being a science team member aboard the fictional Starship USS Enterprise.
Iacovino, 28, is a researcher at the U.S. Geological Survey, the federal government's science agency. She's also a self-proclaimed feminist, passionate about making sure women get a fair chance at doing scientific research.
Although Iacovino is based in Menlo Park, California, she's taken expeditions all over the world to better understand how volcanoes work.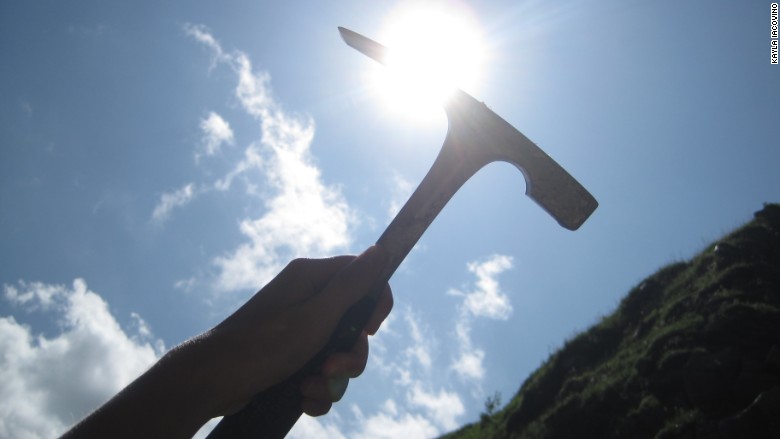 To do that, she carries gear up mountains and chips away at rock with a pickaxe, taking samples back to study later. Understanding the behavior of molten rock -- otherwise known as magma -- could inform the public about volcanic hazards. Plus, there might be medical and industrial uses we haven't yet figured out, she noted.
Like her favorite sci-fi series, there's a fair degree of life-threatening exploration and diplomacy, too.
Rebels in Ethiopia
Her closest call came in January 2012, when she and a team of geologists traveled to Ethiopia -- a dangerous region that borders Eritrea -- to study the glowing lava lakes atop the 2,000-foot volcano Erta Ale.
Iacovino now believes her team of scientists -- Americans, Brits, Australians and others -- was the target of a high-profile international kidnapping, in which attackers seek ransom payments by holding westerners as prisoners. The team's travel plans were published online -- on the website of the international conference she was attending -- but her group unexpectedly ran 24 hours behind schedule.
The night they planned to camp there, a heavily armed group believed to be Eritrean soldiers stormed the site. They killed five European tourists, shot several others and dragged some back into Eritrea as prisoners.
North Korea's restricted zone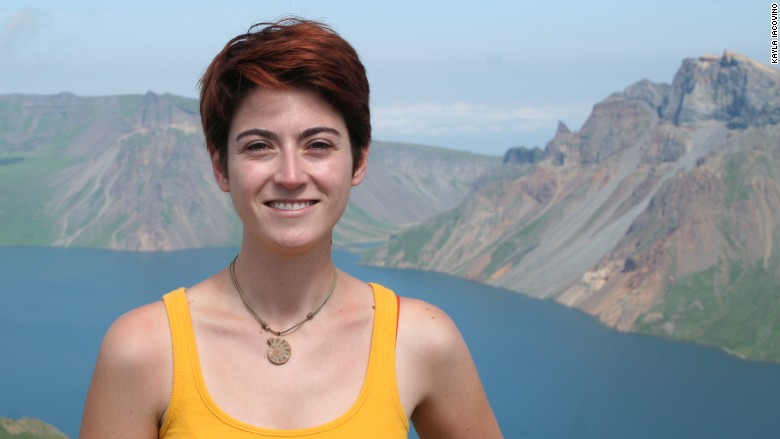 Another notable trip happened in August 2013, when a carefully negotiated diplomatic deal allowed Iacovino and a group of western scientists to enter North Korea.
In addition to traveling through one of the most closed-off nations on Earth, the scientists were allowed to study the active volcano Paektu Mountain, a spot that's considered the birthplace of Korean culture. (The North Korean government claims previous dictator Kim Jong-Il was born there, even though records show he was born in the Soviet Union.)
During the trip, Iacovino befriended the team of North Korean scientists, sharing meals and notes and lugging gear through the forest together.
"Kayla's as tough as they come. She works really hard," recalled Dr. James Hammond, a geophysicist who teaches at the University of London and journeyed with the team.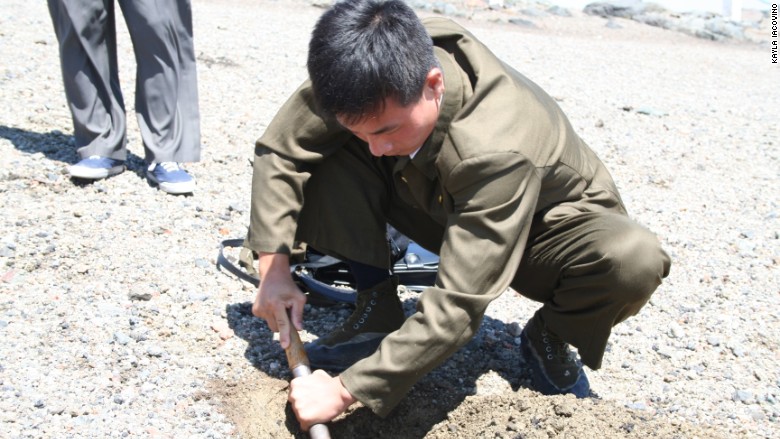 When Iacovino noticed she was the only female on the team, she asked if women did this sort of work there.
"Yes, there are women geologists," one of the North Koreans replied. "But they work in the labs because they're not fit enough to do the field work."
He later considered Iacovino, who successfully endured the week-long hiking trip, the exception.
Women in science
That's the kind of mentality that makes Iacovino so passionate about women's role in the scientific community. Star Trek may portray an egalitarian future where female researchers are considered equal men in every way, but the modern world is not quite there yet.
Iacovino, who is also the editor-in-chief of the fan website TrekMovie.com, recently spoke about feminism on a panel at the recent Star Trek 50th anniversary convention in Las Vegas.
"Feminism is not women over men -- it's that women should be equal," she said at the time. "It shouldn't even be an issue."
Iacovino then turned to the panel's headliner, Hollywood actor Kate Mulgrew, who played the first ever female captain on the Star Trek: Voyager series.
"I [would see you] on TV," Iacovino said. "It never occurred to me that was weird."
Mulgrew, who continues to have a successful acting career and currently plays the Russian cook "Red" on the Netflix series Orange is the New Black, was the anticipated star of the Star Trek panel. But the audience's attention shifted to Iacovino as she detailed tales of her adventurous work.
Even Mulgrew redirected the conversation away from her own experience on Star Trek to prod Iacovino to share more stories.
"I'm clearly not a scientist," Mulgrew said. "I just played one on TV."