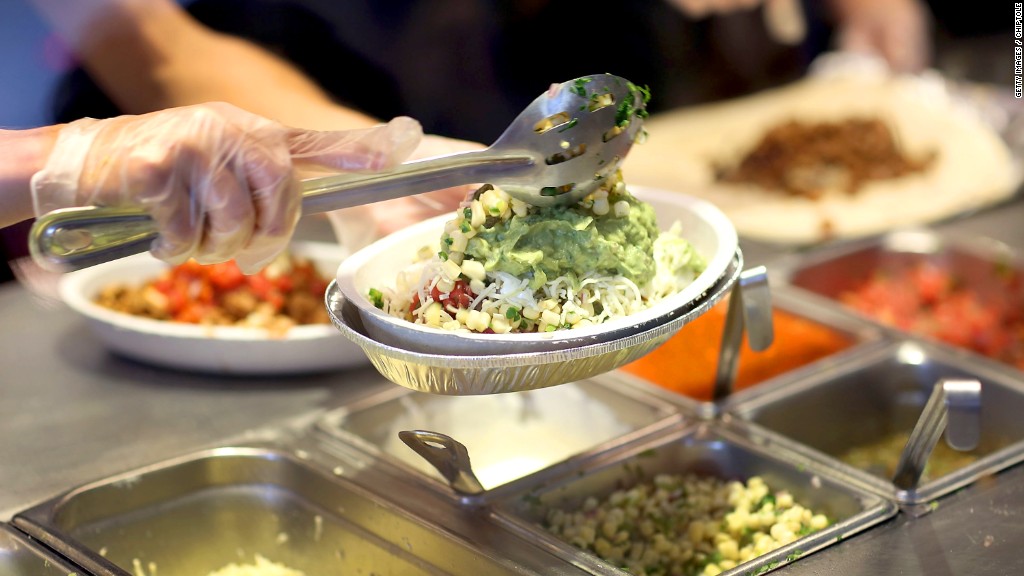 Federal regulators have taken a red pen to Chipotle's employee handbook, saying several policies violated labor laws.
The National Labor Relations Board said in a recent decision that Chipotle has to amend four rules that are illegal because they can "chill employees" from exercising their collective bargaining rights. The ruling has implications for what workers everywhere are allowed to say on social media.
The Chipotle policies that the NLRB took issue with are:
Its confidentiality policy that "unlawfully limits the use of [Chipotle's] name."
A policy that prohibited employees from discussing "politics or religion in public."
A rule that prevents workers from soliciting support from coworkers against a workplace policy "in visual or hearing range of our customers."
An "ethical communication" policy that instructs workers to avoid "exaggeration" or "colorful language" when discussing people.
"Employees can talk about wages, hours, conditions and terms of employment. That's protected speech," said Michael Healey, the attorney who worked on the NLRB case.
Related: Mexican official fired after Facebook post on Orlando victims
Though the NLRB ruled Chipotle's policies violate an 80-year-old labor law, Healey said that the decision is another instance of "federal labor law catching up to social media."
The Chipotle (CMG) vs. NLRB saga started when James Kennedy -- an employee at a Chipotle restaurant in Havertown, Pennsylvania -- posted tweets in January 2015 that were critical of the burrito chain.
One lamented how the company charges customers extra when they add guacamole. Other tweets went after how the company pays and treats workers.
In one post, he responded to a customer who thanked Chipotle for a free burrito, saying "nothing is free, only cheap #labor. Crew members only make $8.50 [per] hr how much is that steak bowl really?" he wrote, according to public documents.
Related: Student workers can now unionize at private colleges
Shortly after posting them, Kennedy's manager ordered him to delete the tweets. The manager cited an "outdated" company policy that says employees cannot post "disparaging" comments about Chipotle on social media.
Kennedy was fired a month later after an altercation with his manager about a petition he started for better-enforced breaks. He filed his case with the NLRB shortly after.
The NLRB ruling last week sent a clear message to Chipotle about how it handled Kennedy's tweets and firing: You can't do that.
The company must rehire Kennedy and give back pay for any time he was unemployed since he was fired in February 2015.