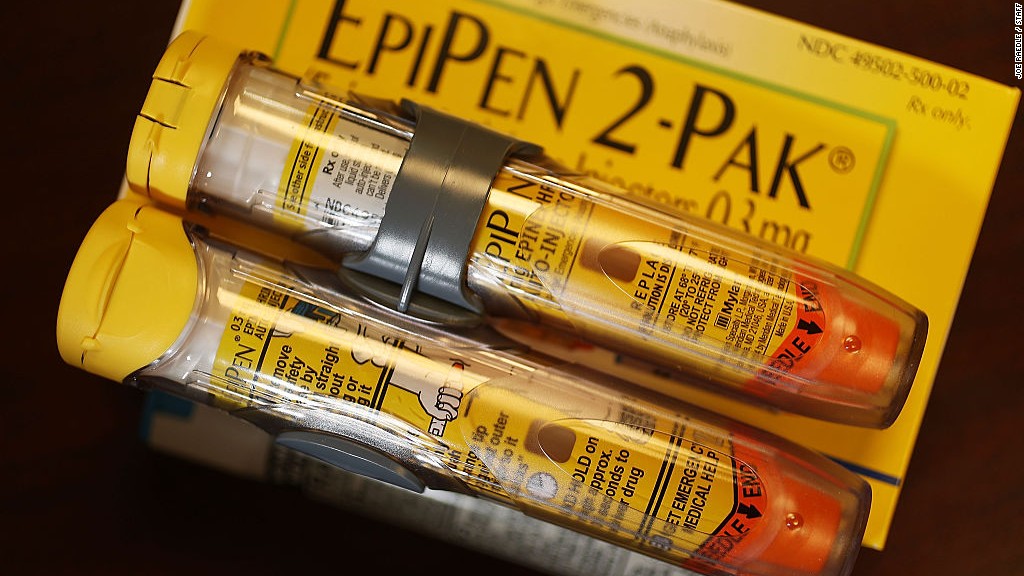 Heather Bresch, the Mylan CEO under fire for skyrocketing EpiPen costs, believes Americans should redirect their anger toward a "broken" health care system.
Mylan (MYL) was forced to respond to the national outrage over a more than 400% increase in price for the lifesaving allergy treatment by pledging on Thursday to make it more affordable.
But Bresch argued that a lack of transparency in the complex health care system -- with bigger cuts for everyone along the supply chain -- "incentivizes higher prices" in the industry. She pointed out that copays and deductibles are on the rise, too.
"This system needs to be fixed. No one knows what anything costs," Bresch told CNBC on Thursday.
The Mylan CEO compared the health care industry to the real estate mortgage crisis of 2008.
"Our health care system is in a crisis...This bubble is going to burst," Bresch said.
Related: Mylan pledges to make EpiPen more affordable
The CNBC interview was part of a counteroffensive by Mylan. The cost of the company's allergy treatment has risen to about $600 from below $100 in 2009.
Democratic presidential candidate Hillary Clinton called the EpiPen price hikes on Wednesday "outrageous" and "the latest troubling example of a company taking advantage of its consumers."
Mylan responded by announcing efforts on Thursday to make EpiPen more affordable for some patients. Mylan said it will provide instant savings cards worth $300 to patients who have to pay the full price for the drug out of pocket. The move translates to about a 50% price cut for those without insurance or for patients with high deductible plans.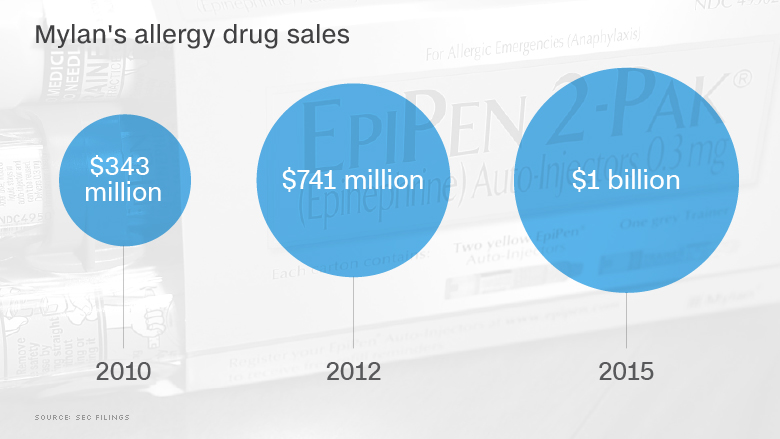 Related: Here's what happened to the drug that spiked 5,000%
The controversy started with a social media movement by concerned parents who launched an online petition urging Congress to "stop the EpiPen price gouging." Eventually, more than 100,000 letters were sent to lawmakers.
Sen. Amy Klobuchar of Minnesota, a Democrat whose daughter relies on EpiPen, urged the Senate Judiciary Committee to investigate the price increase of the medication, calling it "unjustified."
The American Medical Association, which represents nearly a quarter of a million doctors, also knocked Mylan for raising the price even though the product is "unchanged" since 2009. The AMA said the "sticker shock" threatens to keep EpiPens out of reach of the people in need or force families to cut off other essentials.
Pharmacy benefit managers, which negotiate drug prices on behalf of payers like insurers, rejected Mylan's criticism of their role in the system. CEO Bresch specifically mentioned pharmacy benefit managers, along with wholesalers, as the intermediaries who have taken bigger cuts, adding to the price of the drug.
"Blaming payers for these massive price hikes is a red herring and doesn't pass the laugh test with policymakers," Mark Merritt, CEO of the Pharmaceutical Care Management Association, which represents the group, said in a statement.
The industry group compared Mylan's strategy to those pursued by Valeant (VRX) and Turing, two drug makers strongly criticized over the past year for dramatic drug price hikes. The comments came as shares of leading policy benefit managers Express Scripts (ESRX) slumped 6% on Thursday.
Bresch said she welcomes calls by members of the U.S. Senate for her to testify. The CEO said she has already reached out to a number of lawmakers, including Sen. Chuck Grassley of Iowa and Sen. Amy Klobuchar of Minnesota.
"As soon as you can meet, I'm there," Bresch said she told the senators.
The latest outraged parent is actress Sarah Jessica Parker, who had been involved in a Mylan initiative to raise awareness for anaphylaxis. But Parker announced in an Instagram post on Thursday she has ended her relationship with Mylan, saying she's "disappointed, saddened and deeply concerned" by the company's actions.
--CNNMoney's Aaron Smith contributed to this report.