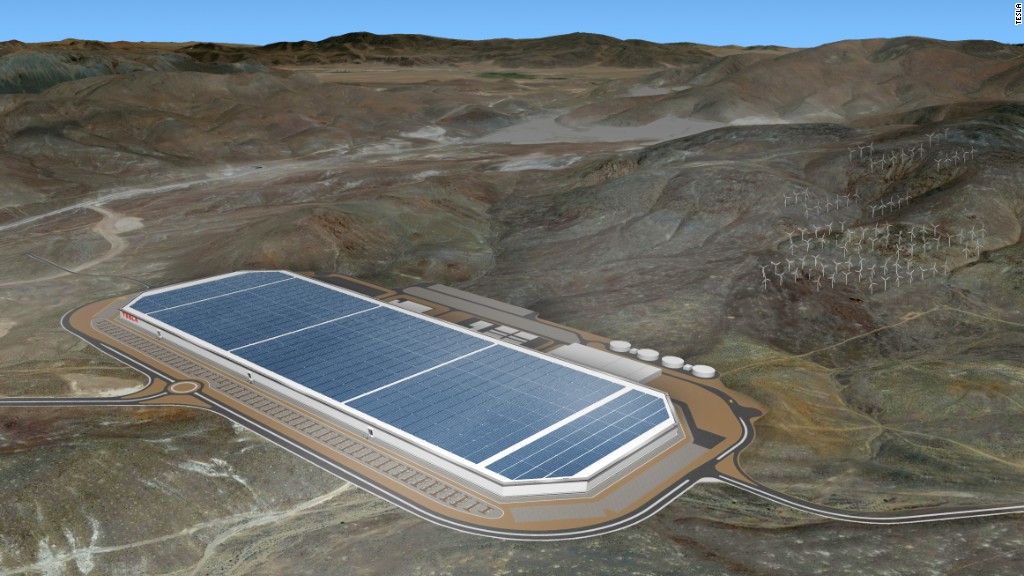 What happens when a flashy luxury carmaker decides to open a massive factory in a desert town?
Home sales and prices get a boost.
Tesla (TSLA) started construction on the lithium ion battery producing Gigafactory outside Sparks, Nevada, in June 2014. But talk about a factory had been swirling before that.
From the time the rumors began, the median home price in Sparks have shot up nearly 42%, according to ATTOM Data Solutions. During that same time period, home prices nationwide rose 31%.
CEO Elon Musk referenced plans for a Gigafactory in a November 2013 Tesla earnings call.
"We're talking about something that's comparable to all lithium ion production in the world in one factory. Big," he said in response to an analyst's question, according to a transcript of the call.
While he wasn't specific with location details, speculation mounted.
In February 2014, Telsa shared a blog post that showed Nevada as one of four possible locations.
When complete, the factory will be almost six million square feet with an estimated 6,500 workers. It is estimated to reach full capacity in 2020.
And all those workers need a place to live. That's why some local realtors attribute the town's real estate activity to the factory.
Since Tesla started construction of the Gigafactory, home demand has jumped -- sales increased an average of nearly 6% in each month since the June 2014.
"Tesla was pretty much the magic wand," said Michelle Plevel, a real estate agent in the Reno area, which includes Sparks. "It created new excitement."
Homes in the same ZIP code of the factory are faring even better. Prices there surged 62% since November 2013.
Related: Tesla plans to unveil semi-truck and minibus next year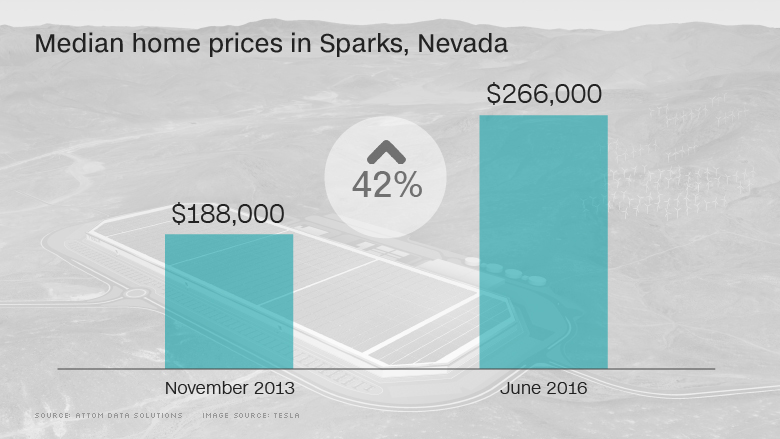 Home prices have been recovering across the country in the years following the 2008 housing crash.
More recently, a shortage of available homes for sale has pushed prices higher, and many housing markets are now facing an affordability issue as wages haven't kept pace.
But it's been a long and uneven recovery, with some housing markets still struggling to regain their footing.
Nevada had a particularly deep hole to climb out of and is still working to recuperate from the waves of foreclosures, short sales and abandoned homes that have weighed on its market.
"Nevada home prices are still well below what they were in the peak of the last bubble," noted Daren Blomquist, senior vice president at ATTOM.
The state currently has the highest percentage of seriously underwater properties in the country at 22%. But Sparks is faring better: In Washoe County, where Sparks is located, the rate is 10%.
The job growth Tesla is bringing is a big reason the housing market is taking off. Plevel said the home buyers are spanning the economic ladder.
"There are a lot of high-end executives coming in a buying million dollar homes ... and we have a lot of working-class buyers coming in," she said.
There's also been interest of Millennial residents looking to buy their first homes. "They are super talented, educated and pretty wealthy with their incomes."
Related: Tesla offers to buy SolarCity for $2.6 billion
Here's another bright spot: Homes are being built. "This is actually the first visible pulse of the recovery in the Reno area, when you start seeing construction coming out of the ground," said Plevel.
It's risky for a local economy to be tied too closely to a particular industry or company, but there are other big-name tech companies in the area that have helped.
Apple (AAPL) has a large data center in Reno, and Microsoft (MSFT) also has an office in Reno.
Rapidly rising prices aren't good for everyone though.
"The potential losers in this situation are folks who live locally and work locally, but aren't making the higher wages and may not be able to afford the higher prices," said Blomquist.