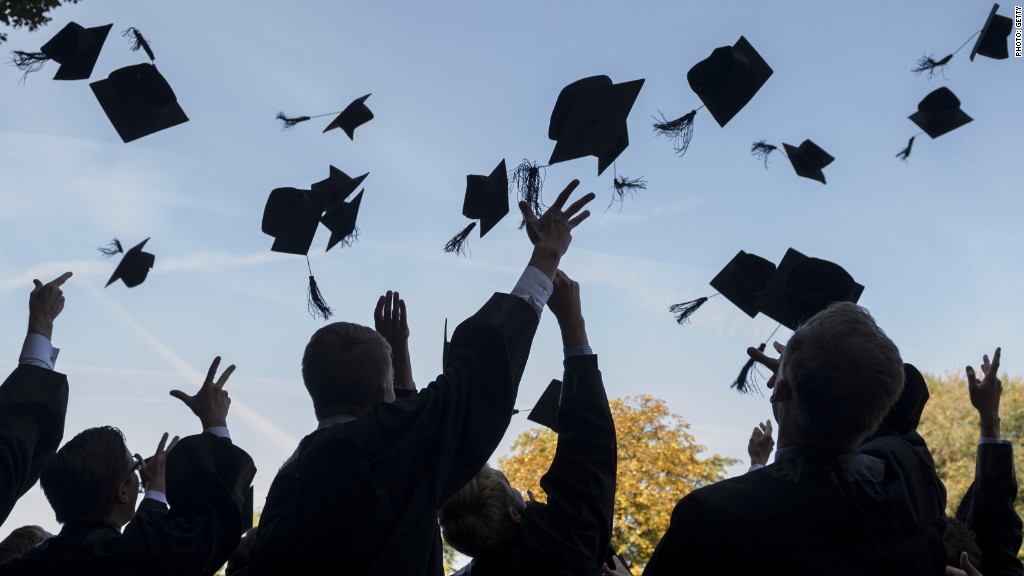 The hits keep coming for ITT Technical Institute.
Just days after a major blow from the federal government that severely limited the school's enrollment, ITT Tech has stopped enrolling all new students.
The announcement appeared Monday at the top of its website.
On Thursday, the Department of Education barred its parent company, ITT Educational Services, from enrolling students who use federal financial aid.
That means students who are enrolled at ITT, but haven't yet started classes are not allowed to use federal aid to finance their education. Current students who have already started classes can still use federal aid as long as the school remains open.
Related: Is the government making money off your student loans?
Shares of ITT Educational Services (ESI) dropped after the government's announcement.
"ITT is effectively out of business," said Peter Appert, managing director senior research analyst at Piper Jaffray & Co, who follows ITT. "I don't see any way they survive this."
Along with cutting off some access to federal money, the federal government is also requiring the company to increase its cash reserves and provide a letter of credit showing sufficient funding.
"Frankly, it occurred to me they could file Chapter 11 pretty much any time," Appert said. "I don't think they are going to be able to come up with the letter of credit the DOE is demanding."
ITT Educational Services has been in hot water with state and federal regulators before, and was recently warned it could lose its accreditation, which would mean none of its students would be eligible for federal student aid.
Appert said the school had been working to make changes to its program offerings and marketing techniques.
ITT Educational Services is also not allowed to pay any bonuses, severances or raises to management or directors without the government's approval.
The school did not immediately respond to a request for comment.
Related: Hillary Clinton's for-profit university problem
The company operates more than 130 campuses across the country in 39 states and online and has more than 40,000 students in both undergraduate and graduate programs. Enrollment has been dwindling at the schools. In July, the company said new student enrollment dropped nearly 22% to 9,910 in the second quarter compared to 12,638 in the same time a year prior.
The government has been cracking down on for-profit schools recently.
In May 2015, Corinthian College filed for Chapter 11 protection after coming under fire from federal regulators for alleged predatory lending practices and allegations it inflated its graduates' job placement numbers.