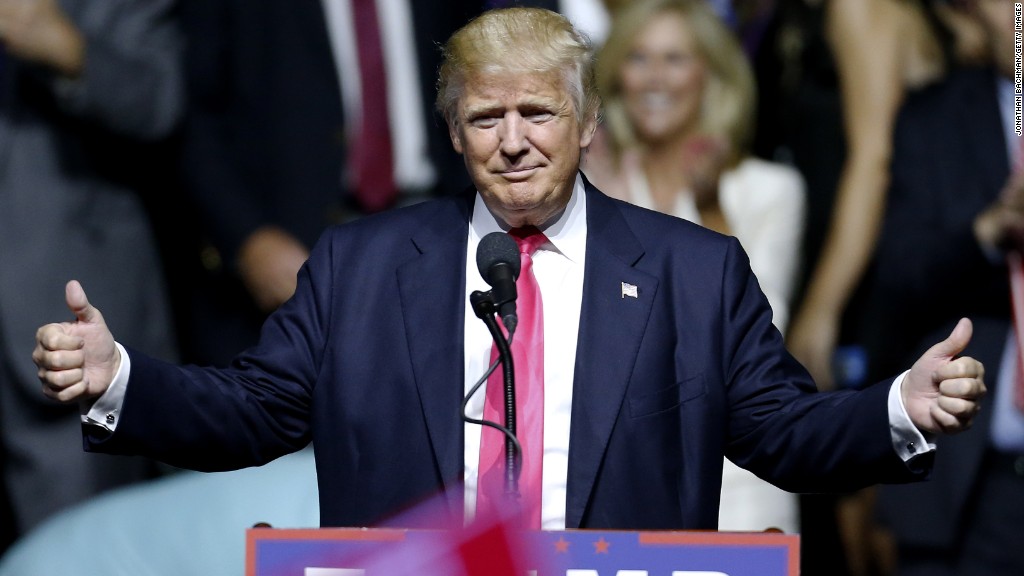 When the Breitbart media empire was just starting, and still being operated out of late founder Andrew Breitbart's basement, Alex Marlow was the first hire. Eight years later, at just 30 years old, he is the editor-in-chief of Breitbart News, the longest-serving employee there -- and a link to the outlet's origins that some conservatives believe have been abandoned.
"Alex is a very smart guy. He's really loyal. I think Andrew saw someone who had a complementary vision," Ben Shapiro, a former editor at Breitbart News, told CNNMoney.
Andrew Breitbart died of heart failure in 2012 at the age of 43, denying him the chance to see Hillary Clinton call out his namesake outlet, as the Democratic nominee did in a speech last week in Reno, Nevada. It was a defining moment for Breitbart, which has long operated in the fringe of political news coverage. But for Marlow, the moment came late.
"In a way, I'm surprised it took this long," he told CNNMoney Tuesday. "I think what Breitbart is doing is incredible, and we've never gotten the attention we deserve."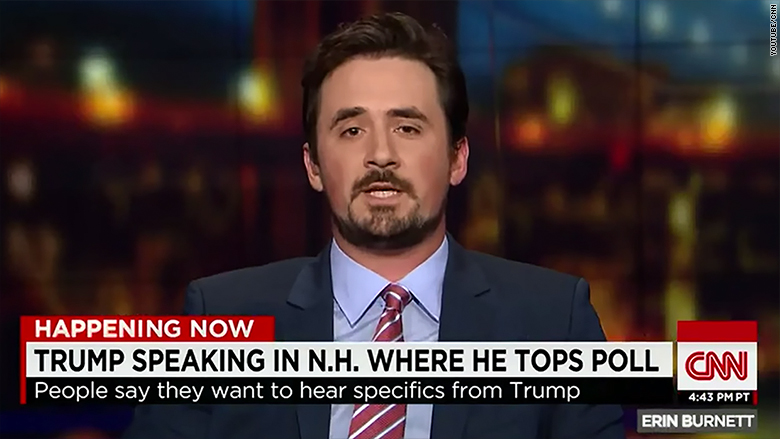 But some former Breitbart employees say they believe Marlow privately harbors misgivings with the site's direction. One former Breitbart reporter suggested that Marlow was the good cop to the bad cop played by Steve Bannon, the executive chairman of Breitbart News recently tapped to become CEO of Donald Trump's presidential campaign.
"Alex was generally on the side of good in the fight against evil while I was there," one former Breitbart reporter told CNNMoney. "He fought for restraint, honesty and standards."
Marlow called the suggestion that he was at odds with Bannon "absolutely false."
"It's been fantastic to work with Steve Bannon," Marlow said. "He's one of the true visionaries of conservative media."
Related: Steve Bannon: The "street fighter" who's now running Trump's campaign
Former Breitbart employees spoke in generally positive terms of Marlow, whose mother serves as a copy editor for the site. He was described as a gifted headline writer with a nose for stories that will be a hit among the site's arch-conservative audience.
Either way, under Bannon and Marlow Breitbart became both a conservative media force — and a de facto arm of Donald Trump's campaign. And traffic has never been higher.
Last month, Breitbart notched a record with nearly 18.3 million unique visitors, according to comScore. In October of 2013, when Marlow took over Breitbart's editorial operations, the site drew about three million visitors.
One former Breitbart employee said this fit with what has been Marlow's paramount consideration. "His editorial judgment was about the traffic," the former reporter said. "As far as breaking news and tracking stories down to the sources, that was never his focus."
But not all of the attention has been good. Breitbart's fawning coverage of Trump has chafed many fans of the site. It also led to an internal crisis in March, after Corey Lewandowski, Trump's campaign manager at the time and a current CNN contributor, forcefully grabbed Michelle Fields, then a reporter for Breitbart News.
Breitbart staffers were reportedly ordered to stop publicly defending Fields, and the website published a story that cast doubt on her account. Fields told CNNMoney she objected when Marlow informed her that Breitbart was running the story, which suggested that a security official had grabbed her, not Lewandowski.
"His answer was, 'Look Michelle, we're running it. I'm just giving you the heads up,'" recalled Fields, who resigned over the incident and is now a reporter at the Huffington Post. Marlow declined to comment.
When Trump hired Bannon to be CEO of his campaign earlier this month, it felt like a natural progression for what had been a symbiotic relationship between the two sides: Trump fed the website "exclusives," while Breitbart published adoring headlines.
But Breitbart was accused of operating as Trump's propaganda machine long before both the Lewandowski incident or the Bannon hire, and the charge still irks Marlow.
When Republican consultant Rick Wilson mocked Breitbart as Trump's "Pravda" during an appearance on CNN in August of 2015, Marlow pushed back forcefully. He said he still takes exception to the description.
"I deny categorically that we're Trump's Pravda," Marlow told CNNMoney. "But I do believe that CNN is working as hard to elect Hillary Clinton as any conservative outlet is working to elect Donald Trump at this current time."
"You guys have perfected these tactics," he continued. "You guys build an incredible audience and you change the narrative. Breitbart at least admits what we're doing."
Still, whether Andrew Breitbart would approve of what his media outlet is doing now is the subject of fierce debate on the right. Those in the "never Trump" camp point to a 2011 Fox News appearance in which Breitbart said the billionaire reality TV star was "not a conservative."
Ben Shapiro, who was one of several Breitbart staff members to resign in protest over the outlet's handling of the Lewandowski incident, told CNNMoney that the late founder "would like the fact that Trump hits the media."
"I think he would say that the way the media is covering Trump is unfair, which is true," Shapiro said. "My assumption is that he would be covering the media angle of Trump."
But as Shapiro sees it, Breitbart would have drawn the line during the fiasco involving Lewandowski and Fields.
"I know for a fact that there's no way in hell that Andrew Breitbart would have burned his own reporter to benefit Donald Trump," he said. "He would have flown to Florida and confronted Trump personally. That was Andrew's style."
Marlow, at least, agrees about what Breitbart would have liked about Trump.
"I'm sure he would have had issues with Trump along the way, but for the most part, Andrew would like the fact that Trump has put the mainstream media on notice," Marlow said. "That was Andrew's top enemy."
"But beyond that, I don't want to put words in Andrew's mouth," he added. "That's a trap people set."
"I know people grieve and they miss Andrew, and my heart breaks for all of those people. We all miss Andrew and wish he were here for all of this."