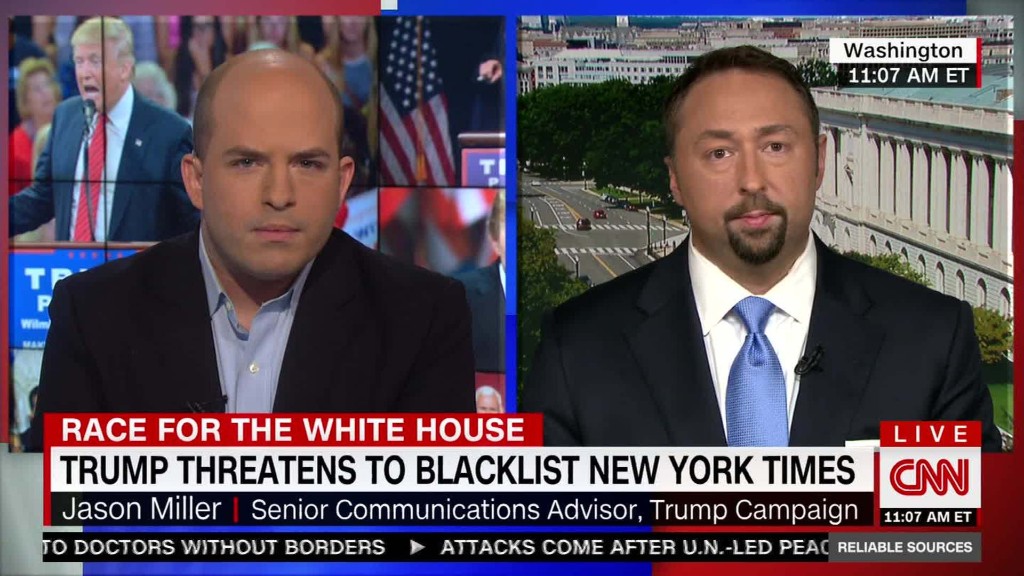 Donald Trump went to Mexico City without his press corps on Wednesday, leaving media organizations scrambling to get reporters on the ground to cover his joint press conference with the Mexican president.
And then Trump took just two questions from the press.
Following a toned-down statement in which an uncharacteristically accommodating Trump stressed the benefits of U.S.-Mexican cooperation, Trump was asked if he and Mexican President Enrique Peña Nieto had discussed who would pay for Trump's proposed wall between the two countries.
"Who pays for the wall, we didn't discuss," Trump said.
It was a long way for the likes of ABC's Jon Karl, CNN's Jim Acosta and others to travel for such few questions. But Trump's campaign had forced media outlets to scramble after leaving his press corps stranded in Phoenix Tuesday night, then promising a press availability in Mexico on Wednesday.
The trip, Trump's first foreign meeting with a head of state as Republican nominee, was announced late Tuesday night while Trump and the press corps were in Seattle. But when Trump's plane left for Los Angeles, en route to Mexico, the press charter instead went to Phoenix, where Trump will give an immigration speech upon his return to the U.S.
It wasn't until Wednesday morning, just hours before the meeting, that Trump campaign manager Kellyanne Conway confirmed that there would be a press availability following the meeting at which reporters would be able to ask questions.
That left many of the reporters who normally travel with Trump seething.
"No one from the traveling press pool will be able to get down there by then," a member of the traveling press pool told CNNMoney. "We were left in the dark."
Related: Trump lifts ban on media outlets, at least for pool duty
"Trump's traveling press corps got no heads-up about this trip, no efforts made to get them there," New York Times reporter Maggie Haberman tweeted.
Zeke Miller, of Time Magazine, said it was "a troubling departure from precedent for the Trump campaign to leave U.S. press behind."
The slight marks the second time in two weeks that Trump has left his press pool stranded while he went to a last-minute campaign event, free from the scrutiny of the men and women who cover the daily happenings of his campaign. In mid-August, Trump made a last-minute trip to Baton Rouge to survey flood damage while the pool was left in Charlotte.
Spokespeople for the Trump campaign did not immediately comment on the matter.