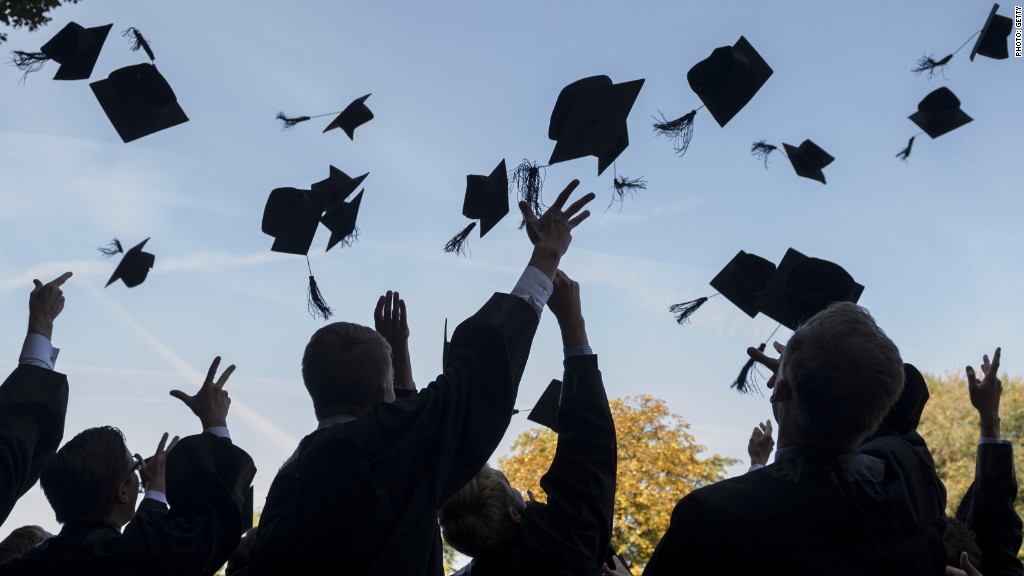 Amid a string of recent government crackdowns on for-profit schools, one organization is trying to strike back.
The Center for Excellence in Higher Education (CEHE), which currently operates four for-profit schools, is suing the Department of Education for denying its request for non-profit status, accusing the government of unfairly singling out for-profit institutions.
In the lawsuit, which was filed Tuesday in a federal court in Utah, CEHE claims the government's decision is "arbitrary and capricious." It also accuses the Department of Education of having "improper motives and/or bad faith."
CEHE CEO Eric Juhlin told CNNMoney that the DOE is selectively interpreting and applying certain regulations.
"Under this administration, the new tactic is to use federal agencies to advance political agendas," he told CNNMoney. "Someone needs to stand up or they will continue doing this. We were backed into a corner and the moral thing to do is to stand up."
Related: ITT Tech stops all new student enrollment
CEHE, which currently has around 9,500 students, was founded in 2006 by a handful of philanthropists and operated as a public charity until 2012. That year, it merged with four for-profit colleges, and asked the IRS and Department of Education to keep its non-profit status.
The IRS approved the designation, but the Department of Education denied the request earlier this month.
"Schools that want to convert to non-profit status need to benefit the public," said U.S. Under Secretary of Education Ted Mitchell in a release about the decision on Aug. 11. "If the primary beneficiary of the conversion is the owner of the for-profit school, that doesn't meet the bar. It's not even close."
In a letter to Juhlin, the DOE said its denial was based on the fact that the former owner of the for-profit schools still has some control of the schools and benefits from some federal funds.
Juhlin said the lawsuit should not impact the schools' students.
"The worst-case scenario if we lose our lawsuit, we would move forward and comply with the regulations," he told CNNMoney. "There is no interruption to student financial aid, they will still go to classes and get student loans."
Related: Related: NJ student loan bills keep coming, sometimes after death
For-profit schools have come under increased scrutiny recently and government actions have enhanced industry regulations.
In an unprecedented move last week, the Department of Education barred the parent company of ITT Technical Institute from enrolling students on federal aid. Several days later, the school halted enrollment of all new students.
In May 2015, Corinthian College filed for Chapter 11 protection after coming under fire from federal regulators for alleged predatory lending practices and accusations of inflated job placement numbers.