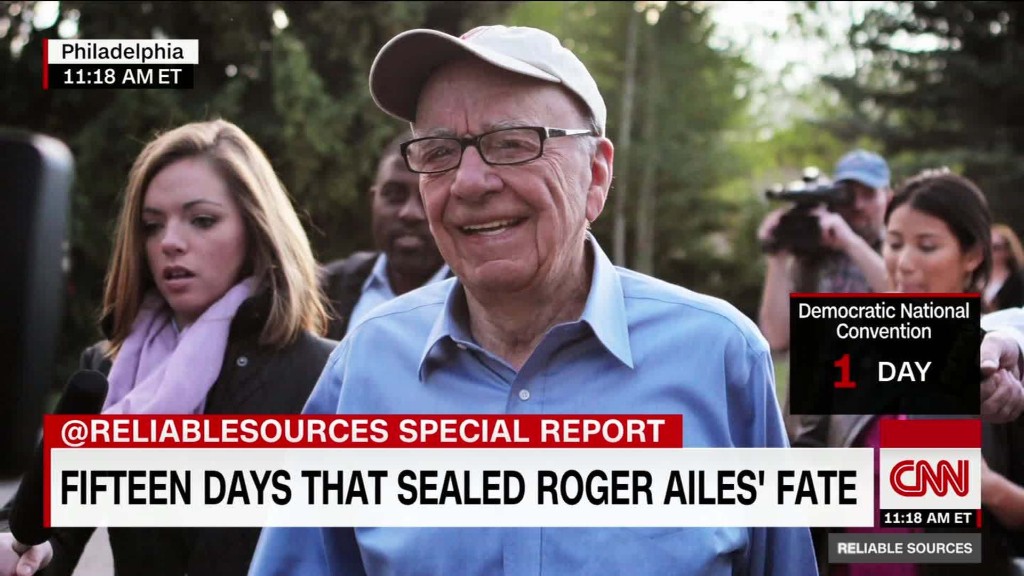 The executives both above and below Roger Ailes looked the other way while the Fox News chief engaged in "predatory" behavior, Ailes' biographer Gabriel Sherman writes in the next issue of New York magazine.
Ailes was able to get away with so much, according to Sherman's sources, because the conservative news channel's profits gave him autonomy.
21st Century Fox (FOX) patriarch Rupert Murdoch tolerated Ailes' secretive behavior and "didn't appreciate how toxic an environment it was that Ailes created," a person close to the Murdochs told Sherman.
The most headline-grabbing part of the cover story, which was published online Friday morning, is that Fox News "obtained the phone records of journalists, by legally questionable means."
Citing "two sources with direct knowledge of the incident," Sherman says the channel's general counsel, Dianne Brandi, "hired a private investigator in late 2010 to obtain the personal home- and cell-phone records of Joe Strupp."
Strupp, a veteran reporter who worked for the anti-Fox organization Media Matters at the time, "had written several articles quoting anonymous Fox sources, and the network wanted to determine who was talking to him."
Sherman doesn't name the investigator. He says that Brandi, through a spokesperson, denied the allegation. But the claim tracks closely with previous reports of shadowy investigations by Ailes' allies.
Sherman quotes a Fox executive as saying, "This was the culture. Getting phone records doesn't make anybody blink."
Sherman tweeted on Friday morning, "This is the first time it appears phone hacking took place at one of Murdoch's U.S news outlets." Some of Murdoch's British newspapers were engulfed in a far-reaching phone hacking scandal years ago.
Media Matters responded in a statement on Friday: "From what we witnessed with Rupert Murdoch and News Corp's prior phone hacking scandal, its critical for an immediate investigation of Roger Ailes and any other current or former Fox News employees who may have been involved in this illegal practice."
The progressive media monitoring group also said it is "considering" legal methods of recourse:
"Roger Ailes and Fox News broke the law by hacking into the phone records of Media Matters employees. Anyone involved in the illegal hacking should be prosecuted to the fullest extent of the law and we are considering all legal options."
Ailes' attorneys say Sherman is a "virus"
In the eyes of his peers, Sherman is a dogged reporter. But Ailes views Sherman as an enemy.
CNNMoney recently obtained the 400-page opposition research file that Fox News produced when Sherman started writing his 2014 biography of the executive.
Related: Revealed: Fox News' 400-page oppo file on Gabriel Sherman
Earlier this week, while Sherman was fact-checking his cover story, two of Ailes' attorneys attacked Sherman in highly personal ways. Susan Estrich called Sherman "the real enemy of women" and Mark Mukasey, son of former U.S. Attorney General Michael Mukasey, called Sherman a "virus" who has "obviously attached himself to the Ailes family to try to suck the life out of them."
In the cover story, Sherman reports that Mukasey and another longtime friend, former New York City mayor Rudy Giuliani, huddled with Ailes in July as the executive prepped a counteroffensive against ex-anchor Gretchen Carlson's sexual harassment lawsuit against him.
As more and more women came forward with accounts of harassing behavior, Rupert Murdoch and his sons James and Lachlan decided Ailes had to go. Ailes resigned under pressure on July 21.
Sherman's story quotes a person close to the Murdochs saying that "Rupert is in the clouds." He says Murdoch approved the budgets for Fox News "without question" every year.
Earlier this summer, Sherman revealed that Fox News paid a $3.15 million settlement to an ex-employee who alleged a pattern of harassment and manipulation by Ailes. Other funds were spent on Ailes loyalists who "consulted" for the channel.
"Roger controlled what Rupert saw"
In a recent interview with CNNMoney, a longtime Rupert Murdoch lieutenant backed up the assertion that Murdoch did not question Ailes' budgets: "When you go well beyond your profit targets," the person said, "the bosses don't comb through your spending."
Murdoch never came down to the Fox News floors without calling ahead to Ailes, the person added: "Roger controlled what Rupert saw when he visited Fox."
What about the senior VPs and executive VPs who reported to Ailes?
On the one hand, Sherman says, "the scope of Ailes's alleged abuse far exceeds what employees could have imagined." (Ailes has denied the allegations against him.)
On the other hand, Sherman concludes, "it is unfathomable to think, given Ailes's reputation, given the number of women he propositioned and harassed and assaulted over decades, that senior management at Fox News was unaware of what was happening. What is more likely is that their very jobs included enabling, abetting, protecting, and covering up for their boss."
Other headlines from the story:
— Ailes' longtime executive assistant Judy Laterza "became one of his top lieutenants, earning more than $2 million a year, according to a Fox executive," and "seemed to function as a recruiter of sorts" for women Ailes wanted to meet. Laterza did not respond to Sherman's request for comment.
— A former Fox producer told Sherman that "Laterza entered fake names into Ailes's datebook when women went into his office: 'If you got ahold of his ledger, you would not know who visited him.'"
— Donald Trump recommended a lawyer to Ailes "in the days after Carlson filed her lawsuit." It is unknown if Ailes followed the advice.
— After the harassment scandal broke, before Ailes resigned, he "told executives that he was being persecuted by the liberal media and by the Murdoch sons. According to a high-level source inside the company, Ailes complained to 21st Century Fox general counsel Gerson Zweifach that James, whose wife had worked for the Clinton Foundation, was trying to get rid of him in order to help elect Hillary Clinton."
— The final terms of Ailes' departure were worked out when "Murdoch summoned Ailes to his New York penthouse to work out a severance deal" on July 21.
— "Four sources close to the family" say that Ailes' wife Elizabeth is "taking all of the revelations especially hard." Giuliani, "who officiated their wedding, told Murdoch she would likely divorce Ailes, according to two sources."