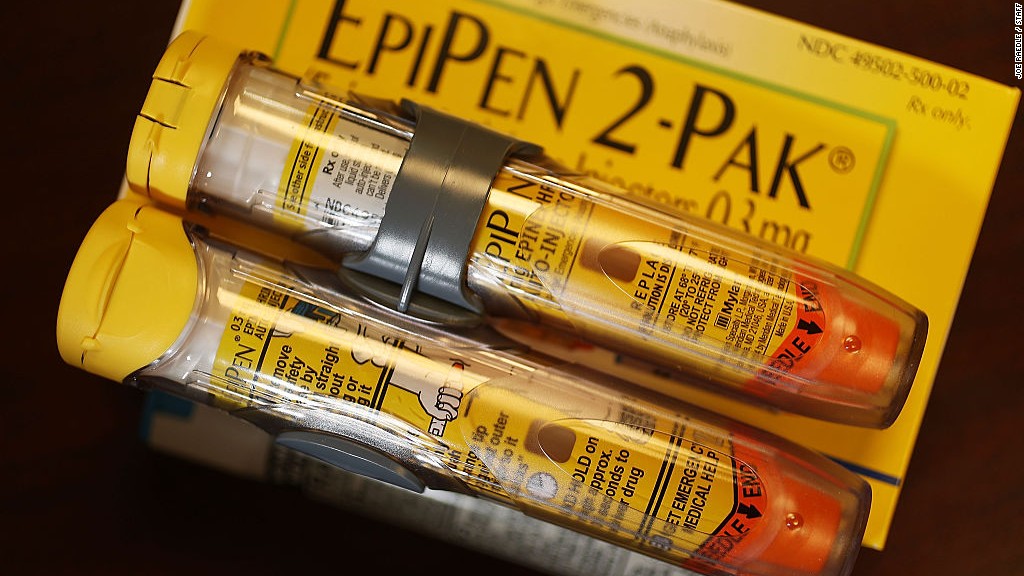 Mylan's program to distribute its troubled EpiPens in schools are drawing antitrust allegations.
Senators Richard Blumenthal and Amy Klobuchar asked the Federal Trade Commission Tuesday to look into whether the company took illegal steps "to protect its EpiPen product from competition."
"As the cost of EpiPens skyrocketed, schools seeking relief turned to Mylan's 'EpiPen4Schools' program, which offered a significant discount for the lifesaving drug," a statement from the senators reads. "Some of these schools were required to sign a contract agreeing not to purchase any products from Mylan's competitors for a period of 12 months."
The FTC confirmed receipt of the letter, but declined to indicate whether the commission intends to take action.
Attorney General Eric Schneiderman's office also said Tuesday that he's looking into Mylan's EpiPen school distribution program.
"No child's life should be put at risk because a parent, school, or healthcare provider cannot afford a simple, life-saving device because of a drug-maker's anti-competitive practices," Schneiderman said.
Related: Mylan pledges to make EpiPen more affordable
Mylan's EpiPen4Schools program gives free injectors to about 65,000 schools nationwide, and the company issued a statement Tuesday denying the claims its contracts included non-compete agreements.
"There are no purchase requirements for participation in the program, nor have there ever been to receive free EpiPen Auto-Injectors," the company said.
Related: EpiPen main ingredient costs 'less than a Big Mac'
EpiPens, a life-saving treatment for allergic reactions, made headlines when it came to public attention that Mylan hiked the price of the drug 400% over the course of seven years. It was also revealed last week that Heather Bresch, the CEO, was promised a $28 million bonus in a couple of years if she boosts the company's profits and share price.
Maylan responded to outrage by offering a cheaper, generic version of the drug and promising to make EpiPen more affordable. But the company has attempted to pin the blame on a "broken" health care system that "incentivizes higher prices."
Related: Here's what happened to AIDS drug that spiked 5,000%
In Washington, the House Oversight Committee has also begun an investigation into Mylan's pricing for EpiPens.
Various companies have come under fire for hiking the price of life-saving drugs, which has come to symbolize corporate greed.
The topic captured national attention about a year ago when Turing Pharmaceuticals lifted the price of Daraprim -- a drug that treats AIDS and transplant patients -- about 5,000% overnight.