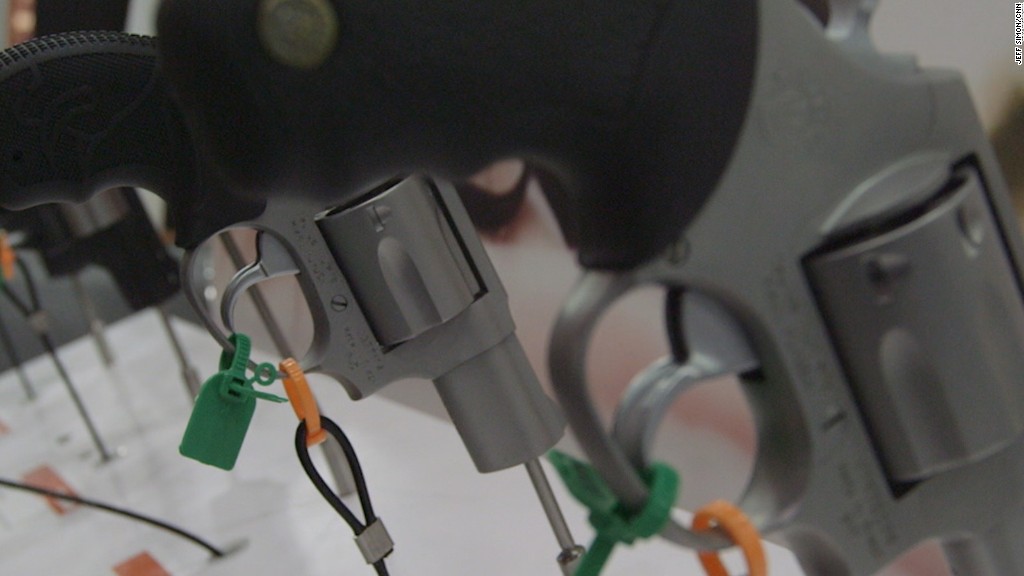 Guns are selling at unprecedented levels this summer, which means 2016 is well on its way to breaking the all-time record for background checks.
Background checks conducted by the FBI totaled 1,853,815 in August 2016, a 6% increase from August 2015.
That's the most checks ever in the month of August since the FBI started conducting background checks in 1998. In fact, every monthly tally this year has hit an all-time high, meaning that 2016 is on track to be the record year for background checks and, by proxy, gun sales.
Background checks don't correlate directly to gun sales, but do serve as an important indicator for them, since there are no industry sales figures.
But Smith & Wesson (SWHC) and Sturm Ruger (RGR), the two publicly-traded gun companies, recently reported a double-digit jump in sales. Smith & Wesson said quarterly sales soared 40%, while Ruger said sales jumped 19%.
Mass shootings in the last several years have helped drive gun sales. Gun buyers worry that every mass shooting will prompt more restrictive gun control laws, and that's been the case in states like Connecticut, Colorado and Virginia.
The political rhetoric of the 2016 presidential campaign has taken center stage in the gun industry. Ruger CEO Michael Fifer said recently that Hillary Clinton was "actively campaigning against the lawful commerce in arms."
Clinton, if elected president, plans to expand background checks, restrict "military-style assault weapons," and hold gun dealers and manufacturers accountable for gun violence. She wants to repeal a law protecting the gun industry from lawsuits related to the misuse of guns.
Every time a gun is purchased from a federally-licensed gun dealer, the dealer submits the buyer's personal information to the FBI, which runs it through the National Instant Criminal Background Check System, or NICS. If the check reveals that the buyer is a felon, or has other criminal history red flags like domestic violence or drug use, then he or she is denied the gun.
But most buyers pass the background check.