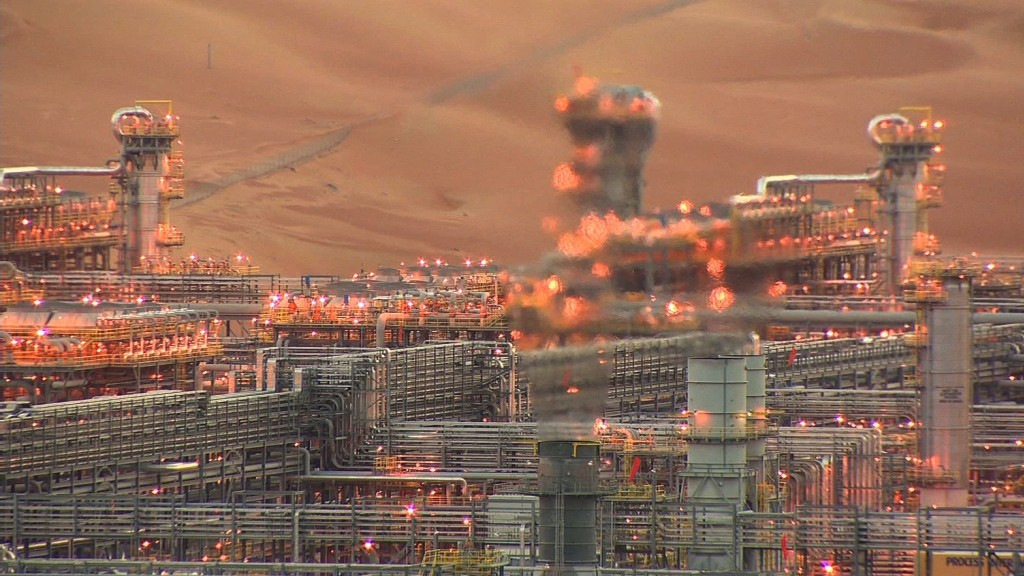 Price wars can be painful -- even for the mighty OPEC.
That's why the oil cartel, along with Russia, is once again entertaining a freeze in production aimed at putting a floor beneath low prices.
The goal is to keep prices high enough to give oil-reliant countries a financial boost, but not so high that they encourage their chief rival -- American shale oil producers -- to start pumping aggressively again.
However, the very fact that these talks are taking place is evidence of the enormous financial damage inflicted by low prices on oil-rich governments, and their increasingly restless citizens.
At one end of the spectrum, cheap oil is causing food shortages and outright chaos in OPEC member Venezuela. Even the cartel's kingpin Saudi Arabia has been forced to usher in painful austerity moves. And it's one of the chief causes of a deep recession in Russia.
"No sovereign producer can be judged a winner," Helima Croft, a former CIA analyst who is now global head of commodity strategy at RBC Capital Markets, wrote in a recent report. "It is only a question of which cash strapped country can be declared the biggest loser."
Here's how key oil players are affected:
Related: OPEC tries to heal wounds before crucial meeting
Saudis are being squeezed: Plunging oil revenues have caused Saudi Arabia to burn more than $180 billion in foreign-exchange reserves over the past two years. To compensate, the kingdom has borrowed $10 billion from banks and is even planning its first-ever bond sale, steps that would have been unthinkable a few years ago.
Budget cutbacks mean reduced subsidies, which is affecting the pocketbooks of regular Saudis, who are paying a lot more for electricity and gasoline.
The kingdom is also reevaluating more than 200 infrastructure projects in an effort to save some $20 billion, according to John Sfakianakis, the director of economic research at the Gulf Research Center in Riyadh. He said the kingdom outlined broad plans earlier this year to save money.
"Now they are asking them to deliver on those promises," Sfakianakis said.
While mission critical projects like development of more tourism options in the holy sites in Mecca and Medina and long overdue rail and metro lines there look safe, Sfakianakis said other developments deemed less important are likely to be scrapped.
Trouble in Russia: Oil prices spiked earlier this week after Russia and Saudi Arabia signed an agreement aimed at stabilizing the oil market, in part by setting up a working group. That caused speculation that Moscow would support a freeze at the informal meeting later this month in Algeria.
Cheap oil, along with painful economic sanctions, have kept Russia in recession for at least 18 months and plunged millions of citizens into poverty.
"Putin and his allies may feel a greater sense of urgency to demonstrate they can steer the country out of its current doldrums," Croft wrote.
Venezuela in chaos: Few countries need higher oil prices more than Venezuela. Even though it has vast oil riches beneath the ground, Venezuela is running low on cash, has a food crisis and is now grappling with mass protests calling for President Maduro to step down.
Venezuela is "flirting with disaster," Croft said.
Related: Venezuela chaos: The biggest threat to cheap oil
Iran's harsh welcome back: Thanks to the lifting of sanctions, Iran is doing better than a few years ago. However, even Iran is facing pressure from the low prices. It has removed some $16 billion in fuel subsidies. That may be why this week Iran's oil minister said he supports moves aimed at "restoring stability" to the energy markets.
Nigeria, Libya lag behind: These two African countries continue to grapple with violence that has handcuffed their oil output. Nigeria officially sank into a recession last week, while Libya is struggling to rebound from the civil war that began in 2011.
Gulf oil riches can't last forever: Super-wealthy Gulf nations like Qatar, the United Arab Emirates and Kuwait look a lot healthier than the rest of OPEC. But even they have resorted to cutting gas subsidies and raising money by selling debt.
Croft concedes that a freeze agreement may not fix the oil market's oversupply problem, but she thinks these financial headaches increase the odds of a deal being reached anyway.
"Leaders may opt for pragmatism and seek some financial relief that will allow them to keep their increasingly restive citizens content and off the streets," she wrote.