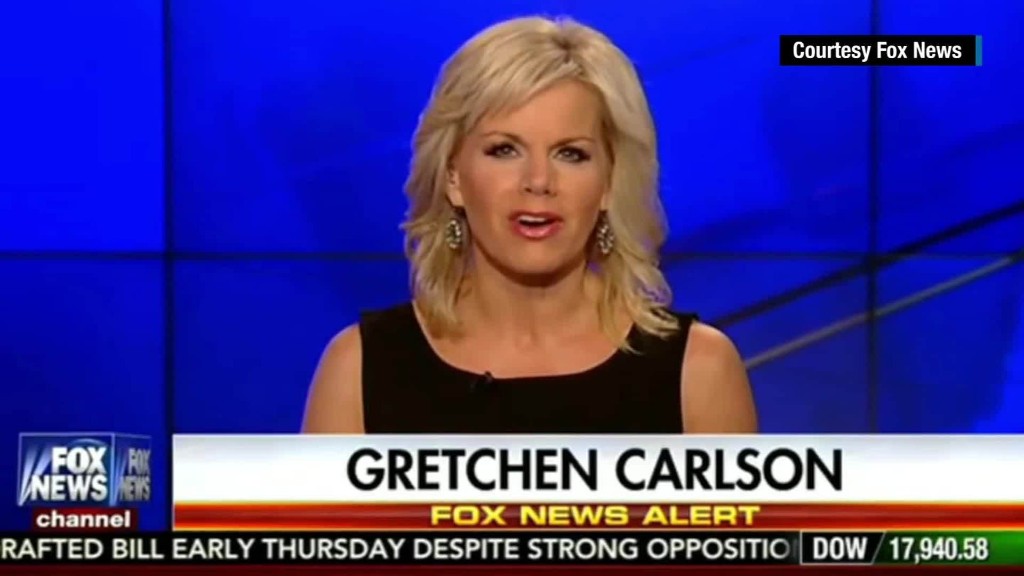 Fox News prizes stability. But right now the proverbial ground there is shaking as a result of the Roger Ailes sexual harassment scandal.
Greta Van Susteren's sudden departure from the network is just the latest aftershock. Uncertainty abounds -- not so much about the business, which remains rock solid, but about its broadcasters.
Fox's parent company has settled with Gretchen Carlson and several other women who accused Ailes of harassment. But at least one lawsuit is still outstanding.
The network has holes to patch at 2 p.m., Carlson's old time slot, and 7 p.m., Van Susteren's hour. Several other reporters and commentators are also heading for the exits. And the contracts of Fox's biggest stars are coming due soon.
One of those stars, Megyn Kelly, just hired a personal publicist to help her navigate through a book launch and a contract negotiation. Kelly will surely be asked about Ailes during her book tour in November.
That's just one of many reasons why the Ailes aftershocks will continue to be felt after the presidential election.
This is the most tumultuous time in the history of the network, which turns 20 next month.
Two longtime executives, Bill Shine and Jack Abernethy, were named co-presidents last month. The two men, along with their boss Rupert Murdoch, are figuring out what a post-Ailes Fox News looks like.
So far it's been mostly about subtraction. Van Susteren is just the highest profile departure; weekend "Fox & Friends" co-host Anna Kooiman said goodbye on Sunday, citing her husband's impending move to Australia.
"Fox & Friends" meteorologist Maria Molina signed off on Tuesday, citing a move to Michigan to pursue her Ph.D.
More than half a dozen Ailes lieutenants have also left since July 21, the day Ailes resigned under pressure.
Such turnover, both on air and off air, is highly unusual at Fox.
Some of the departures would have happened anyway -- political analyst Kirsten Powers, for instance, moved from Fox to CNN last month. But other talent changes are connected to the end of Ailes' tenure. Ailes' successors decided to let longtime contributor Bo Dietl's contract expire over the summer.
Dietl, the founder of a private investigations firm, reportedly conducted P.I. work for Ailes.
Other hosts and commentators who were especially close to Ailes are also likely to leave in the coming months -- not necessarily by choice.
In a strange twist, lawyer and Fox News contributor Susan Estrich is one of Ailes' personal lawyers in the harassment suits. Estrich's bio is still listed on Fox's web site.
Van Susteren's bio and blog were deleted just as soon as Fox announced her departure on Tuesday. The swift and bitter breakup was the result of a failed negotiation by Van Susteren and her husband John Coale.
Related: Why Van Susteren left Fox so suddenly
Coale said Tuesday that there is "possible litigation in the future" between Van Susteren and Fox.
By removing her from the airwaves immediately, Fox News executives were sending a message: that no one host or commentator or reporter is bigger than Fox as a whole.
"We have a deep bench" is a mantra among the bosses. And it is accurate. But the network faces a big challenge next year when the contracts for two of its remaining prime time hosts -- Kelly and Bill O'Reilly -- are set to expire.
Fox's 10 p.m. host, Sean Hannity, is under contract until 2020.
More urgently, Shine and Abernethy have to find a new host for Van Susteren's pivotal time slot, which leads into O'Reilly and the rest of prime time. Veteran anchorman Brit Hume is taking over the time slot, but only through Election Day.
On the bright side for Fox, the talent revolt by Ailes loyalists that was rumored back in July never actually transpired.
Van Susteren is the only host known to have exercised the "key man clause" in her contract that allowed her to follow Ailes out the door.
But many Fox hosts and reporters are still eager to find out what's going to change -- and what won't -- at the network.
Fox's high ratings and even higher profits depend on a consistent editorial tone and a loyal audience.
There was, at least, one bit of good news for Fox on Tuesday. Longtime 4 p.m. host Neil Cavuto, who had to take a medical leave in June for open heart surgery, returned to the airwaves.
Correction: An earlier version of this story stated that Sean Hannity's contract was set to expire in 2017. It actually extends through 2020.