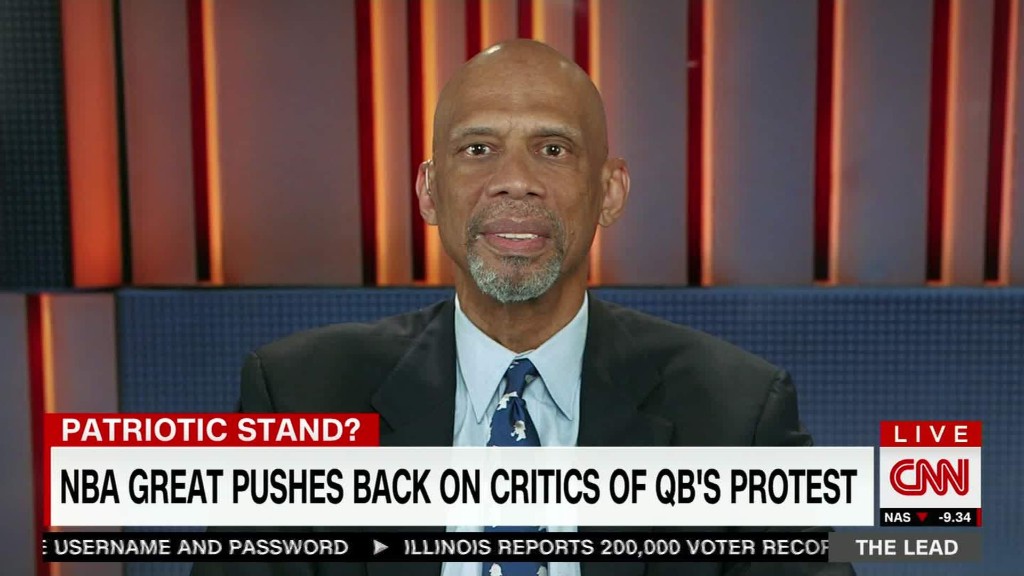 Quarterback Colin Kaepernick wants to give back all the money he makes from sales of his jersey.
Since staging a protest during a performance of the national anthem, Kaepernick's San Francisco 49ers jersey has been the top seller on the NFL Store's website.
His #7 jersey is listed for $99, which could mean a lot of money for the second-string quarterback.
According to the agreement between the NFLPA, the players' union, and the league, players gets two-thirds of the money made by selling jerseys. The other third goes to the union -- and some of that goes into a pool for all NFL players.
The NFLPA and the NFL did not immediately respond to CNNMoney's questions about whether they would donate any money they make from the sales.
It's not clear how much money the jersey has generated thus far. But the boost in sales, which is a sign of support for Kaepernick, is especially surprising given that he lost his starting position last season.
Related: Kareem Abdul-Jabbar on racial tensions in the U.S.
Kaepernick has received both public scorn and shows of support for his protest.
He announced his plan to donate the money via an Instagram post.
"I wasn't expecting my jersey sales to jump to number one because of [my protest], but it shows the people's belief that we can achieve justice and equality for ALL!" Kaepernick wrote. "The only way I can repay you for the support is to return the favor by donating all the proceeds I receive from my jersey sales back into the communities!"
Kaepernick explained his initial decision not to stand during the anthem by saying that he wouldn't "show pride in a flag for a country that oppresses black people and people of color."
Since his first protest during a preseason game on August 26, Kaepernick has continued to sit out the anthem.
In addition to the money he will make off his jersey, Kaepernick previously pledged to donate the first $1 million he makes this year to charity.
Kaepernick will earn a base salary of $11.9 million in 2016, according to Spotrac, which tracks salary data.