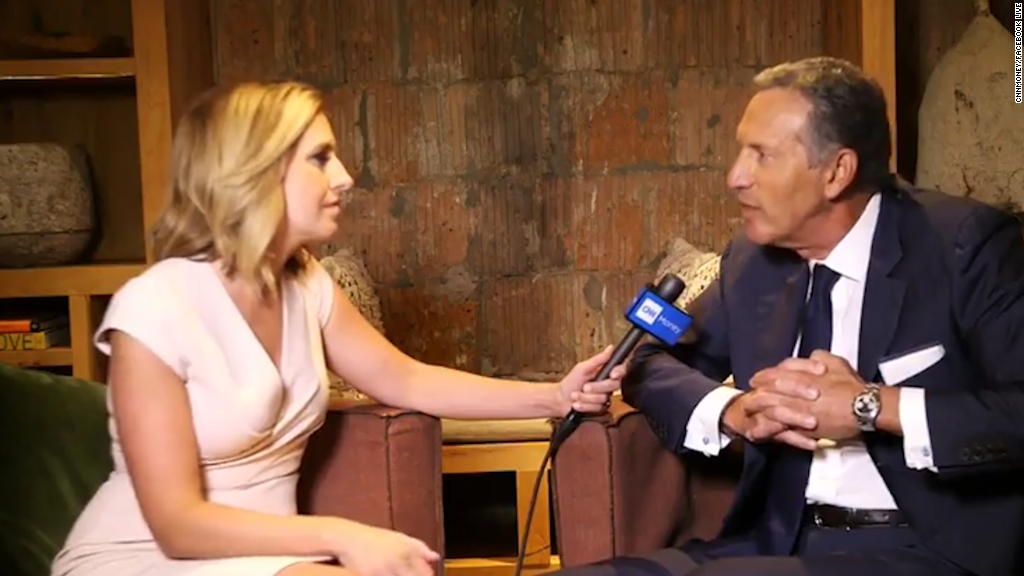 Howard Schultz, the CEO of Starbucks, endorsed Hillary Clinton for president on Wednesday.
Schultz is one of the country's most politically outspoken chief executives, but until now he had not taken sides in the 2016 race between Democrat Clinton and Republican nominee Donald Trump.
"I think it's obvious Hillary Clinton needs to be the next president," Schultz told Poppy Harlow at the first-ever CNNMoney American Opportunity conference in New York. Clinton has the ideal "life experience" and "professional experience" to be president, he said.
Schultz, who calls himself a "life-long Democrat," endorsed Barack Obama for president in 2008 and again in 2012. He has donated only to Democrats over the years, according to the Center for Responsive Politics, with the exception of one donation to Republican Senator John McCain in the late 1990s.
The Starbucks (SBUX) CEO also opened the door for his own possible run for the White House one day. He has repeatedly called the U.S. political process a "circus" and "bombastic."
"I'm still a young man," he said Wednesday. At age 63, Schultz is younger than both Clinton and Trump, but he batted away any notion that he's gunning to run soon.
"I would never say never, but this is not the right time," he said.
Related: Starbucks CEO Howard Schultz blasts 'bombastic' American politics
Starbucks' new initiative
Schultz's focus right now is countering the "the divisiveness and cynicism currently fueling our national discourse."
On Wednesday, Starbucks unveiled a new series of original videos and stories called "Upstanders" that focus on genuine moments of humanity in the country. One of the profiles is of Christians and Muslims coming together in a suburb of Memphis, Tennessee.
"People cannot believe what is going on in this country," he said, urging people to vote and take back control of Washington. "What we have witnessed over the last year is inconsistent with the guiding values and principles of our country."
Schultz donated heavily to Obama in 2008, but has not given since in presidential campaigns. He joined with over 100 other CEOs to pledge that he would no longer give money until lawmakers "stop the partisan gridlock in Washington, D.C."
Related: JPMorgma CEO Jamie Dimon to Americans: 'You're being manipulated'
Schultz defends 'Race Together'
The Starbucks CEO has a long history of advocating for civic engagement. In a speech to Starbucks shareholders last spring, the billionaire exec said he fears the opportunities that allowed him to achieve his American Dream -- he grew up in subsidized housing in Brooklyn -- have fallen out of the grasp of too many people.
"The American Dream can't be only accessible to people of privilege who are white and live in the right zip code," he said.
Schultz said one of the proudest moments in the entire history of Starbucks was when the company had baristas write "Race Together" on cups in the months after the fatal police shooting of a young African American man named Michael Brown in Ferguson, Missouri.
He noted the Starbucks opened a store in Ferguson in April. Many people thought he was nuts to do it, but on Wednesday, Schultz reiterated that it was the right thing to do.
"The Ferguson store is one of the best performing stores we've opened this year," he said.