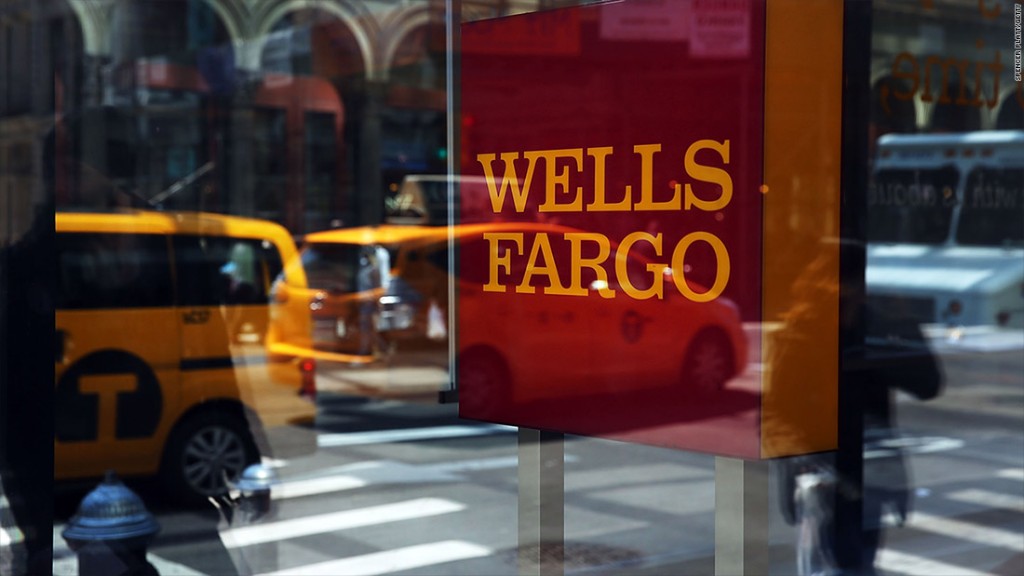 More than 5,000 Wells Fargo employees have been fired as a result of a scandal involving phony bank accounts. But do the CEO or other senior executives need to be let go too?
Wells Fargo is paying $185 million in fines after the Los Angeles City Attorney and Consumer Financial Protection Bureau found that Wells Fargo employees had secretly set up new fake bank and credit card accounts in order to meet sales targets.
In some cases, Wells Fargo customers were hit with overdraft fees and other charges because their money had been unknowingly moved from their regular account to a fake one.
The CFPB said Thursday that the practice was "widespread." But how "widespread" remains to be seen. During the past decade, only a few top executives at many U.S. and European banks have lost their jobs due to numerous scandals going back to the financial crisis.
Several big banks inflated the value of mortgage-backed securities on their books. And some major banks coordinated to manipulate the Libor lending rate and foreign exchange rates, for example.
Related: 5,300 Wells Fargo employees fired over 2 million phony bank accounts
But the Wells Fargo (WFC) scandal impacts thousands of average people a lot more directly than these instances of fraud. Imagine having to pay a fee because someone took your money and moved it somewhere else! The outrage is justifiable.
So it's fair to wonder why some of Wells Fargo's highest-paid employees are not taking more responsibility and why no one is taking the fall.
CEO John Stumpf made $19.3 million in compensation in 2015. That makes him one of the top-paid bankers in the United States as he has been for years, along with these others: JPMorgan Chase (JPM)'s Jamie Dimon, Bank of America (BAC)'s Brian Moynihan and Lloyd Blankfein of Goldman Sachs (GS).
Eric Schiffer, a management consultant with more than 600,000 followers on Twitter, tweeted that Stumpf should be held accountable.
Stumpf, and his predecessor Dick Kovacevich, are well-known in banking circles for leading the bank's efforts to cross-sell, or get customers to sign up for more and more accounts, with Wells Fargo.
Both often won banker of the year awards from various industry organizations because of their cross-selling prowess. The stock has outperformed nearly all of its big bank rivals over the past five and 10 years as well.
Wells Fargo's financial success is a big reason why many investors, including the legendary Warren Buffett, love the bank. His Berkshire Hathaway firm owns nearly 480 million shares of Wells Fargo, a 9.5% stake.
That makes Berkshire Hathaway (BRKB) the largest owner of Wells Fargo. And Wells Fargo is Berkshire Hathaway's second largest holding overall, trailing only Kraft Heinz (KHC).
Berkshire Hathaway and Buffett were not immediately available for comment about the Wells Fargo scandal and whether or not high-level management changes are needed.
Related: Who owns Wells Fargo? You, me and Warren Buffett
But Buffett's right hand man, Berkshire vice chairman Charlie Munger, told me in an interview at the company's 2015 annual shareholder meeting that "Wells Fargo behaves better than the average big bank." He added that "nobody's perfect" though.
Stumpf isn't the only one at Wells Fargo that is making a lot of money though. COO Timothy Sloan took home $11 million in compensation in 2015.
CFO John Shrewsbury received $9.05 million. As did David Carroll, the senior executive vice president in charge of Wealth and Investment Management.
In an SEC filing, Wells Fargo justified Carroll's pay package by saying that under Carroll's leadership, his division "achieved a number of important strategic objectives, including ... growth in loan balances and deposits."
A spokesperson for Wells Fargo said in an e-mailed statement that "both managers and team members were affected by the disciplinary actions and terminations."
Related: Who owns Wells Fargo anyway, You, me, and Warren Buffett
The spokesperson added that the firings took place between January 2011 and March of this year and that it only affected about 1% of its workforce over that timeframe.
"While we regret every interaction that was not handled properly, the number of instances and team members involved represent a very small portion of our business," the spokesperson said.
But a lawsuit filed by the state of California against Wells Fargo in May 2015 sheds some more light on the bank's cross-selling efforts and alleged misconduct.
According to the suit, Wells Fargo imposes "unrealistic sales quotes on its employees."
The suit claims that employees engaged in "unlawful and fraudulent conduct, including opening customer accounts and issuing credit cards without authorization" and that the bank "has known about and encouraged these practices for years."
"The result is that Wells Fargo has engineered a virtual fee-generating machine, through which its customers are harmed, its employees take the blame, and Wells Fargo reaps the profits," according to the lawsuit.
Wells Fargo boasts that its customers have an average of six financial products or accounts with the bank. It "seeks to increase this to an average of eight" financial products per account holder. It's a company goal "Wells Fargo calls the 'Gr-eight' initiative."
But there's nothing Great about the attention Wells Fargo is now getting though.
--CNNMoney's Matt Egan and Pallavi Gogoi contributed to this report.