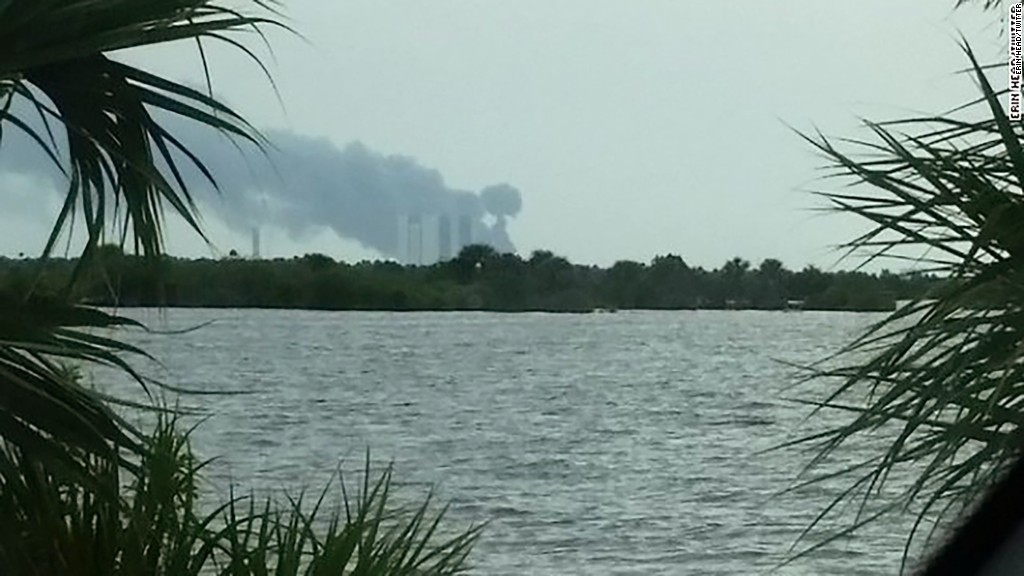 Elon Musk is still trying to pinpoint the source of a huge chain of explosions that destroyed SpaceX's Falcon 9 rocket last week at Cape Canaveral.
"Still working on the Falcon fireball investigation," Musk said on Twitter. "Turning out to be the most difficult and complex failure we have ever had in 14 years."
The company said that the explosion happened in preparation for a test firing of its engines. Musk revealed Friday that the engines had not yet fired when the explosion took place, adding to the mystery of what caused the blast.
"Important to note that this happened during a routine filling operation," Musk said. "Engines were not on and there was no apparent heat source."
In a reply to a Twitter user's question, Musk said he had not ruled out the possibility that something hit the rocket and caused the fireball.
The SpaceX CEO said he was focused on understanding a "quieter bang sound a few seconds before the fireball goes off." He said the sound may have come from the rocket or another unidentified source.
The disaster struck on September 1 when a succession of blasts engulfed the rocket in flames over a period of more than four minutes. The explosions happened at Launch Complex 40, an Air Force facility that has been leased to SpaceX.
Before the stunning setback last week, the private space exploration firm had launched 25 rockets from the site since 2010. NASA's facilities at Cape Canaveral were not damaged by the blasts, and no planned NASA flights were affected.
In a series of tweets, Musk asked anyone who might have a recording of the explosion to email SpaceX. He also thanked NASA, the Federal Aviation Administration and U.S. Air Force for their help during the investigation.
The destroyed rocket was meant to have taken a satellite into orbit that Facebook (FB) planned to use to bring internet access to Africa, the Middle East and Europe.
Facebook is in a partnership with French satellite firm Eutelsat Communications. The satellite, called Amos 6, was owned by Israeli company Spacecom.
Related: Why Facebook was launching a satellite into space
SpaceX is trying to change the economics of space flight by developing rockets that land upright after launch and can then be reused. It has yet to carry any people into space, though it has won a contract from NASA to carry American astronauts to the space station in the future.
Musk, who also is CEO of electric car maker Tesla (TSLA), hopes the company will be able to take people to Mars as soon as 2025. He also said last week that astronauts have been safe had they been aboard the company's Dragon space capsule atop the rocket at the time of the explosion. Escape rockets built into the side of the capsule would have carried Dragon and astronauts to safety.
-- Chris Isidore contributed reporting.