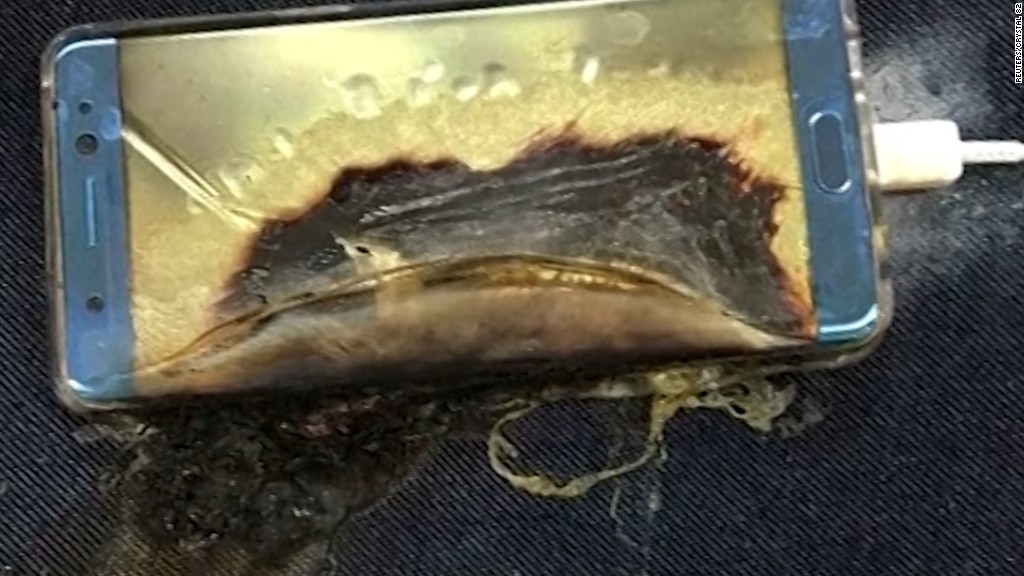 The Federal Aviation Administration has a clear message for owners of Samsung's recalled Galaxy Note 7 smartphone: Your device is a safety hazard. Don't use it on airplanes.
But it's not clear how the FAA or any U.S. airline can enforce the advisory — nor how any passenger can be certain that the person in the next seat isn't texting on or charging a phone that has been reported to catch fire.
"Can they enforce it? Like, you going to go through and make sure you don't have anything bigger than 3 ounces and no Note 7 phones? I don't think they're going to do that," said airline consultant Mike Boyd.
"There's no way of stopping somebody or searching everybody to make sure they don't have a [Note 7] on them."
Related: Passengers warned not to use Samsung Galaxy Note 7 on planes
Samsung (SSNLF) announced last week that it would stop selling the Note 7 and recall 2.5 million phones worldwide because of a battery problem believed to affect 0.1% of all devices sold.
On Thursday, the FAA said in a memo that it "strongly advises" passengers not to turn on or charge their Note 7s on board an aircraft and not to stow the phones in checked baggage.
The FAA has previously warned that fires caused by the type of batteries found in cellphones can be hard to extinguish aboard planes.
When major U.S. airlines banned unsafe hoverboards last year, some models of which were reported to catch fire and explode, enforcement was simpler. Hoverboard owners weren't allowed to bring their product on a plane.
But a cellphone is much more discreet. Flight attendants have enough trouble policing who has and hasn't switched their phones to airplane mode before takeoff. It's hard to imagine them going row by row, hunting for Note 7s.
"There are a lot of duties that flight attendants have on board, and there has to be more staffing if this is going to be the case that they have to check every single phone for every single passenger on the plane," said Taylor Garland, a spokeswoman for the Association of Flight Attendants.
Related: Samsung is recalling the Galaxy Note 7 worldwide over battery problem
Some international airlines, including Singapore Airlines (SINGF), Qantas (QABSY) and Virgin Australia, have already banned use of the Note 7. Those airlines say cabin crews are making announcements on board about the ban.
But protocol in the U.S. isn't entirely clear. United (UAL) and Virgin America (VA) said they would make announcements to passengers, while Delta (DAL) said in a statement that it would comply with any FAA requirements or directives. Southwest (LUV) said it was promoting the guidelines online, but said in-flight announcements were still being discussed.
American Airlines (AAL) said it was "in touch with the FAA" regarding the issue, but a spokesman declined to say Friday whether crews would make announcements.
Other airlines, including JetBlue (JBLU) and Spirit (SAVE), didn't respond to requests for comment on the Note 7.
The Transportation Security Administration deferred to the FAA's statement.
Samsung has not responded to requests for comment on the use of the Note 7 on airplanes. The South Korean electronics giant is offering customers a replacement Galaxy S7 or Galaxy S7 Edge and a $25 gift card or bill credit.
Related: Everything you need to know about the Samsung Galaxy Note 7 recall
Boyd, the consultant, suggested that the FAA's advisory will be self-enforced by Note 7 owners, who will probably just decide to return their potentially defective devices. But he added that the FAA should consider telling users to avoid bringing their phones on a plane altogether.
"The reality is, if we know it catches fire, we shouldn't have it on airplanes," Boyd said. "Period."
Reed Alexander, Sheena Jones, Rene Marsh and Jethro Mullen contributed to this report.