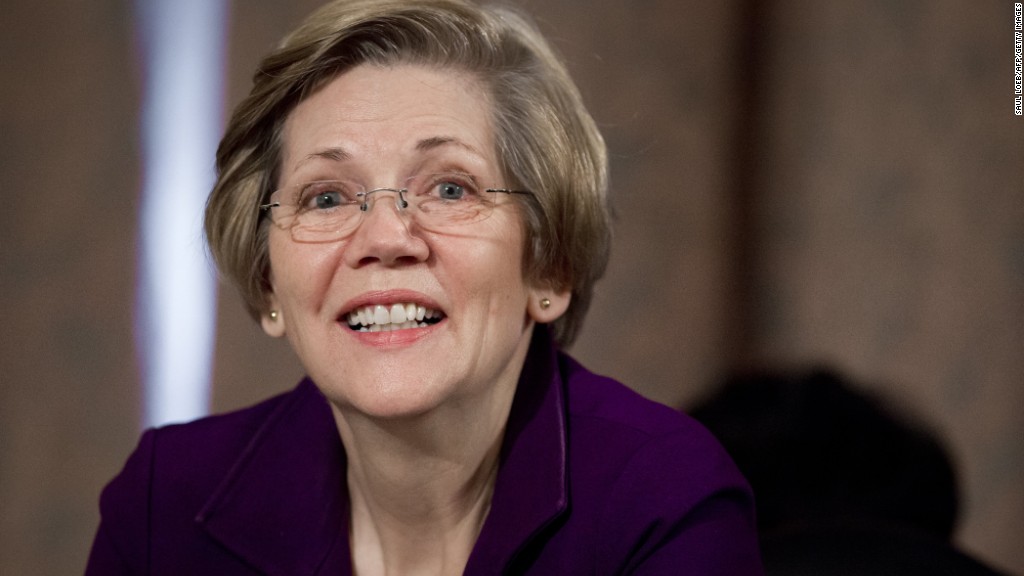 Carrie Tolstedt has made a fortune presiding over Wells Fargo's efforts to aggressively sell multiple accounts to each of its millions of customers.
But that "cross-selling" strategy is now under intense scrutiny after the bank was caught creating over 2 million fake bank and credit card accounts without the knowledge or consent of its customers. Wells Fargo on Thursday was fined $185 million and admitted to firing 5,300 employees in recent years.
The disturbing practices took place under the leadership of Tolstedt, who headed the community banking division of Wells Fargo (WFC) for at least nine years.
Last year, as executive vice president of the division, Tolstedt made $9 million in total pay, a reward for "continued growth in primary checking customers" and other metrics.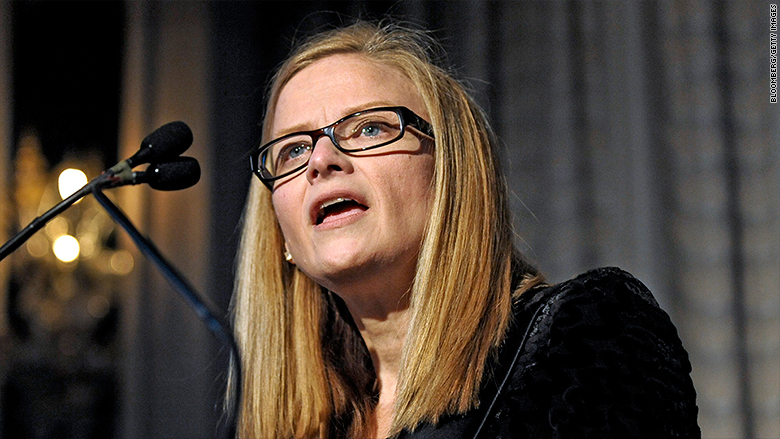 Despite the shocking scandal at her division, 56-year-old Tolstedt is set to walk away with an even bigger fortune when she retires at the end of the year -- a $124 million payday through a mix of shares, options and restricted stock, according to calculations of company filings based on the current stock price.
The huge package was accrued over her two-plus decades at Wells Fargo and was not directly tied to her retirement.
One of Tolstedt's biggest achievements was the expansion of multiple accounts held by Wells Fargo customers. In 2014, Wells Fargo specifically cited "strong cross-sell ratios" as a factor behind Tolstedt's multi-million dollar pay.
In fact, that same year, in a presentation to investors, Tolstedt and other executives touted the bank's "expertise" in selling multiple products, which was immensely profitable for the bank. In fact, customers that had 10-plus products each with the bank were 10 times more profitable. The phrase "cross-sell" came up in the presentation 19 times.
Related: Workers tell Wells Fargo horror stories
It was this kind of internal analysis that led to Wells Fargo's internal goal of selling at least eight financial products per customer. Wells Fargo calls it the "Gr-eight initiative."
The pursuit of cross-selling was at the heart of the pressure cooker environment described by Wells Fargo employees to CNNMoney. In fact, a lawsuit filed by Los Angeles against Wells Fargo in May 2015 says that the bank was consumed by this goal. District managers discussed daily sales for each branch and employee "four times a day, at 11 am, 1 pm, 3 pm and 5 pm," the lawsuit said.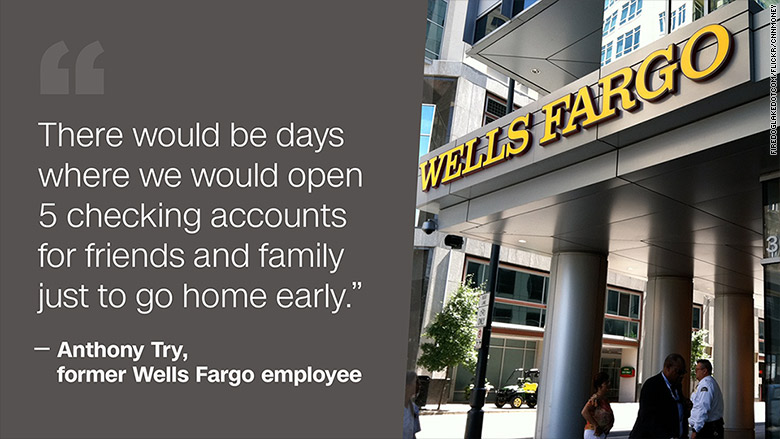 To reach unrealistic goals, Wells Fargo employees engaged in all kinds of sordid practices, including the creation of fake email accounts.
Related: Wells Fargo customers livid
Wells Fargo did not comment on Tolstedt's compensation, which CNNMoney calculated from regulatory filings. Fortune previously reported on Tolstedt's huge looming payday.
In theory, Wells Fargo could try to "claw back" this pay, given the turmoil in Tolstedt's division. Wells Fargo's policies give the bank the ability to demand bonuses and other forms of pay be taken away if they're based on "materially inaccurate financial information or performance criteria."
Creating millions of fake accounts would seemingly fall under that category. And Tolstedt was head of Wells Fargo's retail banking and credit card divisions during the time that regulators say the illegal sales activity took place.
The scandal "probably should lead to a pay claw-back" from Tolstedt, CSLA analyst Mike Mayo wrote in a report on Monday.
However, a Wells Fargo spokesman declined to comment to CNNMoney on whether the bank is planning to claw back any of Tolstedt's pay.
Wells Fargo is also standing by its July announcement that Tolstedt is leaving the bank at the end of the year to "retire" after a "long and successful career."
"She made a personal decision to retire after 27 years with the company," the spokesman said.
Tolstedt's compensation could become fodder at a potential Senate hearing on the Wells Fargo scandal. Sen. Elizabeth Warren and four other lawmakers on Monday called for Wells Fargo CEO John Stumpf to testify on what she called a "staggering fraud."
--CNNMoney's Cristina Alesci contributed to this report.