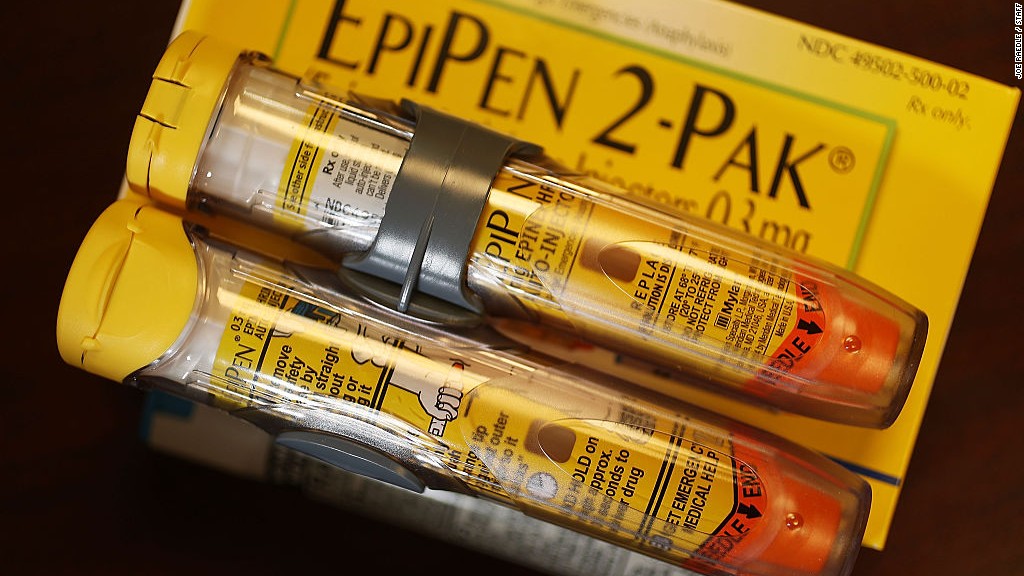 Mylan has agreed to fork over documents that will give lawmakers details about the profits the company has made from its EpiPen sales.
The House Oversight Committee sent the pharmaceutical company a letter on August 29 requesting more information about EpiPen sales -- including how much consumers have been paying for the drug and how much Mylan has profited off EpiPen sales.
Mylan met with committee staff members Monday ahead of the 5 pm ET deadline the House committee initially set for the company to hand over the documents. Now, lawmakers are expecting to have the documents by Thursday or Friday, according to a person familiar with the matter.
The company did not respond to CNNMoney's request for comment.
EpiPen is a device that injects a dose of epinephrine into a patient undergoing an allergic reaction -- and it's the subject of the pharmaceutical industry's latest price hike scandal.
Related: How EpiPen came to symbolize corporate greed
Mylan (MYL) acquired the right to sell and market EpiPen in 2007. Since then, the company has driven up the price from about $60 to more than $600 in a series of 17 price increases.
"While the medicine that actually stops an adverse reaction is remarmkably cheap -- only a few cents per dose -- it is the delivery mechanism that is breaking the bank of many American," committee leaders wrote in the letter to Mylan. The letter added that Mylan "has profited richly" from the pricing scheme while "families and schools are struggling" to afford the drug.
After the EpiPen price hikes captured public attention last month, Mylan announced it would make a generic verision of the pen and blamed the price hikes on a "broken" health care system that "incentives higher prices."
Related: EpiPen maker still has explaining to do
Mylan's EpiPen is also at the center of several antitrust investigations.
Mylan is the latest drug maker to come under fire for boosting the price of life-saving medication.
Valeant's (VRX) blood pressure medication Nitropress and Turing's AIDs treatment Daraprim have also recently been the subject of so-called "price gouging."