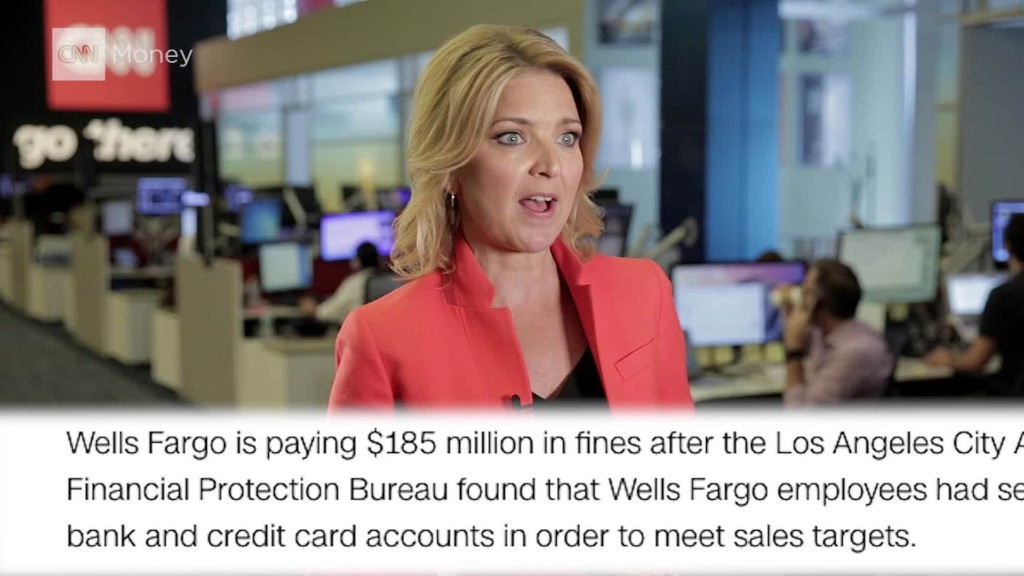 Scandal-ridden Wells Fargo just lost its crown as America's most valuable bank.
Wells Fargo (WFC) stock dropped nearly 4% on Tuesday after the bank announced plans to abandon its sales targets where customers were sold multiple bank products. Employees have said that these unrealistic targets led to a pressure cooker environment that prompted them to create millions of fake accounts. On Thursday, Wells Fargo was fined $185 million and admitted to firing 5,300 employees related to the phony accounts.
Overall, Wells Fargo's share price is only down 6% since the scandal broke. However, that's still enough to allow rival JPMorgan Chase (JPM) to surpass Wells Fargo in market value for the first time since early 2013, according to data from FactSet.
Related: 5,300 Wells Fargo employees fired over 2 million phony accounts
Wells Fargo's market cap dropped to $235 billion on Tuesday. That's about $4 billion less than JPMorgan's price tag.
Wells Fargo has been embroiled in turmoil since federal regulators last week said the bank created more than two million phony bank and credit card accounts.
The allegations have tarnished Wells Fargo's reputation and threatened a key money-maker for the company: the ability to sell customers multiple accounts, also known as "cross-selling."
Related: Workers tell Wells Fargo horror stories
Responding to the uproar, Wells Fargo said on Tuesday it will stop setting sales goals effective January 1. Employees have told CNNMoney they were under incredible pressure to meet these targets -- or risk losing their jobs.
Now Wells Fargo is also facing political repercussions.
A spokesperson for U.S. Senator Richard Shelby, the chairman of the Senate banking committee, confirmed that the powerful committee plans to hold a hearing on the Wells Fargo scandal on September 20 and will invite Wells Fargo CEO John Stumpf to attend.
The decision to hold a hearing comes after Elizabeth Warren and four other Democratic U.S. Senators on Monday called for "immediate" hearings to "fully investigate the matter."
While Wells Fargo was America's most valuable commercial bank for years, it still trailed JPMorgan in terms of who controlled more assets. Wells Fargo held nearly $1.7 trillion in assets as of the end of March, compared with more than $2 trillion at industry-leading JPMorgan, according to the Federal Reserve.