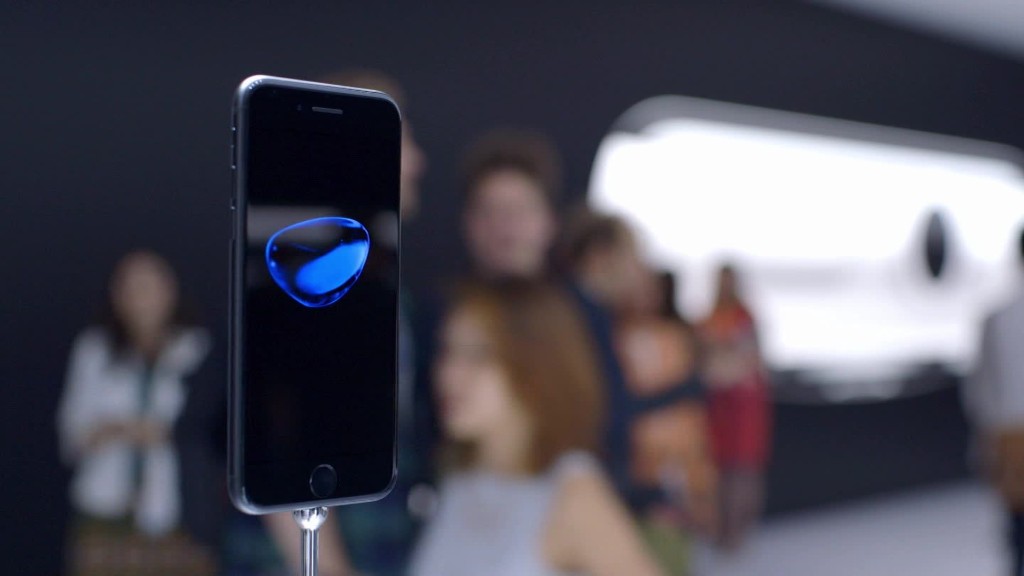 It's a common dilemma: You want the new iPhone 7 but you aren't sure you need one -- and don't have a spare $650 lying around anyway.
The good news is Apple (AAPL) releases new version of its mobile operating system each fall to help make old phones feel new again.
The company rolled out its new iOS 10 software for iPhones and iPads on Tuesday. While the previous version (iOS 9) focused on much needed performance upgrades like better battery life, iOS 10 wants to dazzle you with new fun features.
Before you hit download, here's everything you need to know about iOS 10.
Should I install it now?
No. Not yet.
It's always wise to wait until after the first minor update becomes available to avoid any inevitable bugs or kinks in the software. In fact, some users who downloaded iOS 10 out of the gate experienced major issues that left devices unusable. To fix the problem, users were required to plug it into a computer and reset the system via iTunes.
iOS 10 has been available as a public beta, but that doesn't mean the version out now is problem free. If you're comfortable with being an early adopter and don't mind dealing with software issues that may arise, go for it.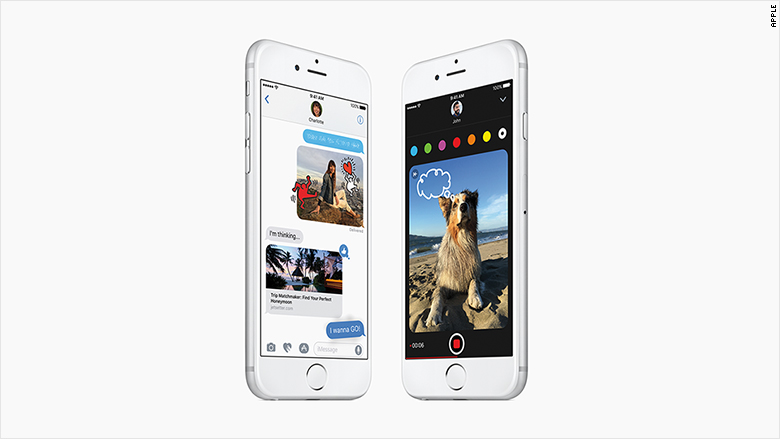 When you're ready, visit Settings -> General -> Software update to start downloading iOS 10.
To get the software, you'll need one of the following devices: an iPhone 5 or later model; a sixth-generation (or later) iPod Touch; an iPad Pro, iPad Air or fourth-generation iPad; or an iPad Mini 2 (or later). Not all new features will work on every device.
The big picture
The best improvements on iOS 10 aren't to specific apps but little overall tweaks. For example, lift your phone and it automatically wakes up. Meanwhile, the lock screen is actually useful now, thanks to tiny previews of Apple and third-party apps. You can now see headlines, your calendar, the weather and pending Amazon orders without unlocking your phone.
Related: Hands on with the new Apple devices
One of the iOS' fundamental actions -- swipe to unlock your screen -- is dead in iOS 10. Now, you'll need to press the Home button to unlock. That is, on existing iPhone models (Apple removed the Home Button on the iPhone 7 and iPhone 7 Plus).
But you can finally "remove" any default Apple apps from the home screen just like you would a third-party app. While they won't be completely deleted behind the scenes for technical reasons, you won't have to see Stocks or Find My Friends ever again or hide them in a miscellaneous app folder.
Apple is also loosening the grip on Siri by allowing third-party developers access to the voice assistant. Early partners include Fandango (you can ask Siri to order you movie tickets) and Lyft (it can hail you a car/taxi). Although we'll have to wait to see how useful these features are, they're a step toward making the virtual voice assistant smarter.
In addition, the control center -- the shortcuts that appear when you swipe up -- has expanded to multiple screens.
Messages get busy
Messaging apps are hot right now. Companies such as Facebook and Microsoft are throwing money and energy into trying to replicate the success of hits like Snapchat. With iOS 10, Apple is joining the fray with everything but bots. (Unfortunately, only other iOS 10 users can see texts using the new drawing, animation and sticker settings, so it might be lonely at first.)
While you could previously send a friend a photo of your cat -- with the help of cat emoji and a witty comment -- now you'll be able to give Maurice the production he deserves. You can cover a photo in doodles and send it with "invisible ink" so the recipient must swipe to see it.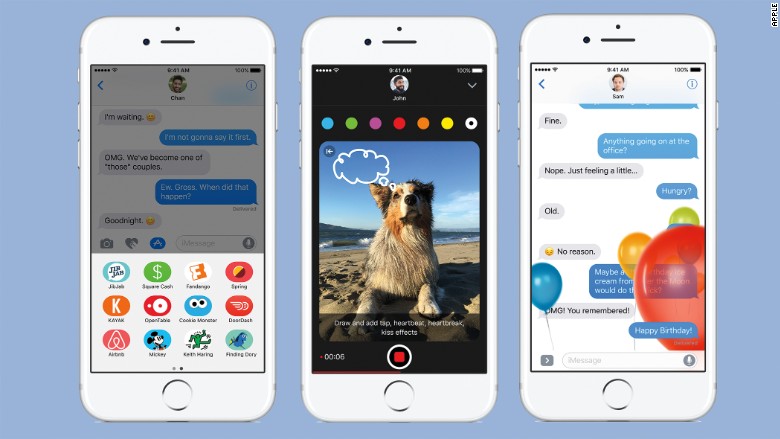 Stickers, image markup, doodles, bouncing text bubbles and GIFS are just some of the new fun meant to make messages more expressive. The interface is a bit clunky and segregated — especially for Digital Touch, an odd drawing tool that doesn't deserve as much real estate as it gets.
But there are some better Messages upgrades that are actually useful and make it so you don't have to leave a chat to get stuff done. For example, you can preview links right inside a message, such as getting a sneak peek of playing a YouTube video or song in Apple Music. Third-party apps add the ability to do tasks inside a chat like send money to friends, make reservations, and play games with others.
Photos are smarter, but not as smart as Google
Apple's overhauled Photos app tries to solve a problem the iPhone helped create. We take thousands of photos on smartphones and rarely delete any of them.
With iOS 10, Apple adds features that automatically sort through the clutter. Face and object recognition let you search images for subjects like a sunset, dog, or gadget. It filters images by faces, date and location. There's also a Memories tab that continually creates editable albums and movies of adventures from your photo library you might have forgotten.
Related: Apple plays catchup with ... everyone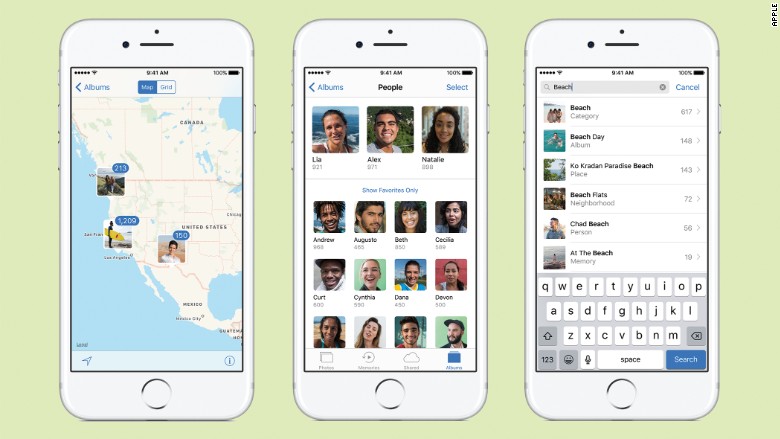 The updated Photos app borrows heavily from Google Photos, which also has face and object recognition, packages trips down memory lane and automatically edits videos. The biggest difference, however, is that Apple's tool is limited to the files stored locally on your iPhone.
Overall, Google Photos is still much better at sorting, especially when it comes to faces, but Apple's effort will hopefully improve over time. The updates do make sense for anyone with privacy concerns about storing photos in the cloud.
Music, News, and Maps
Apple has also updated some of its less essential apps.
The company is once again giving Apple Music a redesign that tries to clean up the interface. Apple News has added a trending and top stories section, introduced subscriptions for some publications and allows users to pick which notifications you want when there's breaking news. There's also new app called Home, which aims to be Apple's control hub for smart home devices.
Maps is perhaps the most promising update, thanks to new suggestions on where to go based on your history. These personalized recommendations can save time, especially when tied into events it knows are on your calendar. Like Siri and Messages, Maps is letting third-party developers in on the fun, too. You'll be able to book a Lyft ride or reserve a table for two someplace romantic from within maps.
Is it worth the upgrade?
Yes. And it will get hopefully get better in time as more third-party developers work with Siri, Maps and Messages.
Many of the iOS 10's new tools are long overdue -- and borrow heavily from competitors -- but overall iPhone and iPad users will certainly find a solid collection of features worth using in the new software. Or at least some cool stickers.