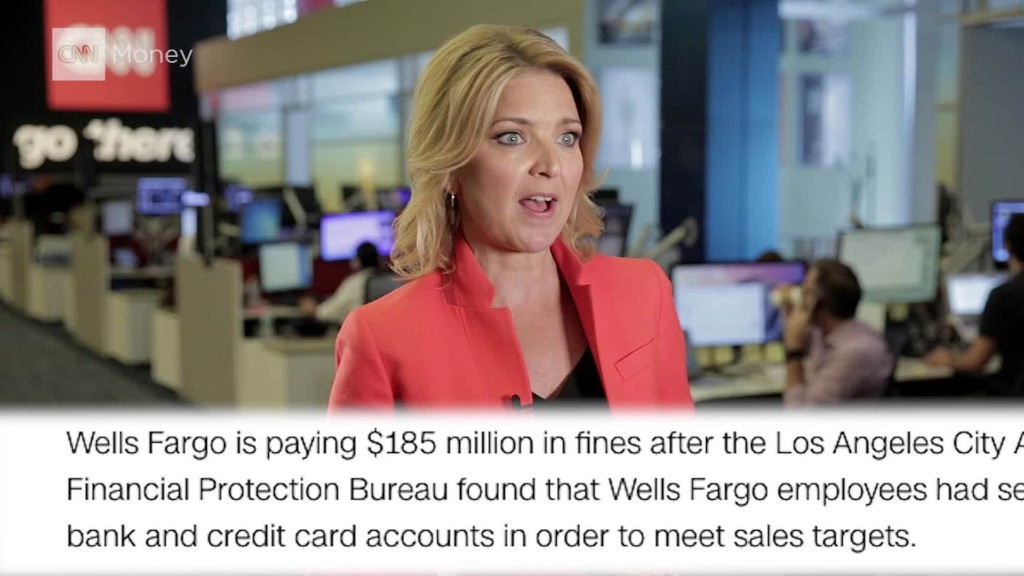 Warren Buffett's Berkshire Hathaway has lost a lot of money (on paper) in Wells Fargo since the bank was fined by regulators for creating fake accounts. But Buffett hasn't said a word.
Berkshire Hathaway (BRKB) owns nearly 470 million shares of Wells Fargo (WFC), a 9.5% stake. Buffett also personally owns a little more than 2 million shares in the bank. The combined value of that investment has dropped by nearly $1.5 billion since Friday.
Wells Fargo's mistreatment of its customers doesn't exactly fit with the wholesome, folksy, lovable, Midwestern Uncle Warren image Buffett has cultivated over the years.
Requests for comment from Buffett and Berkshire Hathaway by CNNMoney since Friday have not been answered.
And Wells Fargo's embattled CEO John Stumpf, in an interview on CNBC on Tuesday, declined to say whether he and Buffett had spoken since Friday.
But Berkshire Hathaway has often touted Wells Fargo, which isn't as big a Wall Street giant as rivals like JPMorgan Chase (JPM), Citigroup (C) and Bank of America (BAC), as a more friendly big bank than its competitors.
At last year's Berkshire Hathaway shareholder meeting in Omaha, Nebraska, vice chairman Charlie Munger told me in an interview that Wells Fargo "behaves better than the average big bank." He added that "nobody's perfect."
Related: Wells Fargo CEO is 'sorry' -- but he's not stepping down
The notion that Wells Fargo is a better corporate citizen than other banks is now in dispute. So will Berkshire ever respond to the criticism of Wells Fargo -- or maybe look to force management changes or even sell shares in the stock?
Don't hold your breath. In fact, Berkshire Hathaway filed papers with the Federal Reserve this year for approval to boost its stake in Wells Fargo beyond 10%. That's the threshold that requires a regulatory review.
It seems unlikely that Buffett and Berkshire were unaware of what was going on at Wells Fargo and the investigation into the phony bank accounts at that time. It's not as if the problems were just discovered by the bank and regulators.
In fact, a spokesperson for Wells Fargo told CNNMoney last week that it began firing guilty employees in January 2011 and continued firing them until this March.
Related: $124 million payday for Wells Fargo exec in charge of retail banking
Buffett has increasingly been criticized over the past few years for the practices of some of his big subsidiaries and investments.
Berkshire Hathaway's Clayton Homes unit, a manufacturing home lender, has been accused of predatory lending practices over the past few years.
Buffett has defended Clayton at recent Berkshire annual shareholder meetings. In 2015, he said that he made "no apologies whatsoever about Clayton's lending" and added that he has "not gotten one call" from any customers complaining about Clayton.
The Oracle of Omaha has also come under fire for deals he's done with the Brazilian private equity firm 3G Capital -- which has carried out big layoffs at companies it has acquired.
3G and Berkshire are the top investors in Kraft Heinz (KHC), and Berkshire also has a stake in Restaurant Brands (QSR), the company that owns Burger King and Tim Hortons.
Related: Do more heads need to roll at Wells Fargo?
In this year's shareholder letter, Buffett issued a stern defense of 3G. He wrote that 3G winds up "eliminating many unnecessary costs" at companies it purchases. And he said it's possible Berkshire and 3G could team up again.
So will Berkshire's reputation be dinged by the Wells Fargo scandal? Probably not. If anything, Buffett is probably licking his chops and hoping that the Fed grants him approval to buy up even more of the stock.